The Revolution That Didn't Come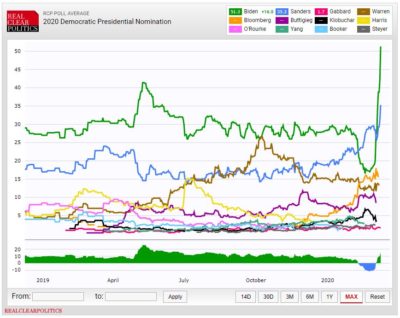 Let me tell you the story of a wild and crazy primary.
There was this guy who was in the lead almost the entire race and then he shocked everyone by winning. Then there was this other guy who was in second place most of the time. Surprisingly it turns out that he landed in second place. The candidate who spent the most time in third place got third place.
And nobody saw it coming.
More seriously, there were about six interesting weeks during the entire campaign. There was the week following Harris's hit on Biden during the debates, the week where Warren really did actually surge on a Biden hurting from Ukraine, and then when the voting started until the point that the race fell into the pattern that polling had been showing us the entire rest of the time. In a way, it has fallen more or less into the same place it was in 2016.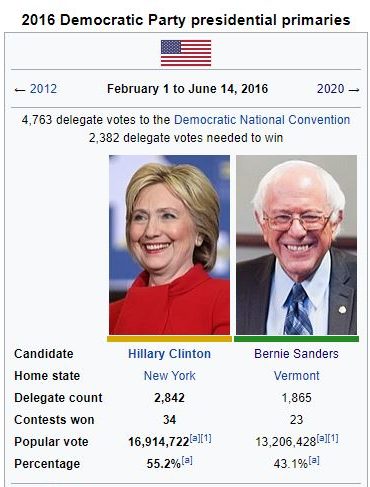 It was a 55/45 party then, and it's a 55/45 party now. In the last four years, things keep breaking down along those lines. In 2016, Hillary Clinton got 55% of the vote to Sanders's 43%. In Iowa, Sanders and Warren together got 45% of the delegates to Buttigieg, Biden, and Klobuchar's 55%1 It was pointed out at the time that you can't really just combine votes like that it's not how things worked, but it turns out that may in fact have been how things worked. As of the writing of this, the combined vote for Biden, Bloomberg, Buttigieg, and Klobuchar is at 54% of the popular vote and combined Sanders and Warren are at 42%. As of right now, Joe Biden is sitting at 51% in RCP polling with Sanders and Gabbard at 37%.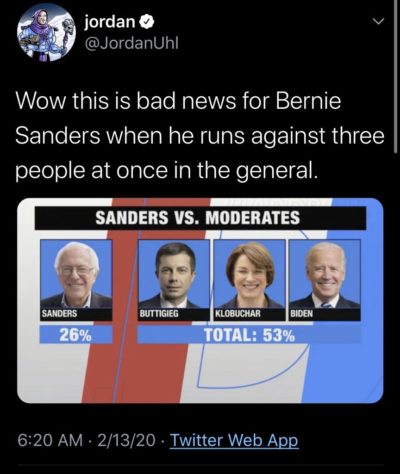 There were a number of reasons people thought that Biden would crater. He is old for a presidential candidate and lacks the energy usually associated with a winning candidacy, for example. Mostly, though, people believed he was out of touch with a party electorate where the energy is increasingly on the left. That's why when people speculated about who would win, the speculation was centered on Elizabeth Warren and Kamala Harris, representing the new party. Bernie Sanders, who ironically like Biden did not get the attention his polling warranted, had set off a spark with a torch that would end up in someone's hands. The candidates themselves believed this, competing with one another for what was perceived to be the new Democratic Party.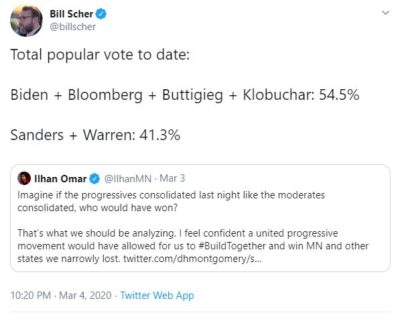 Instead, the numbers may have ended up exactly where they were before. What happened?
At one point it appeared that Biden might win on the basis of a fractured left, him having the "centrist lane" all to himself. But it turns out that wasn't even necessary. The dynamic even appeared to give rise to a candidate that had previously been ignored and the persistence of a candidate who was ridiculously unqualified for the job, so desperate was the faction of the party that did not want a revolution. The narrative of the race that the "establishment" won through consolidation is undermined by the actual math involved.
None of this is to say that it never could have happened any other way. I'm not going to pretend that I "knew it all along" even as things appear to be ending almost exactly as I thought they would all along. I thought that Biden would get second or third place in Iowa and New Hampshire, fight Nevada close, and then dominate South Carolina. Instead, Biden got fourth place and fifth place. Under ordinary circumstances that would have doomed him, but Bernie Sanders also underperformed by losing Iowa and winning New Hampshire only narrowly. So both of the top two underperformed (one more than the other) and I was left with the feeling that somebody was going to have to win2. After Sanders dominated Nevada and the national polls turned (with the all-important African-American gap narrowing) I started preparing myself for a Sanders nomination and possible presidency.Then South Carolina happened followed by Establishment Voltron.
I mention all of this to say that there were opportunities. If Bernie Sanders had won Iowa and New Hampshire convincingly that might have set a different trajectory. His strategy of bringing out young people did not pan out. Further, Sanders never made the moves a frontrunner might to consolidate their support. Whether this was strategic (consolidating support was never the plan) or his weakness as a candidate3 The Democratic electorate was looking to end this quickly and they expressed an increasing willingness for Sanders to be the one, but a week later as soon as they had an alternative – any viable alternative – they pounced. Nobody was attached to Biden or Sanders, and with an unattached primary electorate perhaps they split in the familiar 55/45 way between revolution and guardianship.
All of this is to say that if the revolutionaries want the party they are going to have to win it. Bernie's plan to divide and conquer was as ineffectual as it was reckless. The Democratic Party has demonstrated that it is not the Republican Party in search of a freak flag to fly. Analogous to the Democratic belief in an Emerging Democratic Majority that meant that they would not need to court new voters. It's a strategy that can succeed but more often fails (something to keep in mind for November). This is not an argument for centrism, for what that's worth. It's an argument to be as generally appealing as possible to as many people as possible in your electorate. This can be done by moderating on issues or it can be done with a charismatic leader4
For the defending champions — the "establishment" — the same lessons apply. The only reason Sanders ever might have won was because they lined up behind someone who could most generously be described as "good enough" and then did not give him enough support to compete. Biden has to win, and whether he does or not I wouldn't bet on them winning the next round without a much more compelling candidate and vision.
---