Nobody Owes Elizabeth Warren a Thing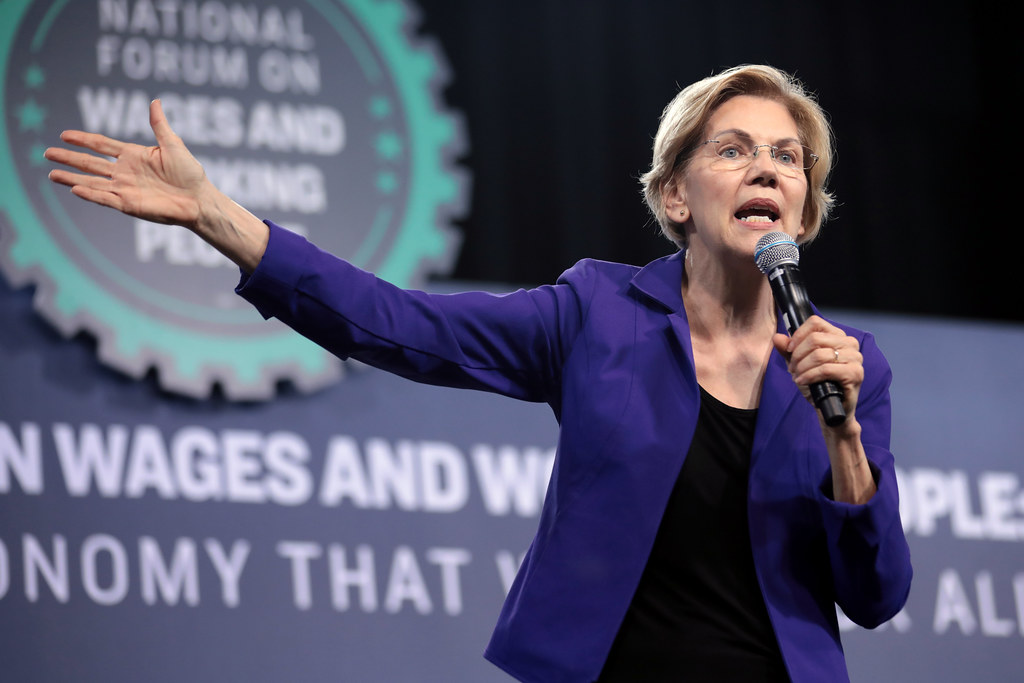 I never supported Warren's candidacy, but truly I never disliked her. I've never really understood her "likability" problem and thought that if she won the nomination she would have a really good chance of bringing people over with her breakfast table talk approach to economics. While I am sure she would come to many of the wrong conclusions, I also think she would have had a somewhat reasonable deliberative process to getting there, which is more than I can say for most of the candidates.
If I were further to the left, I very much believe I would support her. I'm not, and so I didn't. Throughout the campaign I took various potshots lobbed in her direction (or at the media which seemed very intent on making her surge the story of the campaign). Really, though, that was mostly just fun political chat. Here, though, I am going to get real.
Even more than Hillary, Warren is their avatar. Boomer women are especially livid at the idea that a smart, eminently competent woman isn't enough.

That isn't to say her campaign has been perfect or that she's even the right nominee. But I haven't seen this anger noted anywhere.

— Amy Sullivan (@sullivanamy) February 17, 2020
Last week there was a parade of tweets like the above expressing a deep well of anger on the part of "women"1 toward her failure to gain traction. Not long before that was a hashtag about the media "erasing" her in favor of candidates she was outperforming or outperformed in Iowa and New Hampshire2.
In my estimation, though, Warren's coverage was waning because her campaign was on the downward slope. It was the equal and opposite reaction to the coverage she was getting that was outgrowing her actual campaign performance. Amy Klobuchar was new and ascendant, so she was getting the undue coverage3 Pete Buttigieg actually won a state and was winning the delegate count and then performed well in a state that he didn't campaign in and that, unlike with Warren, was not right next door to his. Biden was getting a lot of coverage, but gawking-trainwreck coverage is not usually desirable4.
I'd add the party establishment blowing up an offramp with a candidate who appeals to the base but doesn't pose the same challenge to the party itself. Cruz in 2016, Warren now. https://t.co/Kg9QKXpq93

— Dave Weigel (@daveweigel) January 27, 2020
Prior to all of that, there were complaints that Warren was overlooked by the party as the alternative to Bernie Sanders. As Biden collapsed, there was even some gloating over this. There was, however, nothing unusual about the criticisms of Warren by Democrats. Asking "How are you going to pay for this" is not some sort of carpet bombing5. So many of these ideas – as with current ones about how the left-left really should have lined up behind Warren instead of Sanders – relied on people abandoning the person in first place or second place in favor of someone in third or fourth. I understand the logic behind it, but it's a tough sell. A failure to do so is not an aggressive act against Warren.
Warren ran for president. She is losing, and when all is said and done she will have lost and it won't have been very close. That's not our fault. The media did not let her down. The voters did not let her down. The party did not let her down. She had a better chance and more opportunities than almost all of the other candidates. She ran for the most difficult job in the world to obtain, and she fell short.
The flip side to all of this, though, is that she has nothing to apologize for. You are going to see all sorts of post-mortems about how she should have done this or that. I'm personally going to agree with a lot of them. She never became that breakfast table candidate I thought had so much potential. She went a different route and I felt then and feel now it was not the right one. She's hardly alone in having gone that route, though. And more importantly: She could have done everything right and she still probably would have lost because it is the most difficult job in the world to obtain6.
There were upwards of 25 candidates, and she placed roughly in the top five. She ran against other senators, other plan-mongers, and men of fortune, and she beat most of them handily. All of the reasons why many – including myself – thought she would be a stronger candidate are because of accomplishments she has made. The overly generous coverage she got from the media was not the result of her name having been picked out of a hat. She got herself there and she has every reason to be proud. It's unfortunate for her that the ride likely ends soon as far as presidential ambition, but she will continue on as one of one hundred members of one of the most exclusive clubs in the world. So even when people like myself talk about her "underperforming," she has underperformed expectations built on her own achievements.
She's a politician and I am going to treat her like a politician and that's going to include pot-shots7. I hope to see a woman president in my lifetime. Sooner rather than later would be great. One of my preferred candidates was a woman. But that first female president is unlikely to be Elizabeth Warren, and that's okay.