Saturday Spins: Wilco Schmilco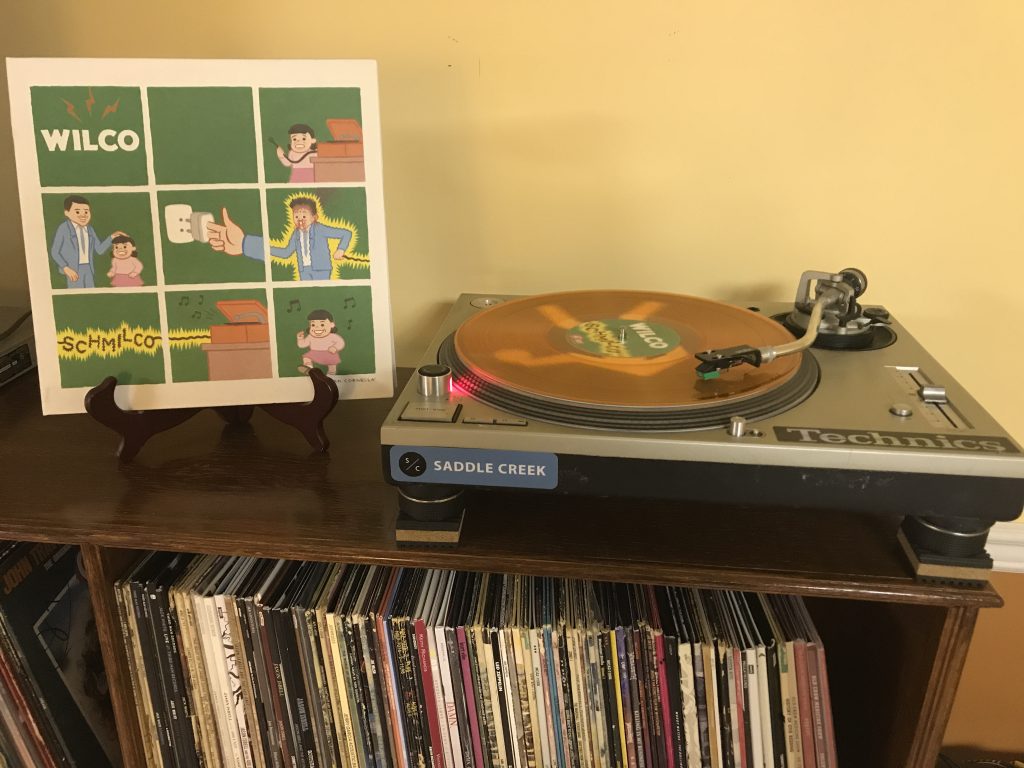 Folks, not sure how I can carry on after covering the perfect album last week, but I am a slave to the Discogs randomizer. This week, I'll be covering another release from dad-rock1 titans, Wilco. I covered Wilco here before on their latest release Ode to Joy. It was a special "Sunday Spin."  Backing up a little, I think we should maybe have an honest conversation about the term "dad-rock," which I am fairly certain was invented by some music journalist as a pejorative term for what Wilco does best, and that is defy genre and cater to a big tent of fans.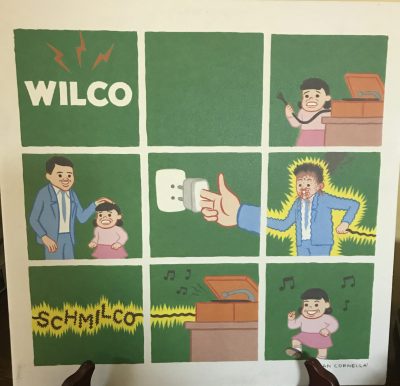 Wilco
Schmilco
2016
Commentary
Wilco plays an integral role in my collection, I own almost every one of their releases on wax, along with Ryan Adams and Bob Dylan. This album was released in 2016 as a follow-up to the freely distributed Star Wars. Jeff Tweedy is a prolific songwriter, and overall great writer in general. Seriously, go read his autobiography. Schmilco is a collection of songs that are about growing up, which may be what spurred Tweedy to write that autobiography.
As you can see from the picture we have another #coloredvinyl; this one being my favorite color, orange2. Translucent orange too. The album artwork is…something. It was done by surrealist cartoonist, Joan Cornellà in a collaboration with artist/designer, Stefiana Lusini.
There are no true liner notes, just tiny printed lyrics and acknowledgements/personnel on the left of the gatefold. It's always fun when it is a single LP gatefold album.
Anyway, as I mentioned before, Wilco is a good chunk of my collection. This album, however, is definitely not their best effort. In fact, it is the opinion of your hero that they haven't really had a strong effort since 2012's Whole Love. I think my favorite part of Schmilco is the aesthetic.
I think many Wilco fans would agree with me, but as with most fanbases, there are probably several thousands that disagree
Tracks I Think Are Great
My favorite track on the album is "If I Ever Was a Child" followed pretty closely by "Someone to Lose." The video for the latter being a genius work of claymation that I am sure took HOURS to complete.
[youtube https://www.youtube.com/watch?v=G5RrWCRsSYA] Both of these songs are about as close to classic Wilco as it gets on this album, the rest of the tracks are quiet folksy ballads with less experimentation and big sound. "Normal American Kids" and "Nope" are pretty good as is <a href="https://www.youtube.com/watch?v=HQOSPMDwsgY>"We Aren't the World (Safety Girl)".
"Locator" was one of the first songs they debuted for this LP, and to me it is just meh, but I will put it in this category because of how dang catchy it is.
Tracks I Think Are Not That Great
I have to say, my least favorite Wilco song of all time is on this record, "Common Sense" seems to me like a bad demo gone worse. Don't just take my word for it, go listen for yourself. I revisited it again while typing this paragraph and I just cannot think of anything good to say about it.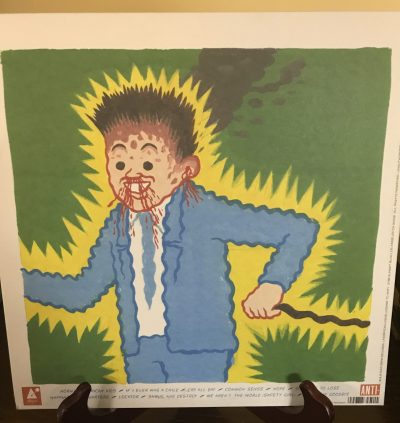 Another one I find kind of out of place on this record is "Shrug and Destroy." I think after Star Wars was released, Wilco had another pile of songs that were pretty homogeneous and they decided that it was time for another record. There may be a reason they waited three years to release Ode to Joy, which to me was another milquetoast effort.
Whatever your opinion (or mine for that matter), Wilco has been around for over 20 years and has become a staple of American rock, even if it is dad-rock.
A Quick Digression RE "Dad-Rock"
I don't think the creation of the term can be credited to any one person, but this dude, is the guy that pinned it on Wilco. There are various definitions out there, music that dads play, 60s and 70s music that old white boomers play, soft indie-rock like The National and Fleet Foxes. Anyone watch the TV show, Parenthood? Virtually every song on every episode of that show could be categorized as dad rock.
Fun Facts!
This album came with a special gift. By "gift" I mean a very cool Wilco themed novelty. If you remember the old joke and prank devices, exploding cigars, whoopee cushions, etc., then you probably also remember the 'ol fake pack of gum that sends an electric charge through you when you try to pull it. Welp: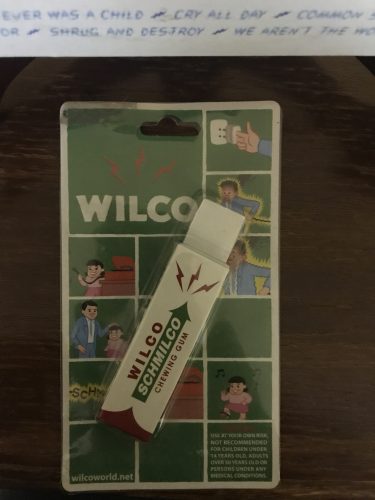 I am here to tell you that this thing does not mess around. Out of curiosity I pulled it after I first got it, and oh boy I was not ready for the pain. It is worse than when you accidentally grab an electrified fence. Needless to say, I put it back in the package and it sits among other novelties and ephemera I keep with my collection.