Saturday Spins Returns: Yeehaw
(Re)Introduction
When we last sat around the campfire and explored a round piece of wax it was 2019 and it was before Christmas. A lot has happened since then: me and my family moved into a new house, I became a father again, and I have returned my set up to its former glory. Here comes the boring equipment digression, please scroll ahead if hi-fi equipment is not your thing.
In the first Saturday Spin post, I wrote about my "A" team and my "B" team set up. Here is the "A" team and also the current set up:
Turntable-Technics SL-1200MK2 with an Audio Technica AT-VM95e cartridge in an Ortofon SH-4 headshell.
Integrated Amplifier-Cambridge Audio 340A SE
Preamp-Cambridge Audio 640P
Speakers-Klipsch Forte II
Fun story about those Klipsch Forte IIs, I picked them up at a garage sale, not knowing their value, for around $50.00. The seller didn't know their value either.
This week's spin features an album that dropped in March 2019, featuring a mysterious man in a frayed lone ranger mask. He has taken the music world by storm, thanks to his over-the-top outfits and mysterious appearance. He is never seen without his trademark frayed lone ranger mask, although people already have a pretty good idea of who he is. However, for the sake of his art, I will only refer to him as Orville Peck.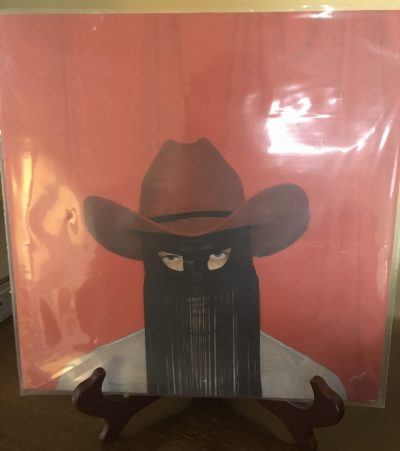 Orville Peck
Pony
2019
Commentary
I am a part of a few alt-country and Americana groups on Facebook, really one of the few reasons I keep my Facebook profile, and in early summer I started to see this weirdo in a frayed lone ranger mask accompanying music video posts in the groups. One day, I decided to give him a listen. I was blown away by his extremely unique voice, not to mention the extremely unique persona.
[youtube https://www.youtube.com/watch?v=vR-4l5M_MQ8]
I missed the boat on the first pressing red LP, which can be found on the secondary market, but was able to snag the second pressing white vinyl from a local record store. I visited the record store more than once trying to find it, but it kept selling out. I finally put my full collection back together after the move and spun this LP, and wow does it sound amazing.1 I turned the volume dial to about "3" and my wife could still hear it upstairs! She would later remark, "I heard you listening to that Orville Redenbacher album or whatever."
The good news is that the toddler stayed asleep, as did the newborn. Can't wait to have them both in what will be a combination listening/play room. The jacket and sleeve are pretty minimalist, but it did come with a pretty sweet poster.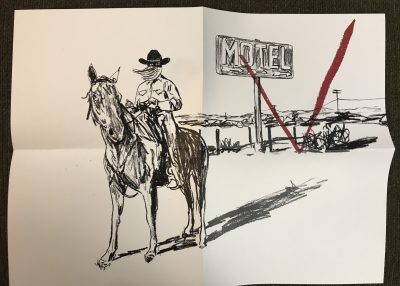 Anyway, I cannot stress enough that you should all go give Orville a listen. He is one of these artists that will save real country music. He doesn't sound like that manufactured nonsense that comes out of Nashville these days.
Tracks I Think Are Great
I posted the video of one of my favorite tracks above, "Turn to Hate" is an upbeat song that sounds like if Steve Earle and basically any new wave band had a baby. "Dead of Night" is a great opening song that really sets the cowboy-out-on-the-prairie mood of the whole album. Thematically speaking, Peck is openly gay, so a lot of the songs explore that through the whole cowboy ethos thing.
"Hope to Die," "Old River," and "Buffalo Run" sound like they are in the running to be part of the next Tarantino spaghetti western soundtrack. "Take You Back (The Iron Hoof Cattle Call)" is my second favorite song on Pony and the following live video of that song is a good example as to the talent and energy Peck has.
[youtube https://www.youtube.com/watch?v=LjnGq0TkNUw]
"Roses are Falling" rings with the same sincerity as a Buck Owens or Conway Twitty ballad. Peck speaks over the music like a modern day Johnny Cash did on the American recordings. Finally, rounding out the record is  "Nothing Fades Like the Light," which is a slow and melodic song with a trancelike quality. The words will get stuck in your head if you let them. Hell, the whole damn album is an ear worm.
[youtube https://www.youtube.com/watch?v=MQZ2PdICo8w]
Fun Facts!
Peck's live backing band is Canadian punk/indie rock band FRIGS. It doesn't appear that the whole band performed as personnel on the record itself.