Saturday Morning Gaming: Like Where's Waldo, But For A Computer
Hamlet commercial - Photo Booth
We talked about Where's Waldo before.
my idea of a perfect crime? I'll show you pic.twitter.com/jmWSPQbpXT

— blakemessick(@blakemessick) February 11, 2020
Now imagine a Where's Waldo that has little flaps. So maybe just scanning the page isn't enough. You have to lift flaps as well. And this allows little stories to be told in addition to what you see on the page. See a little monkey looking under a leaf? Lift the leaf and show the monkey finding a banana! Have the inside of the flap fold out in a special way to show the expression of the monkey change from curiosity to delight! Have another flap next to that one that shows a monkey finding a spider! And have another flap show you, oh, THERE he is! Waldo, you scamp!
Well, if the flap books from my childhood are any indicator, that book would last maybe three readings before something catastrophic happened to one of the flaps.
So imagine if you weren't limited to paper. You could make a hidden image game for the computer. That would not only allow you to do the flap thing, but come up with entire animations.
And that brings us to "Hidden Folks". The idea of Where's Waldo except interactive this time. They give you a handful of little things to find… a guitar, a dancing guy, a lady reclining…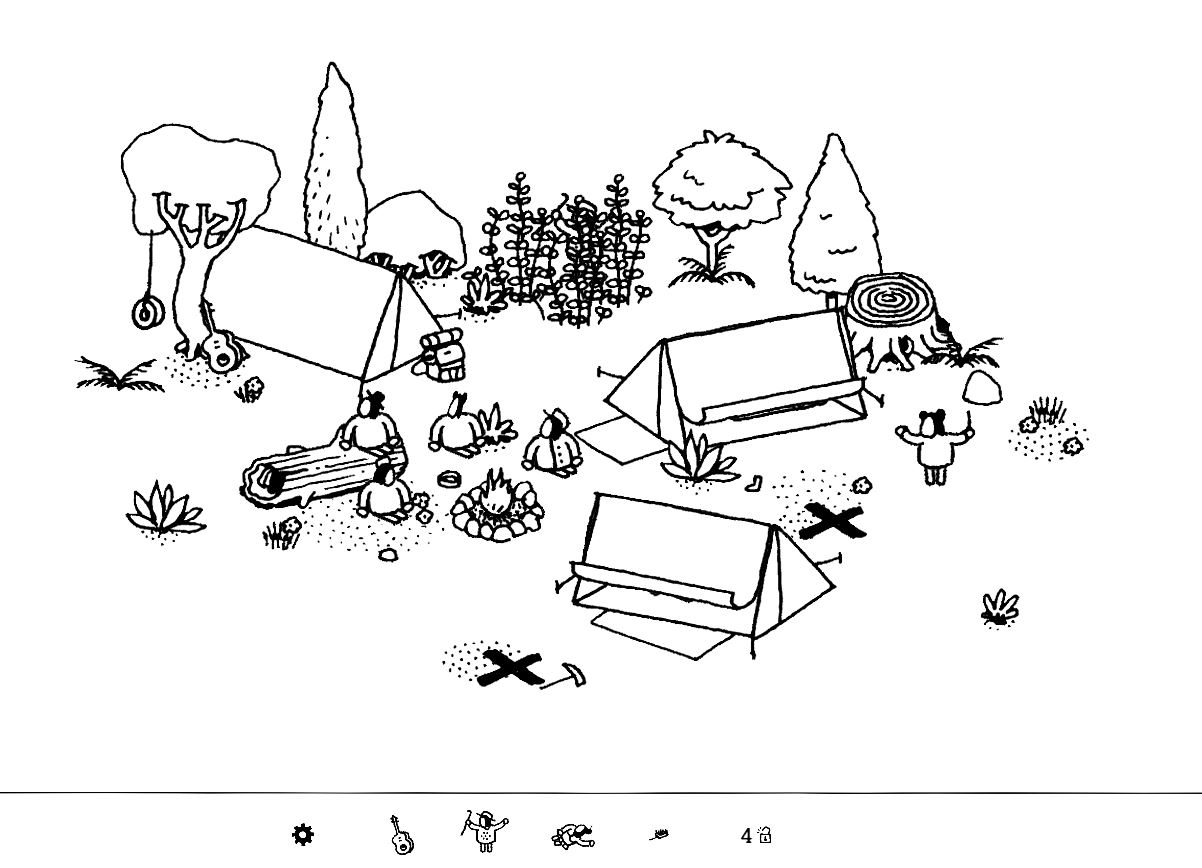 And then to find them, you have to do stuff like click on the weeds that might be obscuring what you're looking for or opening a tent flap.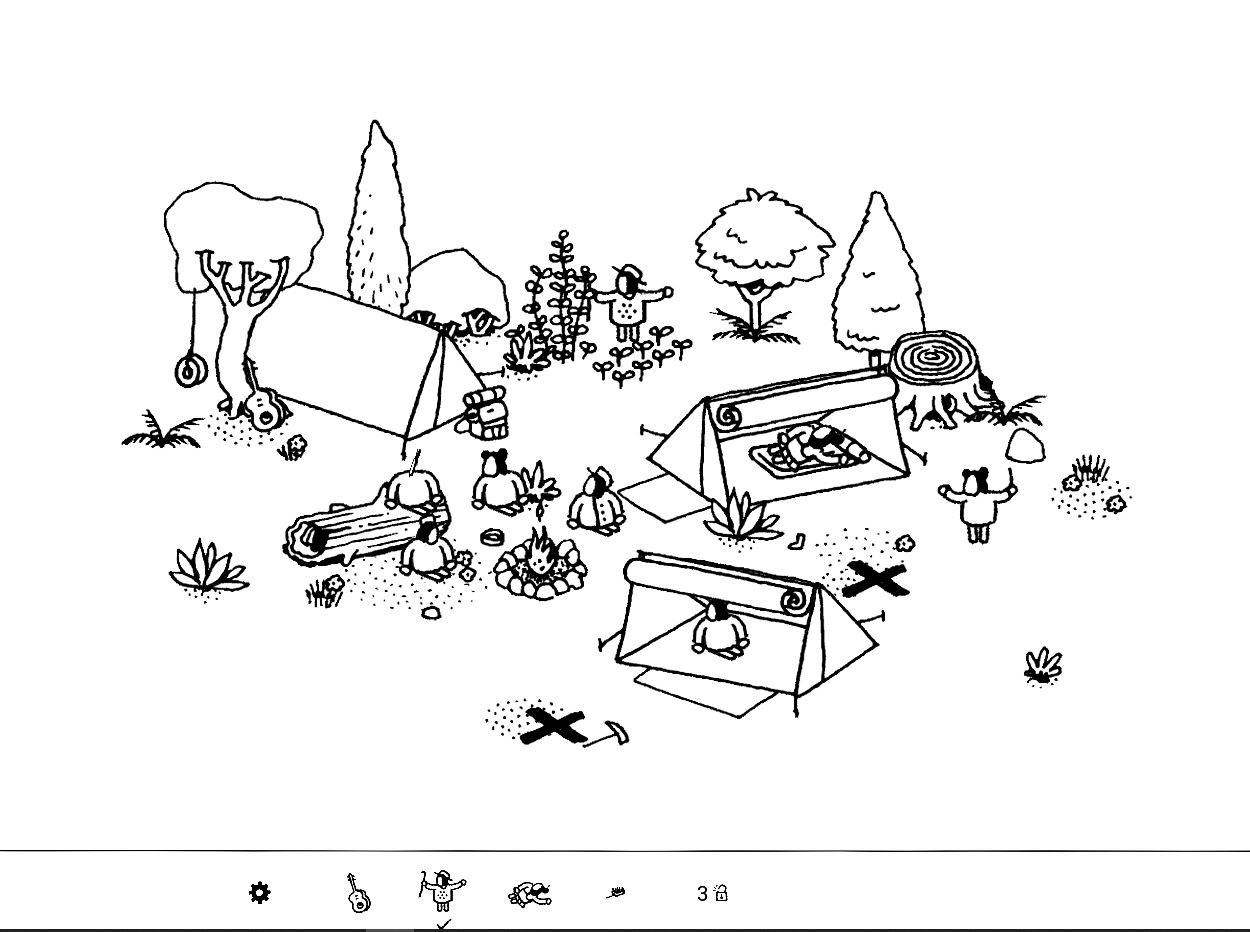 The difficulty ramps up. You go from easy stuff, like the above, to crazy crowded pictures pretty quickly: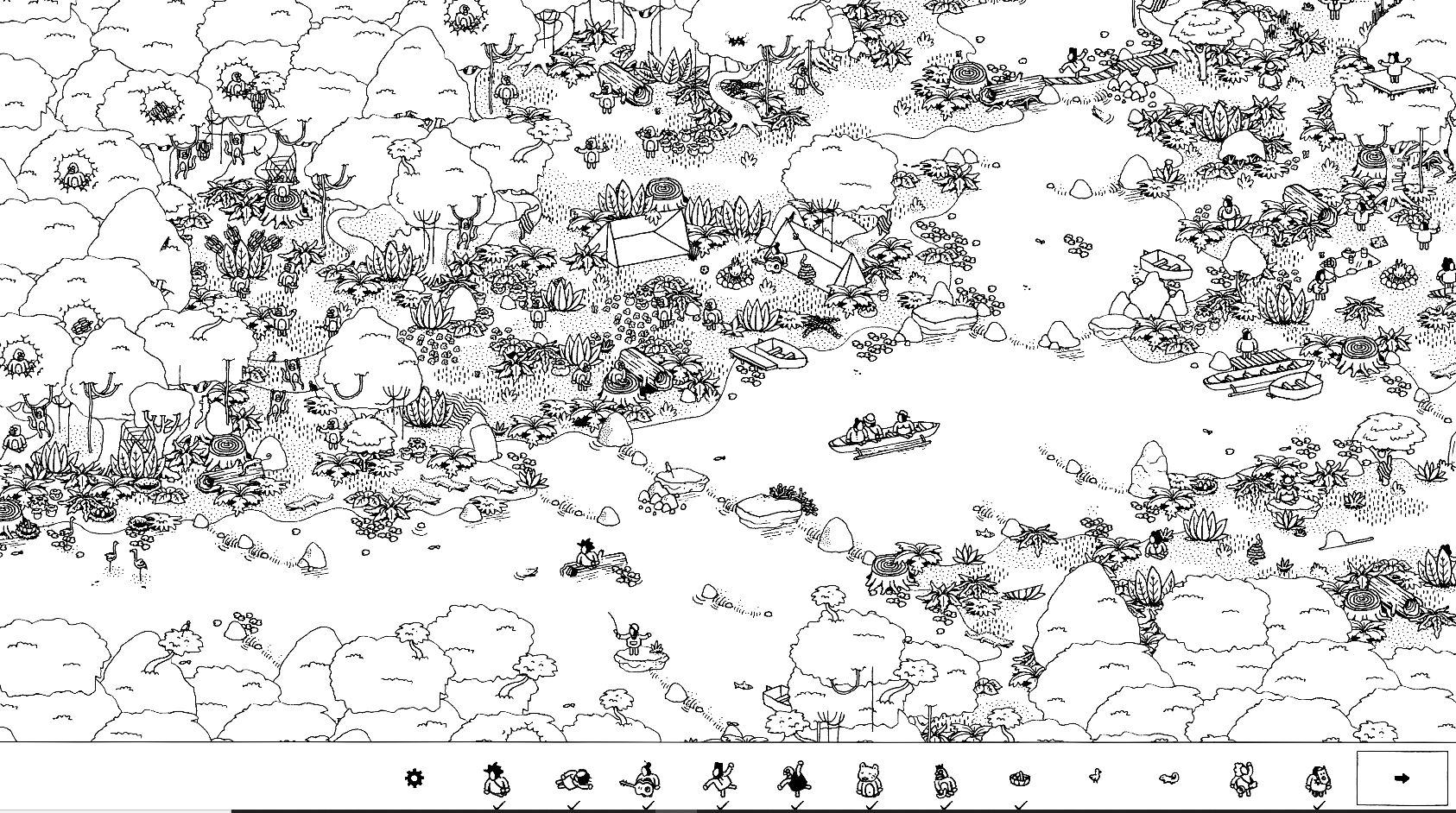 But on top of everything that you're doing, the sound effects are delightful. They're all made by people. So when you click on, say, a monkey, you hear a guy making monkey noises. When you click on a waterfall, you hear a lady make waterfall noises. And when you find one of the hidden pictures you're supposed to find, you hear someone give a cheerful "BLING!" It's goofy and silly and I turned them off after about 10 minutes. But 8 of those 10 minutes were pretty fun.
If you're looking for a little zen game to play while you're doing things in another window, beware. You'll soon have only one or two things left to find and you'll be clicking EVERYTHING trying to find the hidden flap that will release the animation that will FINALLY show you the picture you're looking for.
But, until that point, it's a fun little zen game.
So… what are you playing?
(Featured image is "Skinny Milk in the Cupboard" by avlxyz. Used under creative commons license.)