Sunday Morning! Hollywood's Eve and Eve's Hollywood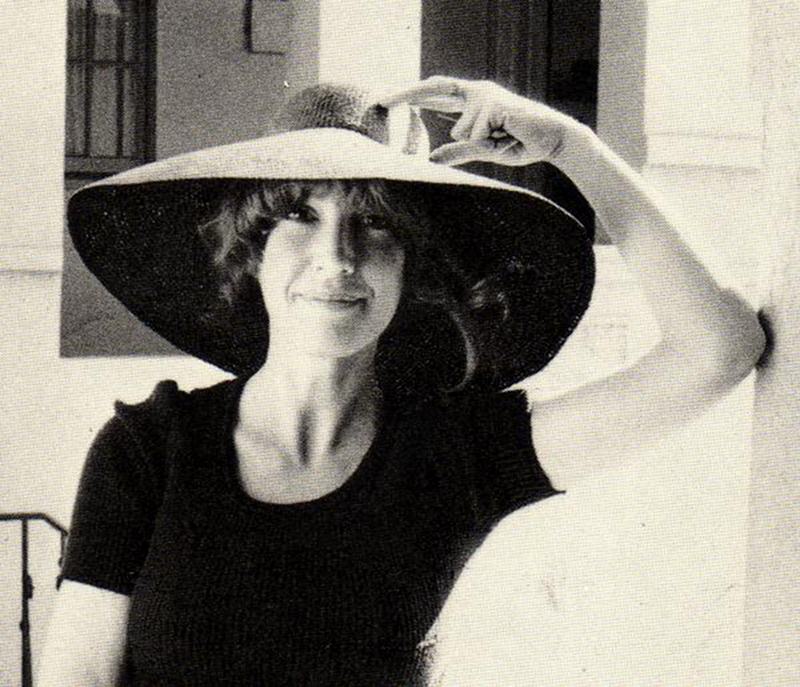 I think everyone has those writers (or artists, or musicians, or filmmakers) whose names they'd gladly shout from the rooftops. As in How is this person not better known?! As in You have to check this out right now! I've talked about the band Simply Saucer in this context, and really a good many of my posts amount to "Hey, you've got to check out this semi-obscure work of art right now!" In my defense, the New Testament also boils down to "Oh, man, you should've met this guy! Boy, was he something else!"
So, it's understandable what Lili Anolik was after when she pursued the reclusive and nearly forgotten Hollywood writer Eve Babitz and first profiled her in Vanity Fair in 2014. This was a woman who grew up the child of Hollywood bohemian artists, went to school with budding bombshells, posed nude playing chess with Duchamp as a teen, was convinced to start writing by Joan Didion, appeared briefly in the Godfather, shot record covers, slept with Harrison Ford, Steve Martin, and pretty much everybody, did all of the drugs one could imagine, and then wrote memoirs and a novel in which she apologized for absolutely nothing and where the inevitable "dark side" never quite arrives.
Anolik clearly adores Babitz for her life, her writing, and her unapologetic hedonism — a character trait nearly extinct among contemporary writers. And, from the sound of it, Babitz was the best party guest you could imagine; as the woman herself wrote: "I looked like Brigitte Bardot and I was Stravinsky's goddaughter." Of course, she loved life. How could she not?
Anolik expanded the profile into a book "Hollywood's Eve: Eve Babitz and the Secret History of L.A." which came out last year. In the book, she explains just what happened to this "It Girl" of yesteryear. Apparently, Babitz never did marry or settle down in any sense. But, her writing hit the biggest wall standing in L.A.: cocaine. Her later books declined in quality and were dismissed. And then, horrifically, she caught on fire while smoking and driving, covering her body in third-degree burns and nearly dying. Babitz became much more reclusive and, from the sound of it, more difficult to be around.
Because the happy fact is she is still around and, all of a sudden, the literary world notices. Anolik did a mitzvah in reviving Babitz's career; she is more celebrated now than she was then. And this was a fascinating life. The problem is the biography absolutely convinced me that Babitz was a fantastic writer, making me wonder why I was reading her biography instead of her memoirs. Anolik's own style is the "breezy" tone typical of Vanity Fair or Vogue. It's hard to pull off- you can seem clever and deft, if you can somehow write like Colette; but most "style" writers push it too far to the shallow end of the pool, and read like dipsticks in lipstick. Anolik luckily stays in the middle of the pool, for the most part, but has a few groan-inducing lines; of Harrison Ford, "the thing about carpenters is they really know how to nail it."
Anolik also has this tendency to interject her own experience into the biography, painting herself as a dazed fan with a girl crush on a liberated woman of yesteryear- someone who took the sort of chances that most professional writers don't have the time or spirit for today. I understand why one would yearn for a wilder time in which smart people pursued pleasure "as naive as before the invention of guilt"- Babitz's line, not Anolik's.  But, after a certain point, Hollywood's Eve reminded me of the movie "Julie and Julia" where a New York fan girl obsesses over Julia Child and we have to fast-forward every time she's on screen in order to get back to the much more interesting Julia.
So, I checked out Babitz's 1974 debut "Eve's Hollywood" from the library and, well, Anolik was right: Babitz was a fantastic writer. She relates anecdotes and observations about "the surface of things" in a funny, zippy style that stays on the right side of "breezy" until you realize that she's so funny because she's so smart. Scary smart. Jewish smart. Babitz can toss off epigrams like "Death to me has always been the last word in people having fun without you" or "Beauty, unlike money, seems unable to focus on the source of the power". She can slip in lines like "She knew exactly, sort of, what she was going to do" and be onto the next quip before they register.
In Eve's Hollywood, Babitz's free range attention waders from surfers to LSD, street taquitos to the Academy, Bobby Beausoleil (who she knew as "Bummer Bob" and thought looked "like an archangel. Bright.") to Nathaniel West ("a creep"). Sometimes, the writing is koan sparse; her chapter on Cary Grant reads, in its entirety: "I once saw Cary Grant up close./ He was beautiful./ He looked exactly like Cary Grant." Sometimes, the writing is baroque; a half-page sentence about a surfer rivals Proust for length and luxuriousness. Often, her stories are hilarious- her chapter on Romans, those eternal "children", will ring true for anyone who has ever loved one or been one. But, the writing is never shallow; it's too playful and arch for that.
Her method becomes clear when Babitz discusses the writers who inspired her: Colette, the divine Max Beerbohm, Isak Dinesen, C.P. Snow, Anthony Powell, Proust, Carol Oates, and Henry James. Aside from this sounding like a great dinner party, they're each a pleasure to read. Too much of American writing has been inspired by Hemingway, a novelist who treated words like a child treats boiled vegetables at dinner: something to be gotten through as quickly as possible, tasting nothing. Proust, on the other hand, could write twenty pages of beautiful prose about the aesthetic pleasures of listening to a piece of music. They were enthusiasts, enthusiastically.
On the other side of this is "serious" writing. Babitz has an entire chapter about her failed efforts to write a "serious" book once she lucked into a writing contract. She cuts herself off from friends and parties and sets to serious work- to no effect. Something has drained the life from her prose; she struggles to understand it, writing:
"The seriousness of the situation was led all around until finally I hit it- the seriousness of the situation was the whole thing. A Roman is not serious and can't believe in it and there I was at the mercy of seriousness and mercy has never been one of its virtues. In fact, mercy is beside the point once you get deeply into seriousness, look at Hitler. Suicide is as serious as you can get."
Not many writers can pull off a joke about Hitler and suicide in a piece mocking seriousness in writing. What she understands is writing style is all acting, be it serious or light. Raise your hand if you would most want to spend a party in the corner with Susan Sontag. Me, neither. It's understandable why so many writers and readers have taken to Babitz's newly republished books in the last year. Reading her makes you realize that the secret to good writing is to be yourself, only more so.
So, what are YOU reading, watching, playing, pondering, or shouting from the rooftops this weekend?