Top 10 Films of 2019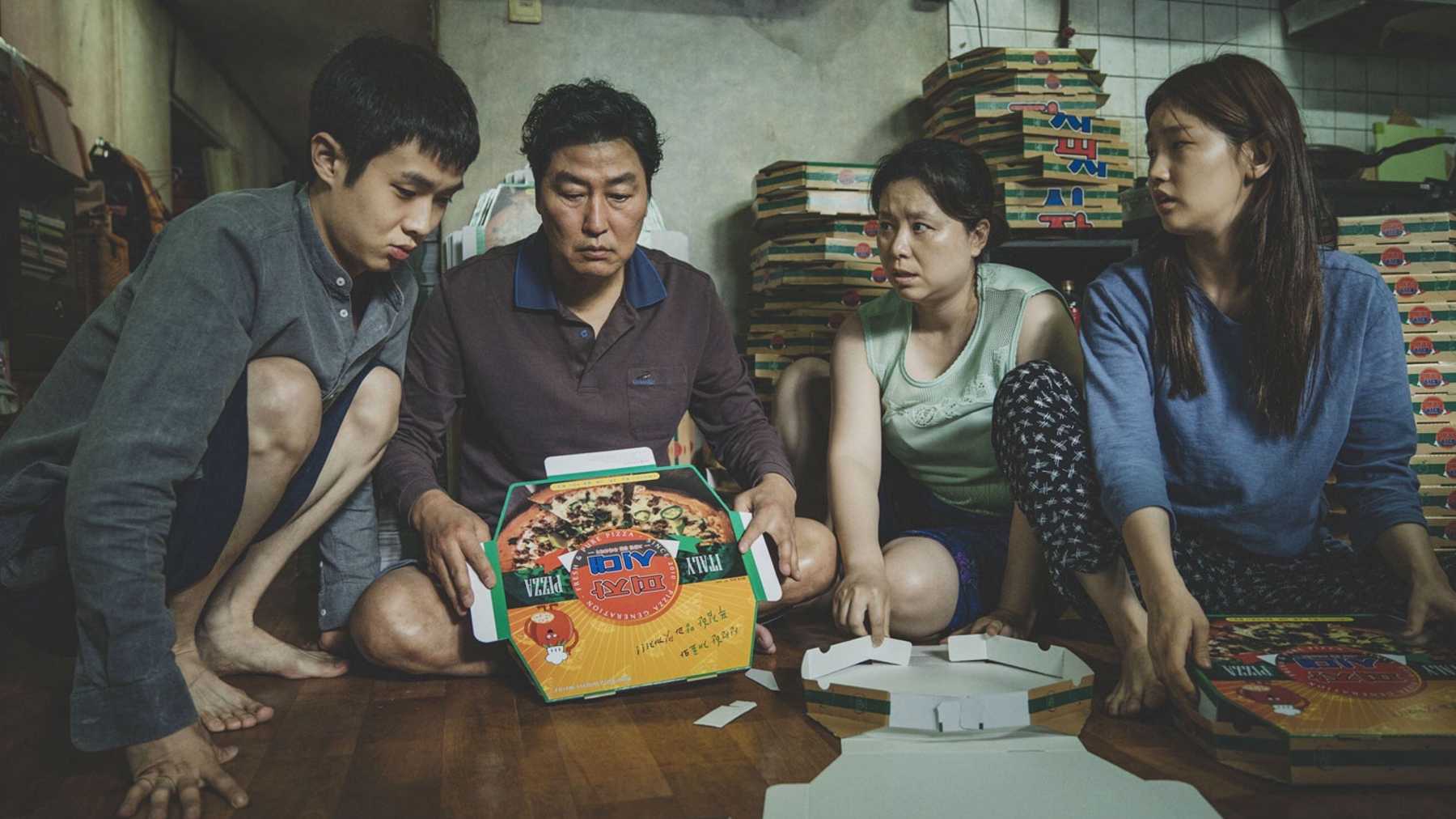 The 92nd Academy Awards air on Sunday, February 9th. In the interest of celebrating the year's best, I thought I'd publish my top 10. It was a good year at the movies, despite the mega productions and franchise titles struggling to connect (at least with me). But 2019 was a real triumph for lower and mid-budget films.
I'll call out explicit spoilers along the way, but if you haven't seen a movie on here, you might infer story details from my write-ups. Proceed at your own risk. Now, let's get on with it!
10.) MIDSOMMAR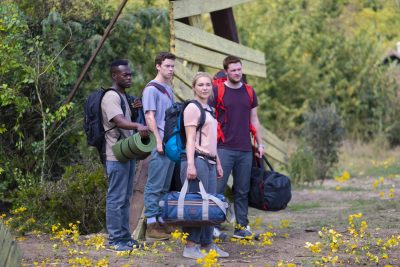 With two features under his belt (this and 2018's "Hereditary"), director Ari Aster has proven himself a master of horror. Following a tragedy, emotionally fraught Dani (the incredible Florence Pugh) tags along with her boyfriend, Christian (Jack Reynor in full-on ass mode), and his friends as they visit a commune in Sweden for their cultural anthropology studies. There, they attend a midsummer celebration, and that's when things really go pear-shaped. Aster understands that horror is often at its best when it's in service of something else. Here, trauma and grief with a pinch of relationship toxicity become a breeding ground for the truly demented and depraved. Aster is a wickedly confident filmmaker. He's got the slow horror tracking shot down. "Hey audience, c'mon over here. I wanna show you something." "Ya know, we'd rather not." "Too bad, we're going anyway!"
9.) BOOKSMART
Balancing broad comedy with poetic passages, "Booksmart" is a great feature debut from director Olivia Wilde. Amy (Kaitlyn Dever) and Molly (Beanie Feldstein) are high school seniors. They pride themselves on how hard they study, but when they discover their classmates had a good time and are still getting into top universities, they fear a lost opportunity. Molly is committed to attending the last big bash of the year and cutting loose. Like a lot of performers-turned-directors, Wilde has a real talent for working with actors, and Dever and Feldstein are dynamite leads. There's an immediate chemistry between them, as Amy picks Molly up for the last day of school and they do a charmingly awkward dance. The film boasts some striking visuals – an argument lit by cellphones and an underwater revelation. Wilde and her team also put together an outstanding soundtrack that circumvents familiar (read: overplayed) needle drops.
8.) HAIL SATAN?
You might think a documentary about The Satanic Temple and the attempt by the Religious Right to turn America into a theocracy wouldn't be riotously funny. But you'd be wrong! The Satanic Temple, by the way, is positioned more as an institution that looks out for the downtrodden than a group of Devil worshipers (though they do have some of those). About 44 seconds in, after we've seen a young man climb an everyday colonial staircase while dressed in a dark cloak and long horns, I knew I was all in on this film. The organization's provocations are mostly of the highest order. You want to put the 10 Commandments on government land? We'll erect a statue of Baphomet because America is not governed by any one religion. And director Penny Lane has an acerbic wit. There's a sequence where one of their members, Jex Blackmore, gives a fiery speech, then Lane and her editors cut comically to the quiet next morning as she runs a broom over the stage, sweeping up shattered lights from the previous night's revelry. Blackmore is an incendiary figure, one who calls for the assassination of public figures. Ironic that this organization too has zealots in danger of sidelining the mission. Though to The Satanic Temple's credit, they immediately expel her instead of institutionalizing her and making her Attorney General or Vice President.
7.) THE FAREWELL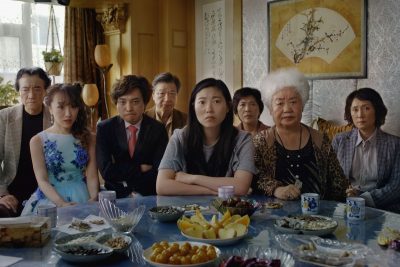 Lulu Wang's semi-autobiographical film centers on the relationship between 30-something Billi (Awkwafina) and her grandmother, Nai Nai (Zhao Shuzhen), who has been diagnosed, unknowingly, with terminal cancer. Billi and her family rendezvous in China for a cousin's impromptu wedding. A shotgun wedding of a different sort, an excuse for the family to get together to bid farewell to their matriarch. Billi wants to break the news of her grandmother's illness, and her parents want to ensure that her final family reunion is restful and joyous. There's a remarkable tonal balance here. A contemplative pace, muted color palette, limited camera movement, naturalistic performance, and of course the heavy subject matter. It doesn't feel as though it should be as funny as it is, but it's stirring, tender, and hilarious in equal measure. The entire cast is a knockout but especially Awkwafina and Zhao Shuzhen. The way Nai Nai lovingly chatises Billi, "stupid child," while affectionately touching her cheek was one of the year's most endearing moments.
6.) HER SMELL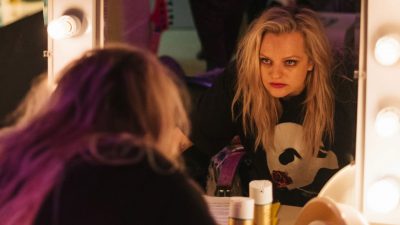 Elizabeth Moss plays a punk rocker named Becky whose substance abuse threatens herself, her bandmates, and her family. "Her Smell" (terrible title) is structured around a series of vignettes and to watch the early ones is to feel intoxicated yourself. Director Alex Ross Perry's camera is loose yet assured. Robert Greene's editing is sharp. Moss is raw and compelling. (Forget the Oscars, here's your Best Actress.) The film has all the immediacy and energy of a fly-on-the-wall documentary. You can feel the sweat and the grime. You can practically smell it! (Okay, so maybe not such a terrible title.) When Becky attempts to get clean, all the live-wire storytelling gets pulled from the film. The shots get longer, the camera gets stiller. The final 25 minutes are excruciatingly suspenseful, a trial for Becky as they present the possibility that she'll fall off the wagon. It's a testament to how good the rest of the film is, that you're as invested as you are, searching Becky's face for a sign. "She doesn't smile like that. Why is she smiling like that?" And the sound design! It can be hard to tell where the film score ends and the sound begins. All those rumblings. Are they music? The bowels of the performance space? Or the demons rolling around Becky's head?
5.) THE IRISHMAN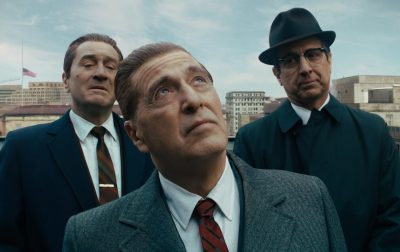 "The Irishman" follows Frank Sheeran (Robert De Niro) as he navigates mid-20th century America, the right-hand man to mobster Russell Bufalino (Joe Pesci) and friend to union leader Jimmy Hoffa (Al Pacino). A veritable "Forrest Gump" with wise guys, it's a mostly standard Martin Scorsese crime film – a colleague derided it as "textbook" – until…it isn't. A lot of the signposts are here. The wonderful music selections, the roving camera, the fascination with the underworld. And it's funny! (You'll never look at watermelons the same way again.) But an early scene hints at what Scorsese has in mind. It's one where Sheeran does a hit at a restaurant, narrating his process in the detail of a heist film. We expect the filmmaker to luxuriate in a protracted suspense sequence as we anticipate all the ways the job could go wrong, only to find that it's over as quickly as it starts. As the film's mournful final passages depict, we all eventually receive a visit from the man who paints houses. Some of us more slowly, excruciatingly, and mundanely than others. To see Scorsese take the piss from these personalities, and with this cast, is bracing. This is a return to form for De Niro, but it's Joe Pesci who steals the movie with his quietly dialed back work.
4.) LITTLE WOMEN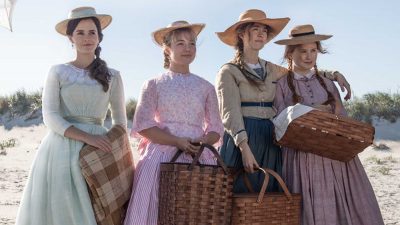 Full disclosure: I've never read Louisa May Alcott's classic novel or seen any of its other screen adaptations. This latest version bounces between 1861 and 1868 and follows the March sisters as they navigate growing up in Civil War-America and the struggles of early adulthood. Romance. Passion. Profession. IndieWire critic David Ehrlich called this, Greta Gerwig's follow-up to the exceptional "Lady Bird," wild and wise. That's an apt description. The film sidesteps everything I dislike about period costume dramas. Where most are buttoned up and lifeless, this is energetic and rambunctious. I love the way Gerwig has her actors talk over each other. And what actors! Saoirse Ronan, Emma Watson, Florence Pugh, and Eliza Scanlen play the March Sisters. Laura Dern plays their mother and Meryl Streep their aunt, while Timothée Chalamet portrays their handsome neighbor, Laurie. There's a remarkable ease to the performances, and apart from the next entry in my top 10, you won't find a better ensemble in 2019. "Little Women" makes time for moments of quiet and grace too. One of the images that most stands out is Ronan's Jo cradling her sick sister, Scanlen's Beth, on a beach as the wind blows wisps of sand across the camera lens.
3.) KNIVES OUT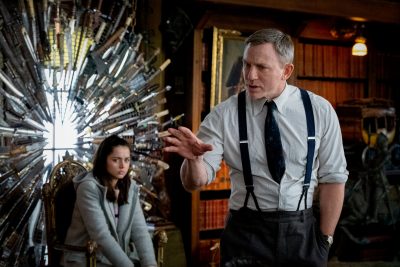 Hot off the critical and financial success of "The Last Jedi," Rian Johnson returns with an Agatha Christie-inspired whodunit. Famed mystery novelist Harlan Thrombey (Christopher Plummer) turns up dead, seemingly by suicide. Matters are complicated when private detective Benoit Blanc (Daniel Craig with a howler of a Southern accent) is mysteriously hired by someone to investigate. Harlan had a large estate, and a number of entitled family members (played by the likes of Jamie Lee Curtis, Michael Shannon, Don Johnson, Toni Collette, and more) all eager for their piece of it. At the center of this drama is Harlan's nurse, Marta (Ana de Armas), who's so kindhearted that she can't lie without losing her lunch. A pretty standard setup with anything but standard payoffs, this cracker jack plot with wit to burn oscillates from a whodunit to will they get caught and back to a whodunit. The damn thing moves, in part thanks to the script and Bob Ducsay's editing. But Johnson is also master at using the camera to whisk you along. I love that he managed to get some incisive commentary into a popcorn movie. The way each of the Thrombeys think Marta's family is from a different country, and how they assume her family came here the "right" way. It's as though they're saying "sure you're one of them, but you're not one of them."
2.) PARASITE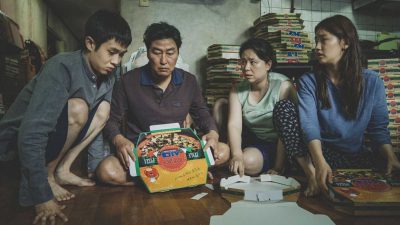 Bong Joon-ho is cinema's preeminent genre mashup artist. From "The Host," where he combined a creature feature with a dysfunctional family dramedy, to "Memories of Murder," which flirts with slapstick as it delves into a bone-chilling police procedural, his films are full-course banquets. You'll laugh, you'll cry, you'll be thrilled, you'll shiver, and you'll be left with something to ponder. "Parasite" is no different. It might be the most Bong Joon-ho film, focusing on a lower-class family of four (the father is played by the extraordinary Song Kang-ho) as they maneuver their way into working for a more affluent family. The son, Ki-woo (Choi Woo-shik), poses as an English tutor for the rich family's daughter. He gets his sister Ki-jeong (Park So-dam) a job as an art therapist. Together, the two secure jobs for their parents using increasingly nefarious means. And that's about 50 minutes into this 132 minute feature. I won't divulge where it goes from there, suffice it to say it's hilarious, absurd, exciting, crazed, and devastating. Sometimes all within the same scene!
1.) ONCE UPON A TIME…IN HOLLYWOOD
This entry contains spoilers.
Either the saddest film of 2019 or the funniest, Quentin Tarantino's "Once Upon a Time…in Hollywood" tells an elegiac story about fading TV star Rick Dalton (Leonardo DiCaprio), relegated to playing the heavy on westerns, and his gofer, stunt double, and best friend, Cliff Booth (Brad Pitt). As the movie traces Rick's decline, it follows the rise of starlet Sharon Tate (Margot Robbie). Whether it's his trailer meltdown or a tearful reaction to a child actor's compliment, DiCaprio proves that he's one of the funniest in Hollywood by playing it straight. And has Brad Pitt ever been better? His charisma and easy-going manner are essential for a character this provocative. In an age where franchise is king and fame comes from reality TV and social media, "Once Upon a Time…" is a testament to the power of movie stars. What a lovely moment to have Robbie (as Sharon) enjoy an audience's laughter as she watches the actual Sharon Tate in a screening of "The Wrecking Crew."
Set in February and August of 1969, the film culminates in what would have been the real-life murders of Sharon Tate and her friends. But fans of Tarantino know that he's not above revisionist history. The Manson Family instead pay a visit to Rick's home, and he, along with Cliff and Cliff's ball-fetching dog Brandy, dispatch the villains such that the director is intent on repaying the clan for every cent of the brutality they visited upon their victims. And sometimes, yes, it's played for laughs. There's a pay-off during the blood bath that's absolutely fiery. Yet I can't help but think Tarantino wants his audience to eat it a little bit. I've never ping-ponged so furiously between fist-pumping elation and absolute horror. The mayhem subsides, and we hear Sharon Tate's voice over an intercom. This is the last we'll see or hear from her save for a distant overhead shot. Then there's a camera move over her house as Rick is led through some not-quite-pearly-but-certainly-heavenly gates. A melancholy Maurice Jarre piece plays and reminds us that, despite disaster being averted, this is after all just a fairy tale.
I'll wrap things up with some honorable mentions: "Apollo 11," "Dolemite Is My Name," "Ford v Ferrari," "Marriage Story," and "Toy Story 4." My biggest regret of the year? Not seeing "Portrait of a Lady on Fire" before publishing this list.
What films stood out to you in 2019?