The Weird Romantic World of Jim Steinman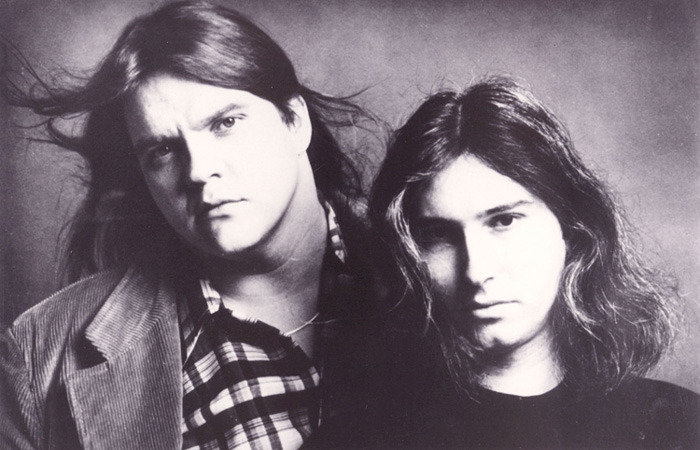 One of my favorite things in this world is when I discover someone out there who creates more for love than money, and emphatically bucks convention because damn it, they just like things the way they do them. With Valentine's Day hurtling at us like Cupid's Arrow, it's time to celebrate one of these weirdos, songwriter Jim Steinman.
You've probably never heard of Jim Steinman but I can guarantee you've heard several of his songs. Steinman is most famous for his collaborations with Meat Loaf, writing all the songs on Meat's albums Bat Out of Hell 1 and 2. Or is it Bats out of Hells?
Regardless, if you ever wondered who the heck the other guy was on the back cover of Bat Out of Hell, it was Jim Steinman.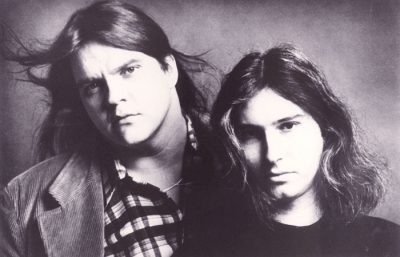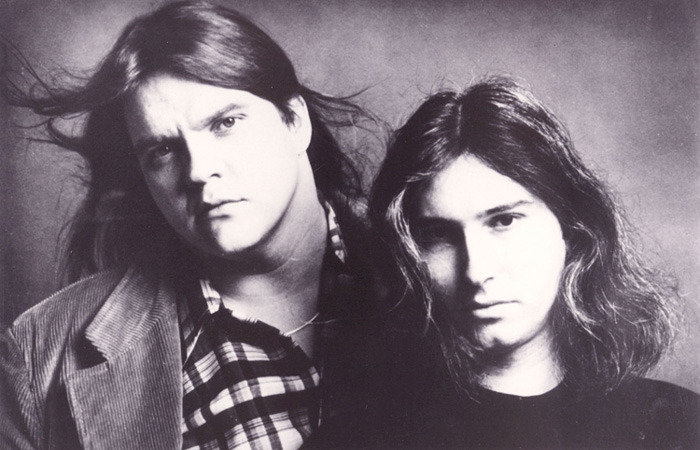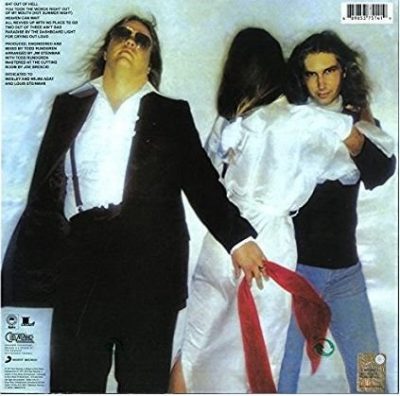 Here's the title song from the first Loaf/Steinman collaboration, Bat Out of Hell, in all its glory. You may detect a flair for the melodramatic, a fondness for colorful imagery, and a certain over-the-top-ish-ness. Excess, in excess. Listening to a song by Jim Steinman is an exercise in musical gluttony. If a human being was a Steinman song, that human being would look pretty much exactly like 70's era Meat Loaf.
Meat Loaf - Bat Out of Hell (PCM Stereo)
---
Compared to most Jim Steinman songs, Two Out of Three Ain't Bad is downright restrained, but there's still room for stellar image-conjuring Steinman lyrics like "I'm crying icicles instead of tears" and "There ain't no Coupe de Ville hiding at the bottom of a Cracker Jack box".
Meat Loaf - Two Out Of Three Ain't Bad (PCM Stereo)
---
And since this is an article about music so thick and dense you can wallow in it like a pig in mud, let's indulge ourselves in Meat Loaf until we can barely waddle away from the table we're so full of him, by listening to You Took The Words Right Out of My Mouth.
By the way, the beginning of this song…men, amirite ladies??? That's actually Jim Steinman himself doing the male part of the spoken word recital.
Meat Loaf - You Took The Words Right Out Of My Mouth (Hot Summer Night) (PCM Stereo)
---
Once his name was made, Jim Steinman began to work with other singers aside from Meat Loaf. When Steinman's flair for the dramatic encountered Barry Manilow who is not exactly lacking in showmanship himself, a hurricane of camp occurred so powerful it threatened to wipe out both Vegas and Miami. Read 'em and Weep is officially the name of the song, but this video defies human language.
Barry Manilow - Read 'em And Weep
---
This Valentine's Day I hope you find someone who approaches your relationship with the single-minded dedication that Air Supply's Graham Russell displays while playing his guitar in this video for Making Love out of Nothing At All. If anyone could tell me what this video is about I would really appreciate it because it seems to have no connection whatsoever to the lyrics of this Jim Steinman song.
Air Supply - Making Love Out Of Nothing At All
---
You may have noticed that those last two videos were pretty over the top themselves. That's because Jim Steinman was not content with only writing songs; he also is notorious for demanding an unprecedented amount of artistic control over the videos made for the songs he's written. A creative decision that I admire but unfortunately at times it backfired, yielding nonsensical pedophilic fever dreams like this video for Bonnie Tyler's Total Eclipse of the Heart.
Bonnie Tyler - Total Eclipse of the Heart (Video)
---
Streets of Fire was an 80's movie that was allegedly created by a Baby Boomer trying to make the kind of movie he wanted to see when he was growing up, only none of us who grew up in the 80's wanted to see it since it didn't star Molly Ringwald or any offspring of Martin Sheen. Jim Steinman was allegedly very vocal in telling everyone that the movie's script sucked, but despite his reservations he still obediently coughed up a couple songs for the soundtrack like Tonight is What it Means to Be Young. Bonus, Diane Lane in a short form fitting red dress.
Tonight Is What It Means To Be Young [Official Music Video] (Fire Inc.)
---
I almost didn't include Nowhere Fast cause it was more of the same from the Streets of Fire soundtrack, but if you liked Diane Lane's last dress you're gonna love this one. Also, the unexpected appearance of creepy Willem Dafoe at the end of this video was a moment of such incredible Steinmanliness if I wouldn'tve already been writing this article it would have twisted my arm up behind my back, pushed my face into a dirty brick wall and made me beg for the privilege.
Streets of Fire: Collector's Edition: Nowhere Fast (HD)
---
Stick with this video for Barbra Streisand's Left in the Dark. It starts off like a lot of Steinman songs do, a bit meh, but then it delivers a hell of a payoff. Babs gets dumped by a skinny-tied '80s looking douche and gets the absolute best consolation prize ever.
No cigarettes were hurt in the filming of this video.
Barbra Streisand - "Left In The Dark" (Official Music Video - 1984)
---
Aside from Meat Loaf, the artist best known for performing Jim Steinman songs is Bonnie Tyler. I admit I didn't fully appreciate Holding Out For a Hero when it came out, but I find the song to be better than I remember. I further find the video more disturbing than I remember. Also I totally can't believe that Paula Cole got away with Where Have All The Cowboys Gone which borrows quite a bit from this ditty.
Bonnie Tyler - Holding Out For A Hero (Official HD Video)
---
This video is why a generation of Gen X'ers never dance in public. "Honey, it's fine.  You're not a spaz!  Now please, it's our anniversary!" "But Greg, I can't, what if I actually dance like Billy Squier in Rock Me Tonight?" Steinman only produced this album but I have a funny feeling he was involved in the making of this very odd and cringe worthy video. Probably intimately.
Rock Me Tonite - Billy Squier (HQ Audio)
Bonnie Tyler's Loving You's a Dirty Job (But Somebody's Gotta Do it) starts off as an entirely unremarkable video and then it goes full Steinman about the two-minute mark.
Bonnie Tyler - Loving You's a Dirty Job (But Somebody's Gotta Do It) (Video)
---
The Sisters of Mercy were an 80's era British Goth band Jim Steinman worked with, producing a couple of songs for them, like This Corrosion, which was featured in 2013's The World's End.
The Sisters Of Mercy - This Corrosion HQ
---
More was another The Sisters of Mercy tune both produced and written by Jim Steinman. It hit number one on the US Modern Rock charts in 1990-1991. Just hearing this song makes me want to tuck my Anne Rice novels into my Jansport, put on a thick layer of foundation two shades lighter than my actual skin tone, and go shopping for black leggings and unusually large shirts at The Limited.
The Sisters of Mercy - More [HQ - HD 720p]
---
Andrew Lloyd Webber and Jim Steinman teamed up to create the musical Whistle Down the Wind. On paper, it seems like this should have been an epic partnership, but all accounts indicate the musical was right up there with Streets of Fire in terms of quality. Guess that's what you get when you mix gunpowder and cocaine with saccharine. No Matter What was covered by the Irish boy band Boyzone and it was their best selling song ever, selling more than 4 million copies worldwide.
Boyzone - No Matter What (Official Music Video)
---
Jim Steinman didn't write Never Forget by the British boy band Take That, he only produced it, which is probably why it sucks so bad. I assume he needed some money to buy a black leather duster or something. You think I am exaggerating but here's a picture of what the guy looks like today: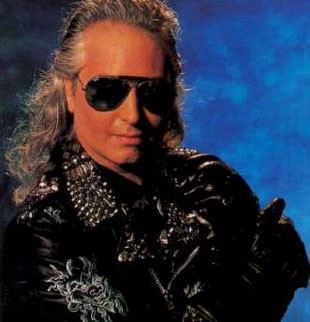 Look, ok, buying thousands of candles to have constantly burning in your bedroom probably takes a pretty penny. He did what he had to to keep himself in silver-studded dog collars and skull-embossed wristcuffs. Seriously tho, if you don't listen to one of these songs, please make it this one, because it's terrible. Robbie Williams quit Take That when this song came out and who the heck can blame him.
Take That - Never Forget (Video)
---
After those last two songs, I need some Meat Loaf to cleanse my palate. Please admire the spectacularly strange fingerprints of Jim Steinman all over I'd Do Anything For Love (But I Won't Do That).
Meat Loaf - I'd Do Anything For Love (But I Won't Do That) (Official Music Video)
---
It's All Coming Back to Me Now by Celine Dion is my personal fave Jim Steinman song, and this article originated with me wondering about this delectably bizarre video. Meat Loaf was apparently super pissed at Steinman for not letting him record this song, to such an extent they even went to court over it. But Jim just thought the song needed to be sung by a woman, and not a hot ground beef product.
Céline Dion - It's All Coming Back To Me Now
---
A Kiss is a Terrible Thing to Waste was originally recorded by The Everly Brothers for some reason and comes from the Andrew Lloyd Webber-Jim Steinman Whistle Down the Wind collaboration. I very much prefer this Meat Loaf version. Jim, Meat — please, never fight again. You belong together.
A Kiss Is A Terrible Thing To Waste - Meat Loaf **Official Video**
---
And of course, the grand finale, I think pretty much inarguably (you can argue if you wanna, but you're wrong) that both Meat Loaf and Jim Steinman's best song, the incredible, show-stopping, hilarious, and heartbreakingly true Paradise by the Dashboard Light. This song glows like the metal on the edge of a knife.
Meat Loaf - Paradise By The Dashboard Light
This Valentine's Day, regardless of your age, may you be doubly blessed.