Weekend Plans Post: On Durians and Getting Sick
My boss's brother just got back from Singapore and brought everybody some durian cookies. They were these.
Durian, if you don't know, is one of those foods that people feel strongly about. You know the people who tell you that they hate olives? Others that olives are the best food ever? Well, durian is like that. Some people say that the flesh of the fruit smells sweet, almost cloyingly so, and tastes rich and savory and nutty. "King of the Fruits!", they call it.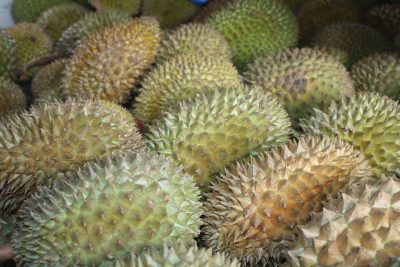 I did a little bit of research. The flesh of the durian isn't like a cantaloupe, like I assumed it would be, but like an avocado. Not fibrous but creamy… almost spreadable. Whip it up and put it into a creampuff. Sandwich it between two cookies! In my research, I also saw that the durian was banned from public transport in Singapore. The smell, you see, sticks around. Some people don't mind the smell. Some people demand that a law be passed.
I tasted the durian cookie and thought it tasted like an onion foot. It took hours for the taste to leave my mouth. I got a chili dog from 7-11 and it didn't help. Ugh. This is why I don't try new things.
In revenge, we made jokes about the coronavirus. "Does your tongue feel extra large today? Are you, like, aware of it in your mouth? Can you crack your knuckles or do they get just THIS close to cracking?" You know, stuff like that. Because, seriously, the durian cookies were bad. I wanted to, to use the term popular in competitive eating circles, "have a reversal".
And that and the coronavirus jokes got me to remembering the time I had influenza in the first or second year of my marriage.
Now, I had a number of illnesses as a child that got called "the flu". You barf for a couple of days, you have some bathroom problems for a day, then you're back in the game. "What was wrong?" "Oh, I had the flu."
I didn't have the flu. I had a stomach bug and it went through my system.
In the first or second year of my marriage with Maribou, we had Influenza. This stuff was BAD. We lived in a fever state between staggering to the bathroom and staggering back to bed and negotiating whether one of us had the strength to stagger to the fridge that was 12 feet away and bring back some Gatorade or cans of Ensure to ingest some fluids that would soon be evacuated. Fever dreams. Moaning. Staggering back to the bathroom. Staggering back to bed. FOR A WEEK.
And then we were fine. "Let us never speak again of some of the compromises we made." "Well, until I need to post about it in a couple of decades."
And all that to say: I got my flu shot. Please: Get your flu shot.
This weekend will be spent not being sick (I hope).
So… what's on your docket?
(Featured image is "IMG_4068" by alicia.chia@ymail.com. Used under creative commons license.)