Thursday Throughput: Somewhere In the Vicinity Of Betelegeuse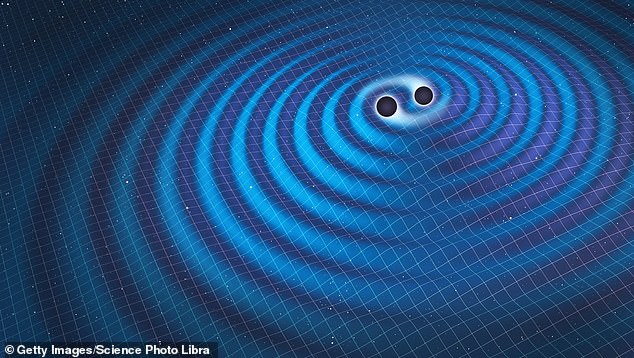 [ThTh1] A few weeks ago, we talked about the recent dimming of Betelgeuse — a red supergiant in Orion — and whether that might be the harbinger of a supernova. The answer was a few paragraphs that could be distilled into a shrug emoji. We don't know massive stars well enough to predict supernovae with any better accuracy than a few hundred thousand years.
But last week, there was a little buzz about it again. The LIGO experiment detects gravitational waves — disturbances in the fabric of spacetime caused by the motion of massive objects. To date, the ones we've detected have been from either two black holes smashing together or a neutron star crashing into a black hole millions of light years away.
Last week, we got what's called an "unmodeled" trigger which means the signature didn't correspond to any known phenomenon. LIGO only gives you a rough location in the sky for the source of gravitational waves. It was noticed that their large error region was relatively close to Betelgeuse. Could this be the signal that Betelgeuse is exploding?
Almost certainly not.
Let's back up. Stars hold themselves up against gravity by fusing light elements in their cores into heavier elements. This releases energy, which resists gravitational contraction. At first, they fuse hydrogen into helium. But as time goes on, they run out of fuel and start fusing heavier elements. With most stars, they'll stop at fusing helium into carbon and oxygen. But with massive stars like Betelgeuse, they keep going to heavier and heavier elements. However, each round of fusion yield less energy than the previous one and so it burns faster and faster. And when they try to fuse iron, that actually consumes energy, accelerating rather than resisting the collapse.
When a star hits this iron catastrophe, the core implodes. In a fraction of a second, it shrinks from about the size of the Earth to the size of a small city. All the heavy elements break up, electrons fuse with protons and what's left is a rapidly spinning mass of neutrons called a neutron star. The outer layers of the star crash down onto the core and rebound, creating an explosion that gradually gets brighter over the course of days and weeks until it can outshine an entire galaxy.
This implosion might produce detectable gravitational waves if the star were close enough (and Betelgeuse is). Moreover, it might be detected before the star brightens as it takes a few days for the shock of the explosion to break out of the massive stellar envelope and start to brighten.
However…
First of all, while Betelegeuse was near the source of gravitational waves, it was not actually in the error region. Second, the signal was very short (one one-hundredth of a second). We expect a core collapse to produce a different and longer signal. Third, when the core collapses, all those nuclear reactions produce a massive blast of particles called neutrinos. Neutrinos go right through the star since they rarely interact with matter (by the time you finish reading the sentence, a few hundred trillion will have passed through your body). But we have arrays set up on Earth to detect them. If Betelgeuse had exploded, those detectors would have lit up like Christmas trees. They didn't.
So we're still where we were two weeks ago: Betelgeuse might explode tomorrow. It might explode a hundred thousand years from now. But if it does explode soon, we will get the best look we've ever had at how stellar explosions work (and we don't really know how they work). And that would be really cool.
[ThTh2] This research, showing that cuttlefish can use 3-D glasses, sounds frivolous. I expect to show up on Rand Paul's list of wasteful government spending. But it's actually teaching us about how visual processing works.
[ThTh3] I'm a huge enthusiast for space exploration. But there are major problems that need to be solved. First and foremost might be radiation. Earth protects us from cosmic radiation; other planets don't. Elon Musk has been particularly bad about this issue, I should note.
[ThTh4] At some point, we're going to have to decide between saving the Earth and saving our view.
[ThTh5] Love stuff like this:
An astrophotographer has clicked an exceptional video, wherein we can feel the rotation of the earth

Using a tracking mount, aligned with North Star, he kept clicking images every 12 seconds for the next 3 hours.
The camera is looking at the same portion of the Milky Way

Fab! pic.twitter.com/5yAuc9VqZd

— atul kasbekar (@atulkasbekar) January 9, 2020
[ThTh6] Human body temperature is falling. No one knows why. As someone whose temp tends to be about a degree or two below "normal," I'm interested in what comes out of this.
[ThTh7] For a long time, it was thought that Jupiter shielded Earth from asteroids because of its big mass. That is now being called into question.
[ThTh8] Yet more evidence that phasing out nuclear costs lives and money.
[ThTh9] LSST has named their telescope after Vera Rubin. An outstanding choice.
[ThT10] I've mentioned the problems Starlink is creating for astronomy. There's now a suggestion that the FCC could be sued for failing to take into account the environmental impact of the constellation.