Sunday Morning! "Ducks, Newburyport"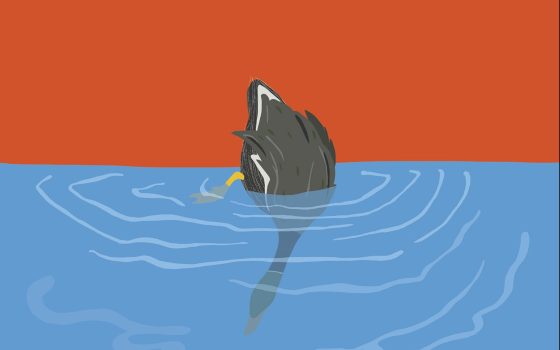 In the comments section for one of the reviews of last year's "Ducks, Newburyport", a gentleman explained that he had not read the novel and would not be reading the novel; but he was reading all of the reviews, so he would know which reviewers could see that "the emperor wears no clothes", and which ones were taken in by this nonsense. The emperor, I take it, would be Lucy Ellmann, who wrote the novel, while the reviewers who passed muster would be the ones who could tell the book is a failure, or a scam, or perhaps an elaborate joke on readers. But, of course, this made me wonder: How would he know? I mean, if you've never read a book, how could you pass judgment on the people who have read the book and deride them for having been taken in and fooled by that book you haven't read? Try as I might, I couldn't help but obsess about why someone would take all that time to read all those reviews of a book they were never going to read because they knew, without reading, that it was all a bunch of malarkey.
Now, I realize the online comments for a book review are a bit ephemeral and the internet makes most everyone a little bit crazee, but you wonder sometimes what people are thinking. Which brings us back to "Ducks, Newburyport" a book that gives a detailed play-by-play of just what an Ohio housewife- and more importantly, a mother- is thinking during her days of making pies for sale in the Newcomerstown area. The fact is this is a highly detailed account. The fact is Ellmann lets us in on the mother's every thought, from her fears that her children will be shot in any public place they go, to her feelings of brokenness following her mother's illness and death; to random song lyrics, bits of old movies, puns, jokes, and "the fact that bubble tea only started in the nineties…" More than a few people have described the novel, inaccurately, as "that 1,000 page, single-sentence book." So, you can see where someone might be reluctant to actually read the thing.
It's more than a sentence, but it is a stream of consciousness novel, which means that most of the book is a run-on sentence, in which a great many clauses begin with "the fact that", something that the reader will either adjust to fairly quickly, or stop reading. I was reminded of an artist I once heard of whose project consisted of recording all of her thoughts for a month and who claimed that, by the end, she felt like she was going insane. At points in reading "Ducks, Newburyport", I felt like I might be going insane.
Or, maybe the narrator was slowly going insane, with all of her fears: of guns, PCBs, pollution, why we consume billions of chickens, Donald Trump, open carry wackos, that her eldest daughter hates her, that people are just not polite anymore, and above all how you can't taste a baked pie to tell if you've ruined it before it's sold. The book notes all of the things we have to just ignore in order to get through life, and how many of them would make you insane were you to dwell on them for too long. In fact, the novel culminates in a terrifying encounter with male aggression and heavy artillery that feels somehow to have been conjured from the narrator's endless anxieties. I also wondered, at points, if maybe everyone in America is going insane from all of this horrifying information overload. Of course, I've wondered that before reading this book as well.
I should mention that all of this thinking is punctuated by periodic passages- with brief sentences- about a mountain lioness and her cubs, and her tremendous love for her young. The book returns often to the idea that mothers are the center of the world, while overworked, overtaxed, and underappreciated. It's also frequently quite funny. I thought of my own mother's constant lament "Mothers worry! That's what we do!" I also enjoyed many of the narrator's observations, like the news will tell us that a shooting victim was someone's wife, or granddad, or daughter; "do they think we think they all just came out of eggs just in time to get shot, like lizards or something with no friends or relations…"
And I found myself easily slipping into this woman's thoughts and feeling, after I'd read another hundred pages or so, like I really had been reading someone's mind. As the narrator puts it, it really is strange to think that everyone you encounter has the same sort of endless monologue going on in their heads all the time. Crazee. After the book was over, I found myself missing this fictional woman a little. I hope she's doing alright… even though she doesn't exist.
I should also mention that Ellmann's longtime publisher, Bloomsbury, balked at this one, which was published here by Biblioasis, a smaller publisher in Windsor, Ontario, not exactly the center of the world. I should also mention the book was subsequently longlisted for the Booker Prize, and described as being "like nothing you've ever read before". It's also, inevitably, been compared to Ulysses, and everyone (including, now, myself) has mentioned that Ellmann's father, Richard Ellmann, was the Joyce scholar at one point. As the Guardian review noted, "she is making a case for a certain type of modernist novel, for difficulty, for pushing the stream-of-consciousness narrative to its limits".
Yet, the fact is, if it was this hard for a novelist from a respected literary family with eight novels of her own already published to get "Ducks, Newburport" published, a writer like James Joyce or William Faulkner who was just starting out today- and especially if they had the background of a Joyce or a Faulkner- wouldn't have the slightest hope of being published. The fact is I've had this thought before.
And I still have to wonder if it really worked. Oh, I do think the emperor is wearing clothes. But it is strange to read a novel in which at least half of the text could be removed without much loss. It felt more like a fictional experience than a novel, which is both good and bad. Nevertheless, this is how we think today (I think) and literature is supposed to put us inside the minds of other people. Our minds are messy places.
So, what are YOU reading, playing, watching, or obsessing over today?