State Hate: The Fifty State Smackdown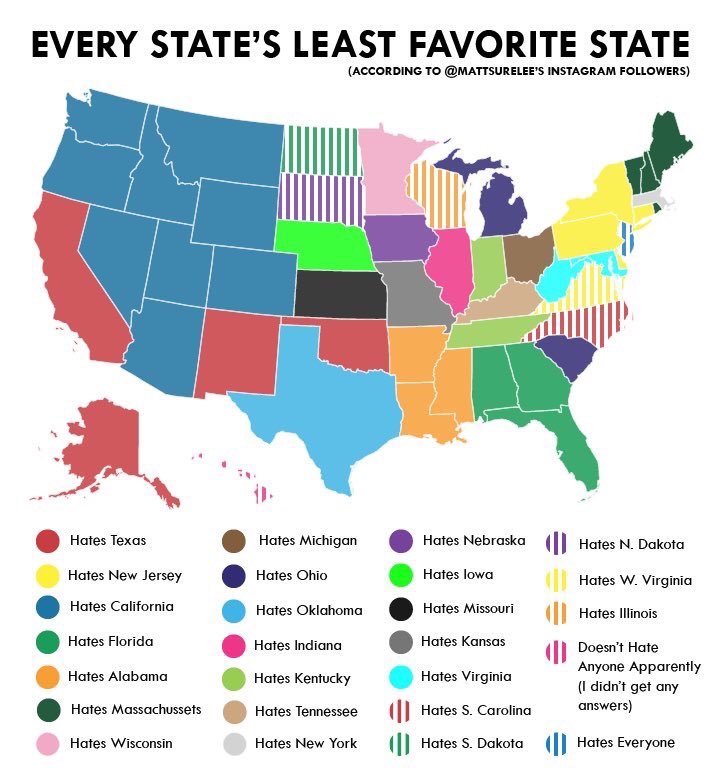 Some observations:
This is a pretty unscientific poll, obviously, but it's all in good fun.
Some of this may be based on college sports rivalries. I would guess Texas naming Oklahoma, for example, because otherwise, I'm not sure how much time Texas spends thinking about Oklahoma compared to California or Massachusetts. (Or Louisiana, though those feelings aren't negative.)
Similarly, given that South Carolina named Ohio State I would assume that these tallies were taken during the run-up to the college football invitational tournament where Clemson and Ohio State were paired off.
Meanwhile, the nation's two largest states — California and Alaska — named Texas, the state with the largest ego.
Florida is the only state I can find that named itself.
Hawaii hates no one while New Jersey hates everyone.
No one hates Minnesota.
With the aforementioned exception of South Carolina, the directional states named each other. North and South Dakota named one another, North Dakota named South, and West Virginia named Virginia which named West Virginia.
On a tangential note, here is a video that captured my daughter's interest. I didn't guess who the final two would be though in retrospect I should have.
United States Territory Wars
State hate image from @mdrache on Twitter.