The Happiest Sadist: Phèdre and Kushiel's Dart
Since Valentine's Day is looming on the horizon yet again, I decided to reread several of my fave romance novels just like I did last year. But this time, I'm reading literary books rather than trashy ones to prove the point that romance can be written about in a literary way. That means you lucky people get to hear even more of my innermost thoughts on the subjects of love and romance, only classier.
Last year about this time I read a terrible, horrible, no-good, very bad book by the name of Fifty Shades of Grey. To recap: Fifty Shades of Grey was about this BDSM-y relationship where the SM aspect of it was romanticized and grossly misrepresentative of the behavior an actual controller displays in a relationship.
I'm not saying that everyone into BDSM is a sadistic controller, whatever, keep your black leather chaps on, people, don't get your G-strings in a twist. I've filled out my disclaimer paperwork and left it at the front desk. The fact is the relationship portrayed in Fifty Shades was not healthy, and many prominent members of the BDSM movement said as much (and this was my last free article on The Atlantic this month so thanks for making me waste it).
The thing that makes the mind-boggling popularity of Fifty Shades of Grey so goddamn ridick is that there's a pretty good book series (ok it's not LITERATURE literature, but it's certainly far more literary than Fifty Shades) that covers BDSM stuff in a more interesting and less problematic way.
That book is called Kushiel's Dart.
Kushiel's Dart is the first volume in a fantasy series by Jaqueline Carey – a set of three trilogies called Kushiel's Legacy. Kushiel's Dart is on the surface a relatively unremarkable fantasy novel with everything that entails — political intrigue, lots and lots of elaborately-named characters, lush wardrobes, a journey across several exotic lands that in many ways mirror our own world (the story takes place primarily in a country called Terre d'Ange which seems to be France, kinda), and a small amount of magic.
Standard fare, really, but the interesting thing about Kushiel's Dart is that it's sex-positive. Pretty much every variant of sexual orientation is not only present but accepted in the culture of Terre d'Ange. One of their goddesses even bestowed upon women a sort of permanent birth control, giving them the ability to screw to their heart's delight without ever getting pregnant – unless they specifically ask to conceive. Their entire culture, not to mention their religion itself, is based on sexual tolerance. (Weirdly, I found Fifty Shades of Grey surprisingly sex-negative, portraying vanilla sex as a solution to a relationship's problems even though it's chock full of lurid descriptions of kink.)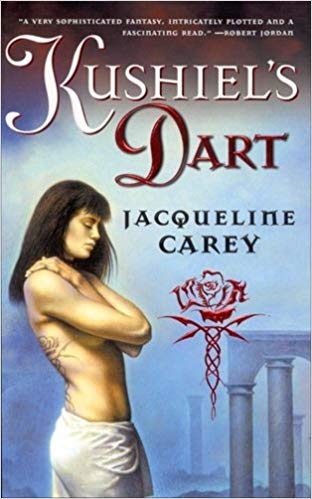 The protagonist of Kushiel's Dart is a courtesan called Phèdre no Delauney de Montreve, who is special because she was born with a "mote" in her eye, a birthmark that declares her a scion of Kushiel, a fallen angel who's basically the God of Pain. Struck by Kushiel's Dart, Phèdre is literally born to be a masochist. From childhood, she receives training as an "anguisette", a kind of prostitute who specializes in receiving physical abuse. Once her training is complete, the author sends her off to have various adventures during which her unique skillset often saves the day.
You may think this all sounds rather problematic, and in all honesty, it is. Some disturbing stuff happens in the pages of Kushiel's Dart. Obviously, in a hypothetical world in which children are raised from young ages to welcome life as professional prostitutes, who knows how much they're really consenting to and how much they go along with it out of cultural programming too ingrained to set aside. But we're all born into a problematic world and do our best to muddle through it, both the recipient and instigator of various affronts. One of the main purposes of fantasy writing is to make us think about other possible systems of ethics. Through that lens, we consider our own values, values that are so familiar to us that we don't often even see them, the same way people who wear eyeglasses learn to ignore them even when they dramatically change how we see the world. That cannot happen without an author creating cultures based around moral codes that are strikingly different from our own, even repellent to us in some ways.
What differentiates Kushiel's Dart from Fifty Shades of Grey is that Phèdre, being struck by Kushiel's Dart, enjoys pain. Masochism is a fundamental part of her nature. Taking part in BDSM play is her choice, but beyond choice, it's how her sexuality naturally expresses itself. It's not something another person is doing to her by force, or even just pressuring her into like Christian Grey pressured Anastasia Steele in Fifty Shades of Grey. While I suppose one could make an argument that the Gods are inflicting their will upon Phèdre, to me the characterization seemed little different than observing that human beings are Born That Way, and I suspect that was the author's intent.
Yes, Phèdre may exist in a pretty messed up world, but within the structure of the world of Kushiel's Dart, she is an active participant in seeking sexual happiness, even using her wiles as a tool for survival when she needs to — a plot point I always respect because I believe it's how a whole lot of women have had to navigate the world historically and even here in our time. She struggles with her fate at times, just as all of us struggle with our sexuality sometimes, but overall she accepts her innate nature and uses it to her own ends.
Phèdre is such a different character than Anastasia Steele. She's knowledgeable, confident, and most of the time remains in control of her destiny. Even when others manipulate her for their own purposes, even when she's powerless and downtrodden and in dire circumstances, she always fights to gain as much control over her life as she's capable of. Compared to Phèdre nó Delaunay, Anastasia Steele is a non-entity, an ignorant innocent who was forced against her will to take a trip to a place she never wanted to be and when she gets there, she stays even though she hates it and just kinda hopes things get better.
And why? Because Ana thinks she just can't stand to live without Christian Grey, she thinks she cannot be complete without a man. Phèdre may have had to take some journeys she didn't enjoy, but in most cases, she took the trip of her own free will, fully informed and with her eyes wide open. Ana didn't like or want what happened to her and went along with it only because she passively hoped for a happily ever after. And worst of all, in the end, her passivity is rewarded and she gets that fairy tale ending.
It's toxic. Fifty Shades of Grey is a toxic book on any number of levels, but I think the worst part is how Anastasia Steele just sits there like a lump and hopes for the best, and then gets it.
Remember, Christian Grey sought to control the clothes Ana wore, the food she ate, the amount she worked out, the car she drove, her work environment, the computer she used, the books she read, everything in her life. In the bedroom, Christian was pressuring her into experiences she didn't enjoy, including inflicting several orgasms on her that she didn't want to have — so even the good things were bad. And yet she just crossed her fingers and hoped things would get better. Then YAY! They totally did!!!
Phèdre, on the other hand, certainly questioned her lot in life, and even felt at times like she'd been "cursed" by Kushiel with her unique and oftentimes troubling sexual tastes (they were troubling even to Phèdre herself on occasion), but at the end of the day, Phèdre takes ownership of her passions, learning to enjoy them on her terms (or not) rather than trying to repress them or becoming a slave to them. But Ana's desire is something for Christian to use, to control, to manipulate; her body is for him to play like an instrument or even a toy when it suits him. Phèdre unabashedly uses her body herself, for her pleasure, as a bargaining chip, even a weapon to get what she wants from the world, namely, her own safety and happiness.
I have lately come to believe that human beings focus too much on external signals — things that we can see and touch and hear – and not enough time trying to understand the inner motivation and thought processes of others. We rely on the tangible, the visible, the observable, to tell us about the world and why people do the effed up things they do — the what, not the why. I suppose it makes sense that we do this; after all, you can't look at a person and know what's going on in their heart and mind, and people do lie like dogs on a rug. But this state of affairs means that when two people, both real and fictional people, do outwardly similar things for very different reasons. For example, Phèdre and Anastasia both engaging in BDSM activities — people tend to lump them in as being the same thing, with the same motives behind them.
But people can do somewhat the same thing for entirely different reasons. A person can kill in self-defense or in cold blood. A person might steal to feed his hungry family, or because they want luxuries that they couldn't afford. There could be a woman like Phèdre who's into BDSM because it's her preference, and another woman like Ana was forced into it unwillingly, and condemning the latter doesn't necessarily mean a person is condemning the former.
These seemingly contradictory actions might even coexist in the same person – a person might despise one book about BDSM themes because it imparts a troubling message, and as a different book about them that's more uplifting and thought-provoking, to give a random example. People are complicated, the things they enjoy, the decisions they make, and courses of action they pursue are all over the map. What makes sense for one person in a given moment stops making sense later on even for that person let alone for a different one.
The definition of insanity is NOT doing the same thing again and expecting a different result. The fact is, when you're in a different set of circumstances (or when you're two separate people in two different sets of circumstances like Phèdre and Ana), the reasons underlying the same action can be totally different, the environments in which the actions are taken are different, the motives of the people involved are different, and as such so are the outcomes.
You cannot divorce motive from action, and there's a whole lot of backstory and inner debate that go into the actions that all of us humans take. And that's really the biggest takeaway for me reading both Fifty Shades of Grey and Kushiel's Dart – people do stuff and sometimes the stuff they do looks roughly the same as what other people did, but they're entirely, thoroughly different because every individual is unique and everyone's story is, too. And thus we should be very, very careful in judging fiction by the presence of "bad" things happening because sometimes those "bad" things happening are a critical element in the story.
We should also be careful not to dismiss the concerns of others as them being squeamish about "bad" things, as evidence that they are unworldly or prudish (a criticism I received for my review of Fifty Shades). Because while in some cases that may be true, for me personally, when it came to Fifty Shades of Grey, the stuff I objected to wasn't what some people automatically assumed I was objecting to.
I can, without being in any way anti-sex, say that Fifty Shades of Grey was a terrible and dangerous book that normalized toxic attitudes about sex, and without being in any way hypocritical also say that Kushiel's Dart was an interesting book with similar subject matter that I liked.
Even though they were both roughly about the same topic, the experience of reading them was entirely different.