Sunday Morning! Sir Gawain and the Green Knight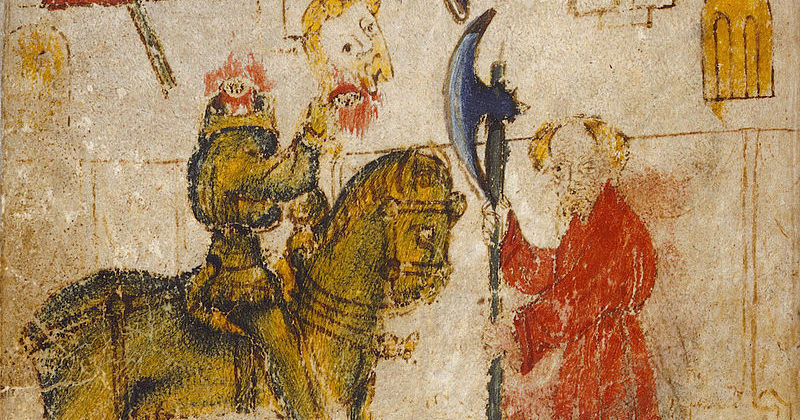 One can only assume the psychiatrists have some term, beyond the drab "seasonal depression", to describe the combination of uncanny experiences and widespread psychosis that seem to characterise the Christmas season. Something always seems "off" or "wrong" about the holidays, which I suppose is heightened by the pressure many people feel at this time for everything to be "just so". Minor frustrations infuriate, snafus grow disastrous, absent loved ones are sorely missed, present loved ones are regretted, and someone always seems to die at Christmas.
This year, I've actually been feeling surprisingly good with the traditional seasonal depression not yet beating me about the face and neck. Nonetheless every second person I know seems to be going through a life crisis or a huge change. 'Tis the season. Darkness nears as day becomes dusk. The cold grows more biting. Marriages are falling apart, court dates are impending, friends are sunk in "trouble" of diverse sorts. Merry Christmas.
Here's a story: the other day, I was sitting in the underground (literally) record store that I help run, which sells mostly punk and metal vinyl, along with Reggae, Soul, World Music, and Hip Hop. I was drawing and listening to music when a Priest walked in, the only customer we got all day. In retrospect, I wish I'd been playing the brilliant gospel compilation we just got in, Sorrow Come Pass Me Around (one of the best you'll ever hear), instead of the Flesheaters "A Minute to Pray, a Second to Die". Nevertheless, the Priest was amiable and pleasant and chatted a bit before purchasing an issue of Shindig. His face was agreeably unshaven. He wore the collar and was in his mid-sixties. And then he said: "You know, I have to tell you that you look exactly like my older brother. It's quite uncanny."
'Well, I hope I don't look like him now," I said. The Priest laughed.
"No, about twenty years ago. I have to say, it's making me feel very sad because my brother is estranged from our family."
"Well," I said, "if I ever meet anyone who looks exactly like me in twenty years, I will send him home." He smiled and left. Fishing Christmas, huh?
It's a season for weird encounters. There's a fairly long tradition, in fact, of stories about ghosts and the uncanny at Christmastime. In the 14th century poem, Sir Gawain and the Green Knight, King Arthur even reassures Lady Guinevere, after a very bizarre and troubling incident, "it is in keeping that such strangeness should occur at Christmas." Of course it is. Somehow, it seems right that it should be.
This is Simon Armitage's updating of "wel bycommes such craft upon Christmasse." I love his translation overall, which preserves the heavy use of alliteration- "such strangeness"- rhyming patterns and musical turns of phrase in the original. A purist might complain that it's not quite exacting, but the sense is there and the melody is the same, even if the words are a bit changed.
The uncanny event that begins the story is a doozy: while King Arthur's court are busy feasting and reveling at Christmastime, a gigantic visitor arrives clad entirely in green to match his green skin, hair, and beard. The green knight has heard, of course, of the bravery of Arthur's men, and he challenges whoever might be willing to a friendly, somewhat strange Christmas game: the challenger gets to deliver one blow with his axe and, in return, the Green Knight gets to return the favor in one year and a day's time. Sir Gawain, the youngest knight in the court, takes the challenge and neatly lops of the giant's head in a single blow. The Green Knight then picks up his severed head in one hand and mounts his steed to leave, the head reminding Gawain to come visit the Green Chapel in a year and a day, and otherwise, smell you later. This is the strangeness Arthur assures Guinevere is typical for Christmas.
Gawain keeps his spirits throughout the year, but the appointed date of his likely beheading weighs heavily upon him. (To be fair, many of us don't particularly look forward to the holidays!) Nevertheless, he sets forth as the date draws close for the Green Chapel, a site whose location is still debated. Similarly, the poem describes the site in ominous terms, but Gawain acts as a penitent when he gets there, suggesting a more straightforward religious interpretation.
Along the way, however, he comes to a great castle, where the lord Bertilak de Hautdesert takes him in as a renowned guest, promising the Green Chapel is nearby. Gawain is feted, fed, and treated in the grand style by the king, his beautiful wife, and an old crone who is beloved in the castle. The King makes Gawain a deal: while he goes hunting, the guest can stay in the castle and, at the end of the day, they will exchange what they each have won. As soon as her husband is gone, Lady Bertilak attempts to seduce Gawain, and is rebuffed three days in a row. The hunt scenes conclude with detailed descriptions of butchering animals that contrast strangely with the seduction scenes before, while reminding the reader of what Gawain has in store. Courtly romances are full of these types of innuendos and seductions, but the Lady is fairly unique in that she brazenly pursues the Knight and upends the usual order of chivalry. Apparently, this was done at her husband's insistence that she test Gawain's chastity. Also, there's something amusing in Gawain's insistence of giving the King the kisses he has won each day.
He does not, however, report to the King the charmed girdle the Lady has given him for protection, a sin of cowardice. And when the appointed day arrives, Gawain flinches the first two times the Green Knight swings the axe at him. Nevertheless, he keeps the appointment and displays greater bravery than most of us would, and is amply rewarded. The Green Knight was, all along, a transformed version of Lord Bertilak, enchanted by Arthur's sister Morgana La Fay, a sorceress, and the whole thing has been an elaborate test.
The ending is all a bit enigmatic. Why put Gawain through all of this? Why hold him accountable for trying to protect himself and test his chastity? And why the Green Knight? Is he symbolic of the natural order, which was after all so much more intertwined with Medieval civilization? Does he represent the God who will judge us? Is the turning of a new year a time for new chances? Or is it all a sort of prank, putting Gawain through the fear of death for a year as a Christmas game? In the end, it's at least clear why Arthur wasn't upset by the weird and uncanny events of the first year's celebration, while Guineviere was understandably disturbed…
That's just Christmas for you.