Thursday Throughput: Exploding Betelgeuse Edition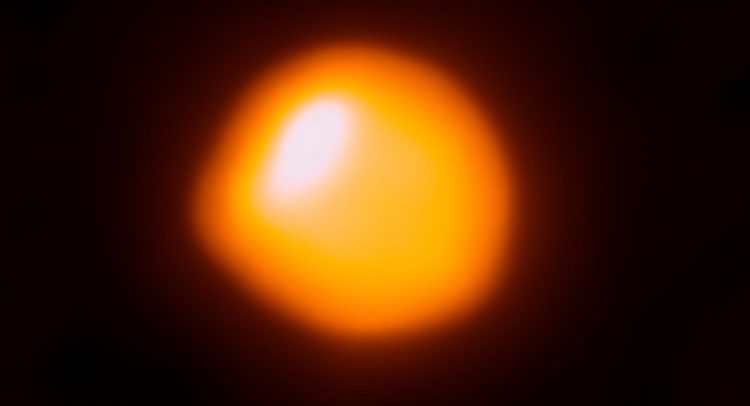 [ThTh1] Betelgeuse is a bright red supergiant star in the shoulder of Orion. It is massive: a thousand times the radius of the Sun, twelve times the mass and a hundred thousand times as bright. It is in its death throes and will go supernova within the next hundred thousand years or so.
Recently, it suddenly and unexpectedly dimmed, dropping in brightness by a factor of two over the last ten weeks or so. This seems to be unprecedented and is raising speculation about whether or not it is about to explode.
The answer, for this week's Ask an Astronomer is: probably not.
We actually don't know a lot about how massive stars go supernova and certainly not enough to make predictions to any accuracy beyond a few hundred thousand years. Part of this is a lack of theoretical and empirical knowledge: supernovae are rare so we don't get to study their final stages very often. But part of it may be intrinsic. The last stages of a massive star's death take place over a short span of time — decades, years, eventually days. There simply may not be enough time for that information to propagate to the surface in ways we can observe.
So it's certainly possible that Betelgeuse is on its way to a supernova and this is the precursor. But it's extremely unlikely. Stars at this stage of their life vary their brightness a lot and Betelgeuse specifically has multiple variabilities of varying strength and periods which have been documented over a thousand years. So while what it's doing is interesting, it's not unprecedented.
What I tell my students is that Betelgeuse will explode in the next thousand centuries. That could be a thousand centuries from now or it could be tomorrow. The dimming is interesting. But it doesn't change the overall math at all. Betelgeuse could explode tomorrow. Or it could explode a thousand centuries from now.
[ThTh2] A beautiful visualization of planetary orbits.
[ThTh3] And another visualization of just how deep the sea is.
[ThTh4] New research is showing us exactly how the Chicxulub meteor killed the dinosaurs.
[ThTh5] How can we stop global warming? A massive investment in R&D.
[ThTh6] And we could also look at why some trees are way better than others at sequestering carbon.
[ThTh7] I rarely endorse alternative medicine, but this guy seems to be onto something.
[ThTh8] Cats do, in fact, pass the mirror test.
[ThTh9] I hope you all are having an excellent solstice season. In about a month, we'll be the closest the Earth gets to the Sun. Then we'll start drifting out while the Earth moves and the orientation of the tilt changes. Put in layman's terms: summer is coming.