2019 In Film: A Monumental Year For Cinema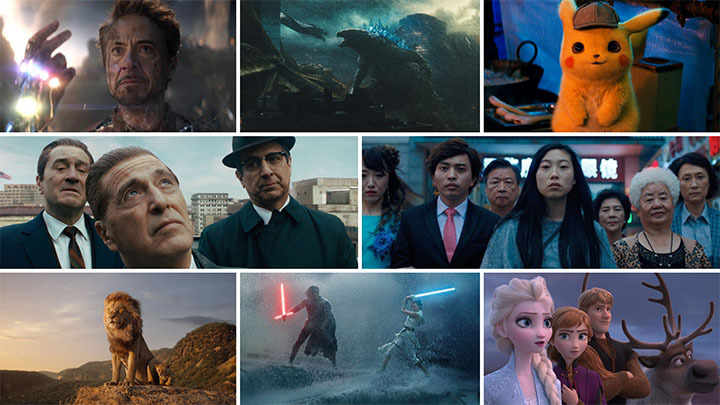 Eighty years ago, 1939 was coming to an end and Hollywood had just experienced what has come to be known as the greatest year in cinema. If you look at the Academy's nominees for Best Picture for that year, you see such films as Gone With The Wind, The Wizard Of Oz, Mr Smith Goes To Washington, Stagecoach, Goodbye, Mr Chips, or Dark Victory. A year that not only produced those titanic iconic stories in film but also other cult hits that have become classics in their own like Son Of Frankenstein, Another Thin Man, Young Mr Lincoln, or The Women. This a year in which Hollywood was ending a golden decade of successfully transitioning from a silent era to an era of sound, and ahead of them would be the nineteen forties where the golden age that the nineteen thirties had begun would only continue on.
And now here we are eighty years later, 2019. Leaving behind a decade that saw Hollywood's list of franchises grow as new ones came into the picture and old ones made a return, the return of cinematic universes, the rise of Walt Disney's movie division becoming an unstoppable giant, and the way we viewed movies changed thanks to the rise of the streaming service.
And as we leave behind this final year of another decade in film, many might have a harsh take on where cinema has gone since that magical year of 1939. But allow me to argue in favor of the last year for cinema. I watched sixty-six movies from this year alone and as an avid cinephile who does believe current films aren't up to par to the classics in terms of storytelling, I think when everything is taken into account 2019 was a great year for us movie fans and in one sense maybe even a historic one.
– Something For Everyone
2019 was a year in which practically every franchise had a film coming out; in fact I went back and counted up the various franchise films that came out for the year and it was staggering. Marvel, DC, Disney's live action remakes and their Frozen franchise, Toy Story, Godzilla, Pokemon, Hellboy, Shaft, John Wick, Jumanji, the Fast and the Furious, Men in Black, another IT movie, and even Star Wars all were just some of the many franchises that had movies come out in the same year. And that's not accounting for films coming out for the television series' of Deadwood and Downton Abbey, or remakes like Pet Semetary and Child's Play. Yes franchises are always a part of Hollywood these days on an annual basis, but I can't remember the last time they all converged to have new films coming out all in one year. The only ones who seemed to have missed the party were Harry Potter, Star Trek, and another Transformers movie. Many would see this as a sign of an industry running out of ideas and going back to the well one too many, and honestly that's a completely legit criticism.
However, as much as I enjoy original content (And 2019 actually had plenty of it), these franchises were pumped out for the studio for a reason – they make a lot of money. Yes there were films like the new Hellboy movie and the latest X-Men film that bombed badly. Yes there were franchises like Godzilla or a film like Shazam that saw okay but not what the studio wanted numbers. But for the most part it was a big box office year for others – especially Disney. The newest Avengers broke the (unadjusted for inflation – Rhett Butler is still the all-time king when adjusted) highest box office numbers for a film, surpassing the previous decade's big success in Avatar. Worldwide, all but two of the top ten grossing films for 2019 hit over a billion dollars.
That said big box office doesn't equal quality, as I would attest to some of the films that made great money this year. But even then I'd argue these franchises for the most part gave us fun and great films this year. I personally found Avengers: Endgame to be a fun popcorn flick, Detective Pikachu was an enjoyable ride, and to damn with the critics Godzilla: King Of The Monsters was my favorite blockbuster of the year which I saw on the big screen thrice. Hell, Toy Story 4, which felt like one film too many going into it, ended up a pleasant surprise and fitting ending to that series (Until Toy Story 5 comes out).
We all have our favorite film franchises, no matter how much we complain about Hollywood running out of ideas and there were plenty to pick out from this year. You want superheroes and supervillains? You got that this year (Well to be fair we've been getting them every year these days). You wanted giant monsters battling for earth? You got that this year. You wanted Disney live action remakes and sequels to your favorites? You got that this year. You wanted Keanu Reeves shooting up hundreds of hitmen or the Rock hanging off a truck while roping a helicopter? (Yes that happened) You got that this year. You wanted Star Wars fanboys arguing with themselves about a new movie again? You got that this year.
There was so much from cinema this year when it came to big name franchises that at one point during the summer I felt like saturation was causing films to be hurt at the box office. Freaks like me who watch nearly every film that comes out each weekend to the theatre aren't plenty and casual movie-going audiences must have felt overwhelmed at one point. Regardless, I would argue that having so much choice in franchises was a positive with so many fun popcorn flicks to lose ourselves in while the real world needed to be ignored.
– New Stories For Cinema
But if you still crave brand new stories from the industry, 2019 gave you plenty. Martin Scorsese directed a new gangster film based on the book "I Heard You Paint Houses" in The Irishman. A three and a half hour epic produced by Netflix who also produced an original animated film about the origins of Santa Claus in Klaus which was my personal favorite film of the year. The streaming service also produced Dolemite Is My Name, an Eddie Murphy starred biopic about a seventies black cinema superstar, and they are also behind the highly praised Marriage Story about a couple going through divorce. A streaming service has suddenly become a player in Hollywood and has made enough films to potentially take over Oscar season (More on that later).
A24, the small studio usually known for more serious and art type horror films delivered this year with Uncut Gems, a film about a shady jewelry dealer caught up in trouble starring Adam Sandler in an amazing performance that will have you forgetting about his crappy straight to stream comedies. They also were behind a half foreign, half American made film in the excellent movie The Farewell, a movie about a family refusing to tell their matriarch she is dying while saying goodbye through the false pretense of a wedding. Just like the former film, the latter has lead to a comedian in Awkwafina having a great acting performance that would make you think she usually did dramas.
But there were many more than this. Ford V Ferrari, Judy, Richard Jewell, Bombshell, A Beautiful Day In The Neighborhood, The Two Popes, are among other films based or inspired by true events that delivered great performances for us to behold and stories to engross ourselves in. And in the more fictional universe we got experimental and bold new stories in film with Booksmart, Knives Out, The Peanut Butter Falcon, Once Upon A Time In Hollywood, and a host of others. Granted not everyone of these films personally worked for me, but at the very least there were new stories to be told.
And if you're someone who just appreciates good filmmaking the year ended it all with Cats, a masterful achievement in – excuse me I misspoke, that was a disaster. I meant the year ended strong with 1917  – an incredible achievement that would make masters like Hitchock proud in what Sam Mendes pulled off by telling a story in a one shot directed film that happens in real time for those watching it.
– A New Era In Recognition?
But what probably stands out the most to me looking back at 2019 in cinema is that this could arguably be a historic year. Not because of the big box office record breaking numbers, not because of the huge mass of franchises all having movies to offer, or even because of the many new stories cinema had to tell. The game changer this year is the aforementioned success of Netflix and the highly well regarded performances by actors not used to being in the conversation for Oscars and other awards.
Netflix has emerged with several films as a serious challenger to win awards that once would have been seen as ludicrous to expect them to win. They have contenders for best picture, best acting awards, and maybe even best director. This from a studio that specializes in helping you binge Frasier and Friends or renting a movie eight years ago. Granted this isn't their first foray into getting major awards and recognition, but this is the first year they have several films getting recognized and arguably may be the favorite with The Irishman to win the biggest award there is – the Oscar for Best Picture. We are seeing a shift in how we consume movies (and television shows and miniseries for that matter) with streaming services and this success by Netflix win or lose come Oscar night is a big signal in the way the industry and the audiences have changed – no matter how badly anti-streamers like Steven Spielberg fight against it.
And on top of that we are seeing such names like Eddie Murphy, Adam Sandler, Awkwafina, and even Jennifer Lopez getting nominations and awards for performances in film for 2019. Those aren't names we're used to and the list of films being talked about for nominations (For the most part) don't seem to be the typical small independent film nobody watched. For years I've been seeing signs that the younger members of the Academy are shifting slightly more mainstream and it may come to fruition come the 2020 Oscars.
– A Good Year To Have Been A Movie Fan
2019 delivered a slew of new franchise films for us to go and have fun at the movies with. It also gave us incredible new stories and great performances including from actors who are having career years. It gave us a streaming service that has now become one of the top players in winning the biggest awards, signifying a true monumental shift in the history of the industry win or lose for them. While it ain't no 1939, I think there's a lot of good we got as movie fans from 2019. I just hope 2020 can follow it.