Star Wars Episode VIII: The Best Jedi?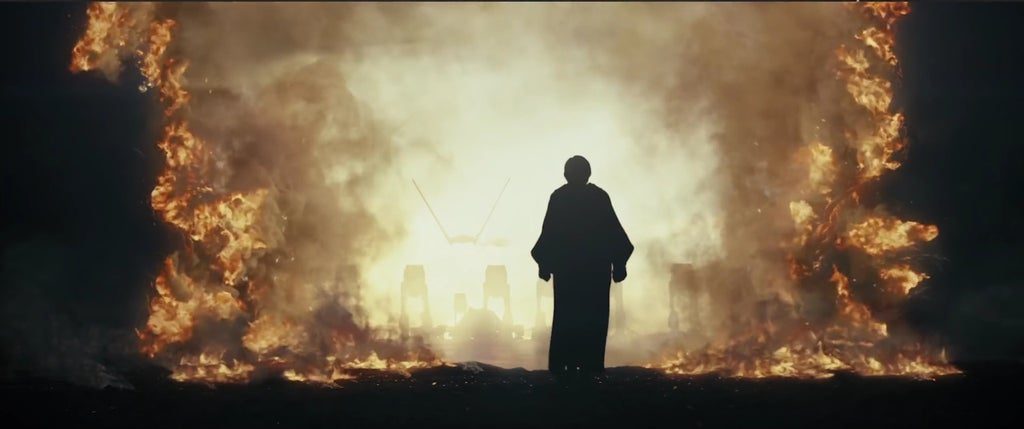 This is the ninth in a series of reviews I am writing for each of the live-action theatrical Star Wars films. I'll be reviewing the films in release order to give the proper historical context for each film. I'll also be grading and ranking each film as I go. This review will contain spoilers.
The Last Jedi is the Star Wars film I've most dreaded reviewing, and not for anything to do with the film itself. It's my favorite of the new Star Wars films and, in my opinion, the greatest Star Wars film since The Empire Strikes Back. Rather, it's for entirely the wrong reasons. A small minority of self-described fans not only hate the film, but seem intent on ruining Star Wars for everyone else, be it by harassing the actors and director, by insulting anyone who likes it online, or flooding YouTube with 5 hour "video essays" on how every frame in it is literally garbage. Discussing the film online has frankly been toxic.
Interestingly, The Last Jedi is the only one of the new Star Wars films to have experienced no production difficulties. By all accounts, the production went smoothly. Much of it was documented and released as a bonus feature on the Blu-Ray release titled The Director and the Jedi. By all accounts, Rian Johnson had a firm vision for the film and was able to translate it the way he wanted to.
The result? The film has the best direction in a Star Wars film since The Empire Strikes Back. This is a film with a great amount of care and depth applied to each scene, and it truly feels like a unique, cohesive work. Particularly impressive are the action sequences: every single swordfight makes heavy use of stunning wide-angle shots, while the starfighter action is fun and compelling. The opening sequence against the dreadnaught invokes World War II bombing raids and is both tense and thrilling. There's no denying this is a film that looks incredible.
The plot and characters are equally impressive. Johnson wisely chose to return to the more thoughtful and mythological part of the saga, especially when it comes to the portrayal of Luke Skywalker. Much of the film focuses on the idea of heroism – what it means to be a hero, what a hero can do, how a hero can lead, but most importantly how a hero's legend can live forever. Each of the main heroes, as well as Kylo Ren, face their most pressing fears: Finn learns his true place as a rebel, Poe learns how to lead effectively, and Rey conquers her reliance on the parents she never had. This is a fundamentally solid progression that fits each character's representation in The Force Awakens, and it's executed marvelously here.
The best character work of all, of course, comes from Mark Hamill and the late Carrie Fisher. Both truly brought their A-games here, especially Hamill in an inspired performance that might just be the best one he's ever given. The new additions of Kelly Marie Tran, Laura Dern, and Benecio del Torro also do great work in their roles.
The score is also excellent – if you ever have a chance, watch the "score only" version. It demonstrates just what a remarkable score John Williams composed. It ranks among his best scores and is an excellent progression from The Force Awakens. I get chills every time I hear "The Spark" or the reprise of classic themes from a Yoda, Luke and Leia, and Episode IV's Tie Fighter attack.
As for negatives, well, I don't particularly have any. I loved this film the first time I saw it and have loved it every time I've seen it, even when purposely trying to find issues. I just don't see it. It is a relatively long film, and there are maybe one or two awkward lines and a few elements I could nitpick if I wanted to, but I don't want to and frankly nitpicks and the CinemaSins school of "film criticism" does nothing for me. This is a great film with some incredible action sequences, fantastic acting, and a thoughtful, introspective story and lands only slightly below Empire in my rankings. What's not to like?
Star Wars saga rankings:
The Last Jedi – A+
Star Wars – A+
The Force Awakens – A+
Rogue One – A+
Return of the Jedi – A-
Revenge of the Sith – A-
Solo – A-