The Other Jimmy Stewart Christmas Classic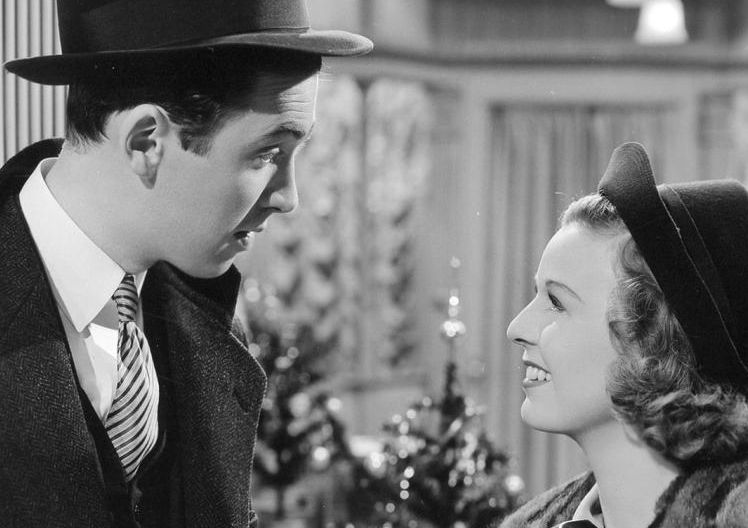 It's Christmas season, the most wonderful time of the year (well, if you don't count Halloween) and everyone who celebrates it will no doubt be going through their traditions of watching their favorite Christmas movies. Various adaptations such as A Christmas Carol, Miracle on 34th Street, Holiday Inn, Christmas In Connecticut, White Christmas, A Christmas Story, The Santa Clause, The Nightmare Before Christmas, Elf, Love Actually, Christmas With The Kranks, and a whole host of other classics come to mind as possible choices for enjoying cinema during the festive season.
My personal highest rated choice isn't just my favorite Christmas movie, but my all-time favorite movie in all movie history. A Jimmy Stewart classic from the forties that has withstood the test of time, posting 100% on Rotten Tomatoes, regarded highly by the American Film Institute, selected for protection by the National Film Registry, and the late and great TCM Host Robert Osbourne once confessed to be his favorite Christmas movie. No, not It's a Wonderful Life, the other Jimmy Stewart Christmas classic as I personally call it, but the often retold 1940 classic The Shop Around The Corner.
The film mainly centers around two bickering co-workers – there's the philosophical and well liked Alfred Kralik played by the legendary Jimmy Stewart, and there's the well-read rising newbie Klara Novak played by Stewart's rumored longtime crush and the former wife of his best friend, Margaret Sullavan, someone he made a handful of romantic comedies with. Both begrudgingly work alongside one another at a small business shop in Budapest run by the good hearted but tough Mr. Matuscheck (played by Frank Morgan, who you might otherwise know as the "little man behind the curtain" in The Wizard Of Oz.) The story also includes other memorable characters such as Kralik's best friend and supportive family man Mr. Pirovitch played by Felix Bressart, the young sarcastic hustling delivery boy Pepi Kotana played by William Tracy, or the sneaky and conniving company snitch Mr. Vadas played by Joseph Schildkraut.
The two co-workers' distaste for one another is offset by the fact both have no clue that they are secret pen pals to one another and falling in love through correspondence that become love letters as Christmas time arrives. A personal tragedy in Mr Matuscheck's life leads to a perfect storm of events that leads to changes for everyone in the shop but more importantly the slow realization from our two protagonists that they are in fact falling in love anonymously via letters with the very co-worker they can't stand in reality.
If this plot sounds familiar its because the story has been remade through radio dramatizations in the 1940s, a play in 1963 called She Loves Me, a 1996 Indian film called Kadhal Kottai, and two Hollywood remakes with 1949's In The Good Old Summertime and 1998's You've Got Mail. This original film is itself an adaptation of a 1937 play, Parfumerie. All versions put their own spins to the story and the two Hollywood remakes by themselves get high marks from me, but it's this one, set at Christmas time, that has resonated and stayed close with me.
The director of the film, Ernst Lubitsch, is usually most heralded for another classic of his, 1939's Ninotchka, but Lubitsch was said to be most fond of this one and referred to it as a perfect film. I have to say I agree with him, because this isn't simply a well done Christmas classic and legitimately funny comedic film (more on that later); it's also a masterclass on how a film should be made and a story told.
Not surprisingly, given the premise, The Shop Around The Corner is a film in which there are many secrets to be uncovered. Not only are our protagonists unknowingly in love with one another, but the store's owner, Mr Matuscheck, is hiding a secret that leads him to make a big mistake that pushes the characters around him to react in certain ways – from a decision by his boss that leads Kralik to figure out the truth about his pen pal, to Pepi finding himself having to go from a humble delivery boy to life saver, and a secret that Mr. Vadas himself is hiding that is brought to light from Matuscheck's tragic circumstances. I don't want to spoil what all these secrets and twists are, but what makes the film go from great to a masterpiece in my mind is what happens once you know the truth to all these secrets.
This is a film that has to be seen more than once, and not in one of those annoying ways to find  "deep meanings" behind certain visualizations, but just so you can go back like a flashback and see the perceptions you didn't know were there last time. After watching the film for the first time, repeat viewings reveal subtle background reactions to certain events and comments made that should have hinted on what secrets were being held back. Now that you know the truth, you can look at the facial expressions and tone of voice of a character in regard to something that almost exposes their secret but seemed like no big deal at first viewing.
For example, Mr. Vadas is the conniving and sneaky snitch, jealous of our main male protagonist and looking to knock him down from favor with the boss. So when Mr Vadas seems to be butting into certain conversations within the film you just figure he's being who he is and looking to report back gossip. However, in repeat viewings you realize Vadas was actually concerned that someone was on to something he was trying to hide. Similarly in another example, when Mr. Matuscheck seems to suddenly change personality and his demeanor towards his employees sours at one point in the film, a repeat viewing gives you the perspective of knowing and reading into his face what he must be thinking now that you understand his grief and suspicions.
I don't mean to focus too much on the serious and dramatic parts of this film, as it is mostly a romantic comedy – and for good reason. The film's comedy is lighthearted but subtle; it is meant to elicit laughs from those who get an inside joke being played in front of us or those who understand a character's motivation.
For example, Mr. Vadas, doing his typical tattle telling, thinks he has an opening when Kralik, returning from having dinner at the boss' house the evening before, complains the food given to him gave him too much gas – only for the boss himself to need some soda because he too is left with gas from the meal. Another example is when Novak tries to explain her experience as a saleswoman and subtly hints she can't return to a previous job because the employers weren't too gentlemanly with their female employees which later leads to Kralik referring to himself not mixing boxes with pleasure when they're working together on inventory.
Not sure if I chose the best jokes for my examples, but I highlighted these because they are among the many subtle jokes in the film that you may not notice on the first showing. Through the many times I've re-watched this film I've always discover a new joke that I didn't before, whether it was a snarky comment made by one of the characters or a reaction in the background to something said or done by someone. Mix this with the similar second glance instances of dramatic moments and you get a film that can reward you with something new every time you re-watch it.
The film ends on a high note with a Christmas Eve shopping spree keeping the employees busy, a heartfelt ending in which the boss realizes how much his employees and the store mean to him, and a hilarious slow reveal for our protagonists to finally turn what they've been saying to each other in letters into an actual reality-based relationship. I wish I could elaborate more as to why I've come to love this film as much as I have but I'd be spoiling it for you even after you've seen it the first time. This is a movie meant to be watched many times over, and just like Kralik and Novak with one another, one you fall in love with the more you realize its secrets.
The Shop Around The Corner mixes real human relationships with a great romantic plot, and all the while it gives you a fun comedy and interactions you can discover something new in with every watch. It isn't a conventional Christmas movie but it's my highest recommendation to you for the holiday season. It's been my "Dear Friend" for quite sometime, every time the Christmas season arrives.