Saturday Spins: Dire Straits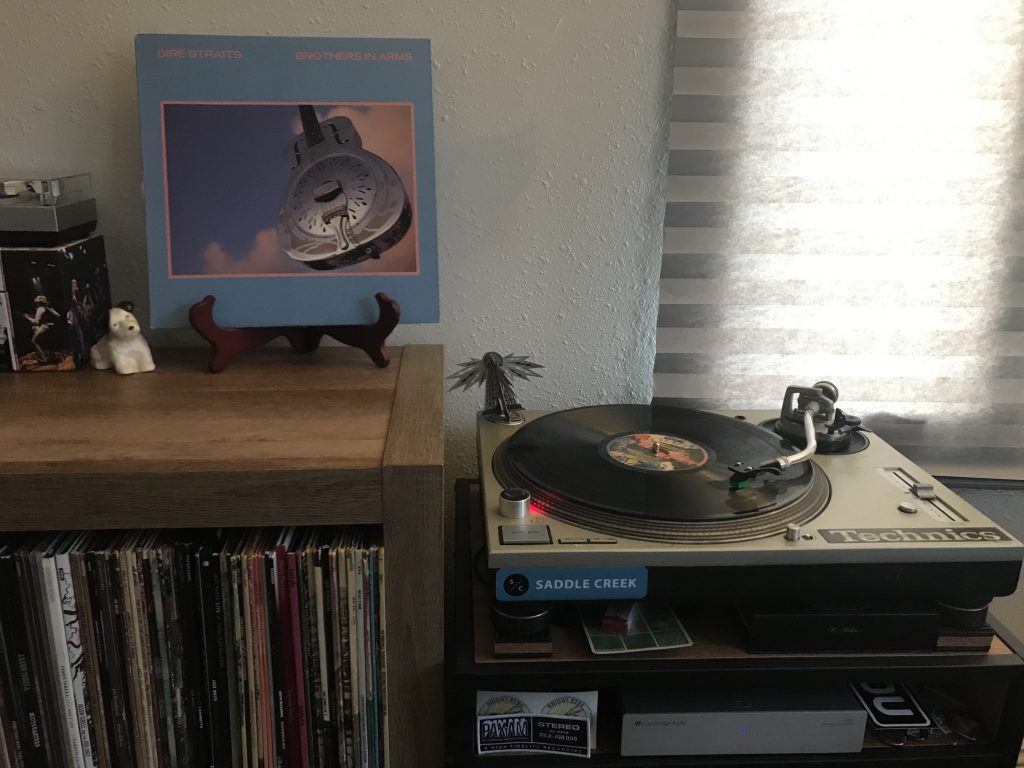 Long time no see y'all! Your hero is back and better than ever with an awesome spin from the mid-80s; a classic LP by one of the best bands in the multiverse. Last time we covered an extremely underrated band from the same era, but for all intents and purposes they might as well be from separate parts of earth; mostly because they were. While this album was the fifth effort by this band, it features two of their most famous songs. It is considered a groundbreaking album for a number of reasons such as the way it was engineered and the use of early computer animation in a music video for one of those famous songs I mentioned.
Dire Straits
Brothers in Arms
1985
Commentary
As I have mentioned before, time and time again, there are just certain records that you can play through front to back without skipping. This is one of those records. I don't think I have ever encountered a person that does not like Dire Straits, and Mark Knopfler and Co. pretty much saved rock n roll during the 80s from glam, hair bands, and synthy pop music.1
Of course, one of the more famous things about this album is Knopfler's attempt to emulate the so-called "Billy Gibbons Sound." Gibbons is the guitarist for legendary blues-rock band ZZ Top. Anyone that has ever listened to ZZ Top knows that they sound like more than a simple three-piece band. At the time, ZZ Top was ruling the MTV music video circuit.2
What actually occurred was an accidental sound that went on to shape one of Dire Straits' most well-known songs, "Money for Nothing." The artwork features a photo of Knopfler's 1937 resonator-style guitar. On the back is a painting of the same.
Tracks I Think Are Great
If you've never watched the music video for "Money for Nothing," here it is:
[youtube https://www.youtube.com/watch?v=wTP2RUD_cL0]
So I suppose now is the time to talk about the use of the word "faggot" in the song and video. Knopfler caught a lot of flack for using the slur, and of course in these modern times use of the slur is something to be more than frowned upon. Anyway, Knopfler has explained, (and if you give the song a cursory listen, he shouldn't have to explain anything) that there was a certain subset of society that he was trying to channel. The guy doing the talking was and is your prototypical scared white dude who cannot wrap his head around someone or something that is a little bit different than him. Also the video featured state-of-the-art computer animation, a first for its time.
My how far we've come.
The opening song, "So Far Away" is another great song which features Knopfler's minimal, yet complex guitar work. "Walk of Life" is another one of Dire Straits' more popular and well-known songs. I think there is a YouTube video or channel out there which dubs the opening riff into the endings of several notable films. The result is that it works, almost every single time.
The title track "Brothers in Arms" has become a staple of Knopfler's live set, and has been featured in many great scenes in television history as well. I can't locate a good video of it, but it was featured at the end of an episode of The West Wing after a besieged President Bartlet talks with the ghost of his longtime secretary, Dolores Landingham where she convinces him to run for a second term. I believe the episode is called "Two Cathedrals." It was also prominently featured in the final episode of The Americans.
A couple of other tracks to not miss out on are "Your Latest Trick" and "Ride Across the River." The latter is one of my favorite Dire Straits songs that isn't in the "well-known" category.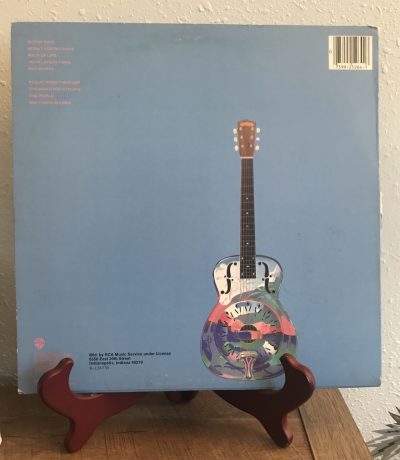 Fun Facts!
Since Mark Knopfler is a freak about sound quality, this album has the distinction of being one of the first to be recorded using Sony's revolutionary 24-track digital tape machine. There are a lot of people, most musicians, who do battle over the "digital" vs "analog" recording method. Some of us can pick out the subtleties if you really give some albums a close listen, others are just in it for the enjoyment of the music, though.
Another fun thing about this album is that, although I am covering it here as an LP, the CD actually outsold the LP in the mid-80s when it was released. I suppose you can really say that this is when vinyl sales began their slow decline as compact discs began to take a serious hold on the music industry.