Sunday Morning! "Have You Seen the White Whale?"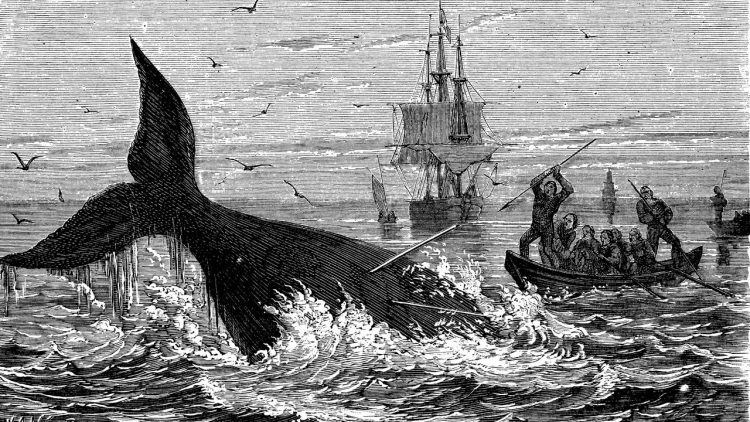 I had intended to discuss Sir Gawain and the Green Knight, the 14th century Arthurian legend that happens to take place on Christmas and New Year's Eve and is good gruesome fun, today. But then I saw a piece of storytelling art that was cathartic, triumphant, and totally unique on Friday, and well, I'm still living with that. There's a feeling of calm contemplation that I get when I've seen something really good, and I have that now. There is a catch here- I know much more about this piece than I do about a good many other works of art; and yet, YOU, dear reader, might never get to see it. I hope you do. But it was possibly something completely ephemeral.
It all depends on what the artist decides to do with it, and let me tell you, she's about as single-minded as a person can be. I've known her since she first started working as a janitor at the university five years ago. I often say that I don't actually work with many janitors; instead, I work with an amazing musician who tours the world when he gets vacation time, and someone who might become a great writer, and a guy who played on one of the greatest Canadian albums ever, and a guy who could have been a great painter, and a bunch of other square pegs, including… a young janitor with a master's degree who allowed me to read one of her plays back when she was "just a custodian".
And let me tell you, that was an experience. It's almost never that you encounter a completely singular artist; someone whose work reminds you of no one else you've ever seen, but is completely and totally their own. I remember telling my roommate, "I have a feeling she will create something so transformative and amazing that someday we'll be telling people that we knew her back when she was just starting." It was that great. I knew.
But, she was somewhat isolated and contrary and well nigh obsessed with the hospital attached to our campus. It turns out she had been hospitalized there as a 15 year old and nearly died and "they did horrible things to me" in that building. She had been medicated, been through years of psychiatric treatment, and finally escaped it. Years later, she would visit the hospital and hang out and write there. In a sense, she had returned to confront the place that still haunted her. I probably didn't realize how much that was the case. Looking back, I think that's why she took the job.
And so, I had a moment of apprehension when she entered the PhD program, while still working as a custodian. Would she end up writing some jargon laden bullshit about the "Foucaultian medical gaze", or the "neoliberalization of embodied care", or spend her life worrying about getting tenure? Thankfully, I realized within five minutes there was no chance of that- she tests very high on the "headstrong charts" and her voice has remained unchanged.
But it was hard. Her work was going to somehow confront her trauma and bear witness to it. And, first, she had to get through the comprehensive exams, which involved reading dozens of books of "theory", something she really hated, along with Moby Dick. So, she read Moby Dick, and fell in love with the misguided passion of its protagonists. And, in order to blow off steam, she went to the library, checked out a picture book of whales, grabbed some chalk, and drew a white whale on the concrete outside of her department office.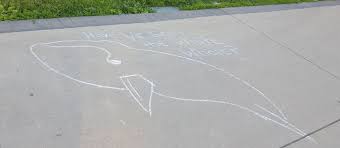 And, then, she drew some more whales, along with some poems she had written and the question "Have you seen the white whale?" And some quotes from Moby Dick and facts about the hospital. And, more whales. It became something of a new obsession that tied in with the old one. She often wrote "If all of the buildings on campus were whales, the Hospital would be the GREAT LEVIATHAN." After a while, she had drawn dozens of whales all over campus; then, hundreds; and finally she had drawn thousands of them. I remember telling friends about my co-worker who drew whales everywhere and was a tremendous artist. Did I know exactly what it meant? No. Did she? Maybe. At first, she thought that maybe she was Ahab, searching for the white whale, and also on a hunt to recover the lost part of herself that was still trapped in the hospital. All she knew was she had to draw.
The university was not, as I recall, amused by this. They wanted those of us on the cleaning staff to scrub away the whales on one occasion because donors would be touring campus. We did not. They sent a therapist to talk to the artist and warned her that a student was "troubled" by the whales. The head of security, a former police chief who left that position over accusations of racial bias, seemed to be obsessed with putting a stop to this. On one memorable occasion, his guards surrounded her late at night and ordered her off campus with the memorable command: "And don't stop to draw any whales!" I told her that her white whale had become his white whale.
There was something threatening to the business of the modern university in making art that served no "purpose", or none that could be instrumentalized and commodified. That interested me.
And I worried about her too. She was hit by a car around this time and had three leg surgeries that messed her up for a while. In one of them, the anesthesia caused her serious mental trauma. She also died and was revived. I remember visiting her in the little attic she rented and taking her to physical therapy. At one point, with the way she was talking, I began preparing myself for her to really die. Looking back, I realize she was in the trial part of the hero's journey, and deeply immersed in her past trauma. I knew there was no way that psychiatric care would help her. I didn't know what could.
Instead, I started pushing her to meet my friends: the book club for disgruntled academics I frequented, the punk rock record store where I volunteered, the dive bar where I practically lived, the "crafternoon" events they held at the bar every week. I remembered a time in which I probably would have died myself, if my friends hadn't kept saying "Where do you think you're going? You're not leaving. We're hanging out. You're not going anywhere." Our little community cares for each other.
One thing about the whale artist: when she's joyous, which is quite often, she's like a human exclamation point. She's in her thirties, but I forget sometimes and think she's a child. I knew everyone would love her, but she did the real work of making friends, pretty much everywhere she went.
And her art reached people. She recalled a mother whose very sick child wanted to be rolled from the hospital ward to see the whales outside, and how much they meant to him; she drew them because she had been a child in that hospital once. Or the father whose son had lost his leg and wanted her to pray for him. Or the group of children who applauded when she drew a whale for them. Or the mother who asked her son "What kind of artist is she?" and got the response "A whale artist!" Some of these stories were very moving; she could tell you better than I could. I hope she will one day.
Then the same friend who kept me from leaving when everyone sensed I was at my lowest point, took her out dancing because her physiotherapist told her she could never dance and, even though she never had before, she desperately wanted to dance. Now, she goes every month to the "eighties dance" nights at another local bar. She doesn't drink. She just dances.
So, for her dissertation, she wrote a memoir of the last four years and the whale summer. When she told her story, it all made sense. She was done drawing whales when she had used up pretty much all of the dollar store white chalk in town! And, finally, she was able to go to the hospital and find the little girl, that part of her spirit, who was left there, and take her home. The hospital wasn't malicious. Instead, she believes it protected that little girl until she was ready to come retrieve her. She wasn't Ahab after all; she was the white whale.
When you defend a dissertation, usually it's in an examination room with your committee and one or two close family members. I brought only my soon-to-be-ex wife. For the whale artist's defense, she performed the whole story of her quest for the white whale and told all of the stories I've recalled here, only much better. She invited anyone who wanted to come to be there and held it in a theater. I think there were over a hundred of us, from the university, the record store, the bar, the custodial staff, and the larger community. If they hadn't given her the PhD, they would have had a riot on their hands!
But, of course, they did. And she has told our group of friends to never call her "Doctor", but I will say this once that I am very proud to have seen the work that Doctor Churchward undertook. She confronted a deep trauma through art, metaphor, ritual, and play, and she created something genuinely visionary and healing. I always knew she would.
So, what are YOU watching, reading, playing, creating, hunting, or pondering this weekend?