I'm Dreaming of a Bike Christmas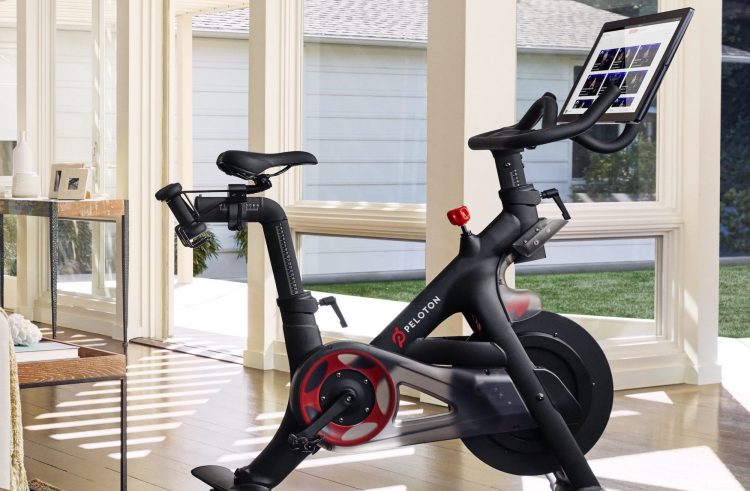 Have you seen this?
A guy gets his wife a Peloton exercise bike for Christmas and the Internet blows its collective minds.
People are saying the ad is sexist, that the guy was passive-aggressively telling his waif-thin wife that she needed to lose a few pounds, giving her a gift that was really more for him than it was for her. Em Carpenter had a great take if you missed it.
I'll be the first to admit my husband and I had a laugh at the ad (before the controversy – this was an entirely organic laugh) the first time we saw it too. I can, to no small extent, see where people are coming from criticizing it. But contrarian that I am, I started a-pondering and I've decided this is a nothingburger, which is fortunate for Grace in Boston, the Peloton ad chick, since nothingburgers contain zero calories.
Scientists who get paid to think about such things (unlike me who wastes time thinking about such things for free) have oft-theorized about men, women, and gifts. The consensus is this: the giving of gifts communicates a man's willingness to invest economically in a woman and her potential offspring rather than just doing a hit and run, leaving her holding the bag, by which I mean the baby. A guy willing to shell out cold hard cash to woo a gal sends a message that he is at least somewhat interested in sticking around being a provider eventually someday when everyone's wild oats have been sowed. It's why men buy women drinks (with UMBRELLAS!!!! srsly if the drink doesn't have an umbrella, don't even waste my time, dude) in bars and lobster dinners and flowers and diamond rings and all sorts of good stuff.
Yes, that's right, I said lobster dinners. The old saw that women are obligated to put out if a man buys them lobster is actually kind of bass-ackwards, evolutionarily speaking. Women are never obligated to do anything, that's why #metoo is a thing. Women are the choosers, not the choose-ees, and we don't owe you a darn thing, gents. Men are obligated to buy the lobster to get their foot in the door, and then women make the decision to wave him in or take a pass after that point based at least in part to his reaction at how expensive the lobster dinner was, not to mention his table manners. (no, it's not fair, boys, life rarely is, talk to Mother Nature, who in case you hadn't noticed, is totally a woman)
And it works. Women do prioritize a man's income when choosing mates. Since gifts are indicators of income, women like gifts because it gives us a heads up on what a guy's income actually is, and how much of it he's gonna spend on us. The more ostentatious and showy the gift, the better, which is obvious, but best of all is the utterly useless gift, like flowers and gemstones or maybe those massages where people put hot rocks on you. This doesn't make much sense at first, but think about it – what better way to demonstrate your ability to provide for a woman than giving her an entirely impractical gift? A man giving such a gift is basically saying "Look Sugarlips, I am SO good at amassing resources I had the money to burn on buying you something that confers no benefit to human survival for either of us. BTW these $100 roses will be dead in 3 days, better put an aspirin in the water, see if you can get em to last 4." It's like a male peacock and his ridiculous, life-endangering tail – peahens see that sh – and they're like "ok wow that guy is so awesome he can sport a massively heavy set of feathers and still escape from Wile E. Coyote, yo Baby I got me some eggs that need fertilizing here".
And what gift is more useless than a $2500 dollar exercise bike? I can think of very few, and I know this for a fact because my husband works at the county dump and throws exercise bikes away on a daily basis.
Everyone viewing the Peloton ad through the #feminism lens saw a toxically masculine man forcing his innocent wife to jump through hoops for his pleasure, but what if it's really the other way around?? What if the Peloton ad guy was so desperate to keep his doe-eyed, adorable, sexually desirable wife happy that he had cancelled his subscription to Maxim, had been avoiding Starbucks AND avocado toast both, and had even stopped buying microbrewed craft beer to save up his pennies to buy that f*king ridiculous bike that you know and I know and he knows is going to be used as a laundry-hanging rack in the very near future.
Because hey, maybe she just wanted a Peloton bike, didya ever think of that?? Maybe she actually WANTED ONE.
I read an article about the Peloton bikes and they seem pretty sweet to me. Personally, I like working out, but I hate being around strange people, or any people, when I do. Thus I have never had a gym membership. But there is definitely something about having an instructor to keep you motivated and that's why people do spinning classes to begin with (which is basically riding an exercise bike with an instructor cheering you on) instead of riding their exercise bikes in the sanctity of their own homes while watching reruns of Friends like a normal person. The whole deal with the Pelotons is that they're high quality exercise bikes that don't hurt your ass and don't tip over like the cheap ones most of us have had and rejected. They're as good as the bikes in the gym, and they come with a streaming subscription so you can access lots of different instructors teaching a new live class daily and over 5000 on-demand spinning workouts. So it's like you get everything you'd get out of spinning at the gym, and you can stay the eff home.
What's not to like?
I think it's entirely possible that Grace in Boston had been dropping hints to her poor beleaguered husband all year that there had damn well better be a Peloton under the tree this year or else. Brittany has a Peloton! Ashley has a Peloton!! Even RHIANNON has a Peloton, FFS!!! Grace wanted a Peloton too, ok?? Mr. Peloton Bike Ad loved his wife, wanted to keep her, and so he bought the damn bike instead of a lot of things he'd probably have very much preferred to buy instead, like golf clubs or really old alcohol or cashmere underpants or diamond encrusted porn, IDK whatever it is that rich guys spend their money on.
The Peloton ad tells a very beautiful story about a happily-married and thoroughly spoiled woman who saw something she wanted, demanded it, and received it. A woman getting what she wanted is never a bad thing, even if it's something you personally don't happen to want. It doesn't mean she's getting abused and it doesn't mean that it's toxic masculinity even if it was her husband who gave it to her.
Merry Christmas, Grace in Boston. Ride your Peloton like the wind.