Of Popcorn Poppers and Pelotons
One Christmas when I was little, my dad got my mom a popcorn popper. This was either before we had a microwave, or before microwaved popcorn was a thing, so my mom had to do it the old fashioned way. It was a big deal when he got it. We were all at the department store, and my dad and I snuck off away from mom and bought the thing, all clandestine-like, and smuggled it out to the trunk while she was looking at other things. It was all very exciting.
My mother didn't even like popcorn.
My dad did, though, and he was prone to ask her to make it late in the evening when she was already half-dozing on the couch. This machine, he reasoned, would make it so much easier and therefore be a dream come true for her. He earnestly believed this, and I was too young to grasp how misguided he was.
My mom was not pleased. "A popcorn popper.  A popcorn popper, so I can make you popcorn. Gee, thanks!" This was her response, delivered with as much disdainful sarcasm as she could muster. (And lest you feel bad for my dad, well… let's just say, don't.)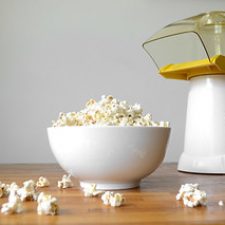 You know what my mom didn't do? She didn't spend the next year documenting her journey toward learning to love popcorn or making herself worthy of the popcorn popper. She didn't approach the machine hesitantly upon its first use, cringing timidly into the camera as she expressed her nervousness. And she certainly did not thank him the following Christmas by making him a year-end retrospective of her popcorn-popping journey. She shook her head and shoved it into the kitchen cabinet, begrudgingly thanking him for the effort of his anti-gift, and went on with life.
By now you've probably seen the infamous Peloton commercial, in which the beautiful, thin, young wife and mother, (I guess her name is Grace but I'm going to call her Claire), in the requisite giant house with floor to ceiling windows overlooking an Aspen-at-Christmas-like view (but is apparently in Boston), giddily receives an exercise bike for Christmas from her husband, whom I have named Geoff (definitely not Jeff).
A gift like no other. pic.twitter.com/AZJCoMy8vw

— Peloton (@onepeloton) November 12, 2019
I suppose we are meant to gather that Claire is thrilled to receive this $2,200+ stationary bike, and the $40 monthly subscription to virtual cycling classes, since she neither bursts into tears nor into sarcasm. But the reaction of most normal folks after seeing this ad is that, as a general life rule, gifting your lady exercise equipment is a bad plan; you might as well just say "Merry Christmas, fat-ass." Perhaps Claire asked for a Peloton; we don't know the backstory, except that they are wealthy, have a child, and live in an opulent and very white/ecru/cream-colored home. Maybe she's a fitness junky and this is her dream gift.
Except that she appears to be an exercise novice. Upon mounting the Peloton for her first ride, she cringes into the camera with scared eyes and a worried brow "I'm a little nervous, but excited!" It's the kind of expression one might expect from a person about to get her belly button pierced or a first tattoo, not one who is going for a ride on a stationary bike. Throughout the ad, Claire seems apologetic for her very existence.
Then, set to the backdrop of Tal Bachman's "She's So High", there's the video diary montage of Claire's love/hate relationship with this bike: the unenthusiastic 6am workout that was SO WORTH IT, her expression of shock that she's used the thing 5 days in a row, her getting a shout-out from the virtual instructor during her 50th ride. At the end, she's next to Geoff on the couch the following Christmas, fidgeting nervously and wringing her hands, watching the video of her Year of Peloton. She solemnly remarks how she had no idea how much the bike would change her, and thanks Geoff.
It is unclear exactly how the bike has changed her. Did she go from very thin to imperceptibly thinner? Did she suffer from some sort of chronic pain that the daily exercise relieved? Did she quit whatever high paying job she apparently had in the beginning to become a full-time professional Peloton rider? We don't know.
What we do know is that people hate this commercial. Many see it as a depiction of a callous husband and his sad, controlled wife; others thought the whole thing was vaguely sinister, like an episode of Black Mirror in which a machine takes over this woman's life. This particular take was my personal favorite:
when my husband gets me a Peleton for Christmas …….. pic.twitter.com/Z2d3ewMhPu

— Eva Victor (@evaandheriud) December 2, 2019
And this one too:
Thank you for not giving up on me honey. I know I have a lot of work to do…I promise I'm going to fix this. You're the best husband ever. pic.twitter.com/VJsrxVxZak

— Yashar Ali 🐘 (@yashar) December 2, 2019
Some thought the point of the commercial was that Claire worked hard and stuck to a plan and reached her goals, whatever those were. Maybe so, but the woman in the commercial is far from sure of herself, from beginning to end.  This commercial doesn't sell strength or health or a transformation. Claire was a thin fit woman in the beginning, and a thin, fit woman at the end. And that's fine- exercise is good for everyone. Skinny-fat is a real thing. But if Peloton wanted to sell these bikes, an ad which actually shows how their product can change lives would have been preferable to this one. Maybe if they had started out with a not-quite-as-in-shape woman wishing for a Peloton, physically struggling through her first ride, and ending with her, say, riding in the Tour de France, there would be some point to this commercial. Instead, all we see is a deeply neurotic woman obsessed with a piece of exercise equipment and grateful that her husband indulged her neurosis (assuming he himself was not the actual cause of it.)
It's not that I see this ad as dangerously glamorizing compulsive exercise or obsession with appearance; it's not that deep. It's just an ineffective and confusing ad in a clichéd setting with an annoying main character and vaguely concerning overtones. I don't get what Peloton was trying to achieve.
But then again, I'm not supposed to get it. I'm not the kind of person with a few thousand dollars to spend on a coat rack.