Pete Buttigieg's High Hopes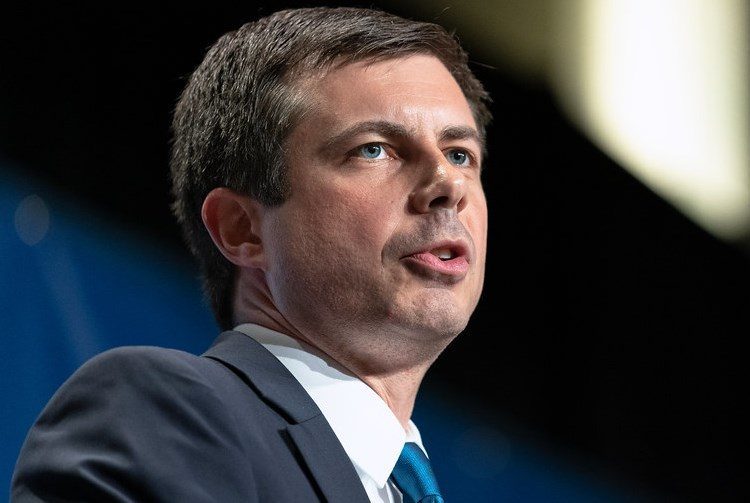 As Joe Biden struggles to break away with his national polling leads and leading endorsement numbers, his inability to seemingly put away the race for the Democratic nomination for President continues to be the big story among the media as they continue to hope for a competitive campaign. The question of who can stop Biden has seemingly been in regards as to whether Bernie Sanders can improve on his 2016 performance, whether Elizabeth Warren can form a coalition that can get more establishment friendly forces behind her, or whether Kamala Harris can become a female Obama of sorts. But no one expected on the outset that among those possibilities, a Mayor from a small town in Indiana would end up going from a no name to the top tier of contenders with a lead in some Iowa and New Hampshire polls with two months before voting begins.
Pete Buttigieg, just thirty-seven years old and an Afghanistan veteran turned politician who learned from a landslide statewide defeat for treasurer to become a twice elected Mayor of South Bend, was initially laughed at for daring to join the race for President as his second term reached its final year. When he announced an exploratory committee, polls placed him among the many in the 0-1% club. Pete's exploratory phase, however, ended up wildly successful, gaining in the polls after highly applauded town halls and breaking away from the also rans by debuting in the mid-to-high single digits as he made it official alongside folks like Beto and Harris.
Buttigieg on paper appeals to the white, college educated base of the Democratic party, offering a historic presidency as an openly and married gay man, and plays off the image of a well-educated young veteran who would be a generational change in the White House. He's slowly but surely climbed up the ranks and outlasted the likes of O'Rourke and Gillibrand, and currently seems a much more likely nominee than a Harris or a Booker. His growing support among white voters as he has positioned himself as an alternative to Biden among some moderates has lead to his rise in Iowa and New Hampshire to top tier status in the face of Warren's slow and gradual fall from her peak back in October.
With a growing devoted fanbase that is willing to sing and dance at his rallies or staff meetups to Panic at the Disco's "High Hopes", Mayor Pete's own high hopes have been driven by a belief he offers an almost Obama-like campaign and vision as a young, historic, candidate that can capture the hearts of an electorate beaten down and tired by the current national environment. As the table below shows, the outgoing Mayor is placing near or around 20% of support in the first two states in the primary calendar, and placing among the top tier candidates with the most recent polling showing higher numbers and higher placing.
However, while the white electorate of folks in Iowa and New Hampshire have been getting on the Buttigieg bandwagon, there's a reason I personally have big doubts he's the one who could stop Biden. Mainly that the universe of reality of how well Pete seems to be making ground with the Democratic base is a gulf after the first early states. Because after Iowa and New Hampshire come the more non-white dominated Democratic electorates of Nevada and South Carolina where Buttigieg is still seen as an also ran.
Whereas in the two first states he is climbing the polls and doing well with the voters he needs to be doing well with, in the next two states before Super Tuesday he is just polling around 6%, placing outside the top three, and struggling to have a shot at getting delegates in those states. The big reason being that Mayor Pete's numbers with non-whites is not just bad like everyone else not named Biden, but a whole other level of bad. He's polling as low as ZERO percent in some polls with the non-white vote, and while white liberals slowly but surely seem to be falling in love with the small town Mayor, the non-white voters who helped Obama in 2008 and Clinton in 2016 win the nomination aren't seeing anything that makes them get behind the young candidate.
As you can see from the other table provided its night and day of where Buttigieg is positioned in Iowa and New Hampshire in comparison to Nevada and South Carolina. To make things worse for Pete, his issues with black and Latino voters won't go away even in the middle of this renewed surge for him as controversies regarding his pitch to them have plagued the campaign. There is a serious argument to be made that if he can win Iowa and New Hampshire he'll see his numbers with the non-white vote go up, as happened to Kerry in 2004, but the problem with that is that he would need such a significant shift with these voters from his momentum of sweeping the early states that it would be eye popping.
Given that Pete has a real chance to sweep the first two states — if he does so — it likely hurts and puts Warren and Sanders out for the count barring incredibly big wins for them in the following two states where Biden is poised to win, including a big margin in South Carolina. That would give Biden the chance to bounce back and win two states that are more aligned to the Democratic electorate and face off against the weakest performing candidate with the key groups in these states. Likely meaning that if you're team Biden you'd rather be in this situation with Buttigieg than a Warren or Sanders. Of course, stranger things have happened in politics, and Pete could prove many of us wrong and get a surge in support with the voters he's been struggling with were he to sweep the first two states.
Regardless, I continue to believe this is Biden's race to lose, and the current moment Pete Buttigieg is enjoying could be either the start of something incredible for him, the start of the perfect foe for Biden to be left over with once we get to more friendly territory for him, or he could be in for a reality check and start to fall in position during the holidays. Whatever the answer ends up being, the outgoing young Mayor is truly aiming for some high hopes if he's going to shock the world.