Weekend Plans Post: Checking out Television Prices
Coworker came in yesterday morning and we sat and drank our morning caffeine and discussed the day and the upcoming holidays and he casually mentioned upgrading his old CRT television. (This is the friend who tells me to listen to Dave Ramsey, for the record.)
I was reminded of this comment I made back in 2012:
To use a silly example that I brought up in another thread, a handful of years back, I read about a 100″ HDTV that had the pricetag of $100,000. Today, Costco has an 80″ television for less than $5,000.

In another 5 years, I'm sure we'll finally see that 100″ television at Costco for under 10 thousand.
And I told him the story about how, way back in 2010, I came into a windfall and was given the option between a 52″ television and a PS3 OR a 65″ television (without the PS3). I picked the bundle with the PS3. Why? Well, I'll tell you: the 65″ television was THREE FREAKIN' GRAND. There was NO WAY I was paying that much for a television. My windfall was nice but it was NOWHERE NEAR nice enough to buy that television without a huge amount of guilt. Instead, I got the other television AND the PS3 for half the price of the 65″ television.
So I told him that when he updated his old CRT, he should also consider getting a game system that doubled as a blu-ray player and he scoffed.
But I looked up the price of televisions on the Google anyway just to give him an idea of what he might want to give himself for Christmas and what he could expect to pay.
And here is what popped up:

If you can't see it, the thing that caught my eye was the 2nd one. 65 inch television. 4k. Two-hundred-and-seventy-eight bucks.
The price of a Playstation 4 is currently sitting at $299.99.
You can get a 65″ television for less than 90% off of the price of a not-as-good television from 10 years ago. But, you may ask yourself, what if you really, really want to spend the three grand? Welp, I have good news: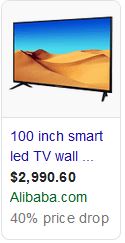 A 100″ television.
I shudder to think what will be available in 10 years. Probably something that will have the Zoomers teasing me for still watching a big ol' television instead of just jacking in to the Dizapple machine.
And so I will probably spend this weekend feeling old.
So… what's on your docket?
(Featured image is "Old Irish Man" by NgoPhotographyPlz. Used under a creative commons license.)