Sunday Morning! Beginning John Cheever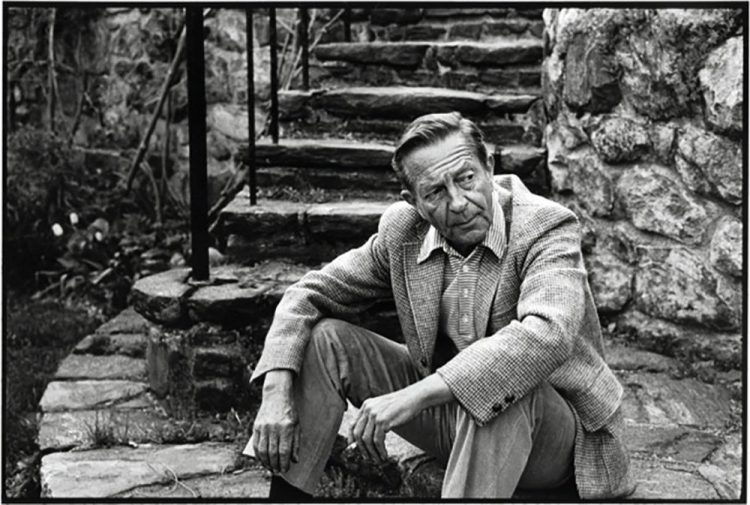 Over the months of doing these weekly posts on books, movies, and sometimes artists, I've noticed that many of them amount to me saying "Hey! You gotta check out this thing!" Really, I'm just a link in a chain, though. My friends are mostly writers and artists and musicians who are always telling me I have to check out some artist, writer, or musician they love. And I am very blessed.
I owe my current reading material to local poet Darrell Epp, who told me over coffees about the greatness of John Cheever. I cast Darrell in a short film that I wrote and shot with the skilled help of friends last weekend and he and I got together beforehand to talk about the short, films in general, and writers we like. I had never read a Cheever story before and probably just thought of the writer through all of the secondhand cliches: urbane  WASPy New Yorker writer of brilliant stories about the suburbs filled with copious amounts of martinis and adultery. All of which are true to some extent, but as Darrell pointed out, there's a lot more to Cheever's fiction. In other words, it was one of those you-gotta-read-this-guy recommendations.
And having read two collections of Cheever's short stories, I would agree: you gotta read this guy. These are some of the best short stories I've ever read and they tie in surprisingly well with my other current obsession: Robert Bresson, whose films detail the small measures of grace afforded to meager anonymous individuals on the margins of French rural society. Cheever's stories are about people who are materially comfortable but just as anonymous and often just as pained and confused and flawed. By recent accounts, Cheever himself struggled painfully against the bottle and his attraction to men, and what he might have gained by this pain was the extraordinary kindness of his stories. As of yet, I haven't encountered a "bad guy" in any of these fictions, although there are plenty of people who do bad things. Joe Fasser describes it here as the two poles of a sphere; we all see ourselves in an ideal image that we often fail to live up to, but we keep moving towards the light as best we can. Cheever's characters struggle, and fail, and do their best to become better.
Cheever's great at showing the often duplicitous ways our minds work against us. A Cheever character will notice a sour look on their neighbor's face and the author will tell us "He knew what Mr. Johnson was thinking: that he had lost the light of his earlier talents and would henceforth amount to nothing. He became outraged; how dare the man think such a thing!" The reader doesn't need to be told that our character can't read minds and is projecting his own feelings. And, in fact, we all — most of us — do the same thing.
A more specific example- in Cheever's short story "The Five-forty eight" the character has done something really reprehensible: he has hired a secretary, slept with her, and fired her because she cried afterwards. The secretary is, perhaps, more troubled than he knew, and she shows up on the train home from the city with a pistol, which she covertly jams in his side, and plans for justice. He's a cad, or at least a failure, and Cheever sums this up with a great paragraph in which he reflects on his moral failings, which ends:
"There was no way now of rectifying his mistakes, and he felt- for perhaps the first time in his mature life- the full force of regret. Out of the window, he saw some men fishing on the nearly dark river, and then a ramshackle boat club that seemed to have been nailed together out of scraps of wood that had been washed up on the shore."
And the next paragraph continues with the things he sees before gradually circling back to his shame. Because this is what the mind does- it can't sit with regret; it needs distractions. I think this is true for all of us. And it's something that would be nearly impossible to capture in another medium. In a movie, the dialogue might go:
Man: I guess I've ruined everything for you and acted in ways that are unforgivable.
Woman: Yeah, well.. sure.
Men: Hey, look- those guys are fishing.
And the character would sound like even more of a jerk. But this is the greatness of prose: it captures those fleeting thoughts and feelings we have that we don't express aloud. Cheever can write lines like: "Some deep recess in his spirit seemed to the good child and the light-filled rooms. He had the feeling that there would never be any less to his life than this." (in another story) And they come off beautifully where they would probably seem contrived or arch in a play or a movie, or even a song.
There is a musical quality to his composition. Certain activities show up again and again in his stories: men take the train into work in the city, couples attend dinner parties night after night, often someone drinks too much and does something foolish, neighborhood committees debate minutiae furiously. These elements of the suburban life are like recurring musical themes in Cheever. As I recall from my grandparents, who were 1950's suburbanites, after all, these people really did perform a small number of the same ritualized activities over and over. The suburbs have been satirized and criticized over and over in art — much of that impetus now carries over to the urban culture as the cities become suburbanized. But Cheever's characters are not conformists or dullards as much as slightly childlike adults. The suburbs are slightly surreal in his stories more than menacing.
To get an idea of this, listen to Cheever read his brilliant story "The Swimmer".
Cheever can also be extraordinarily forgiving, as in his story "The Trouble of Marcie Flint". Marcie's husband, Charlie is on a boat to Italy to leave her forever. He was there on a business trip and enjoyed the country too much, staying away months longer than expected, drinking, carousing, and planning a new life. While he was away, she cheated on him and he left again in anger. As the story unfolds, we realize it was a moment of weakness and Marcie's pity for an idealistic and somewhat pathetic neighbor and her loneliness at her husband's absence. Charlie realizes this too and knows that he will soon return home to his wife and child. And the last line: "I will shelter her with the curve of my body from all the harms of the dark."
One of my favorite stories thus far is "The Country Husband", which seems like an epic novel in thirty pages. The lead character is on a flight home that has to make an emergency crash landing in a corn field, but afterwards nobody is particularly interested in hearing about it. At a dinner party, he recognizes the new maid in a neighbor's house: she was a French collaborator during the war and he saw her marched naked with shaved head through the village; he tells no one. That night, when he drives the family babysitter home, he is irresistibly attracted to her and starts fantasizing about being with her, committing minor acts of rebellion against his staid suburban life. Finally, he decides to see a psychiatrist who straightens him out by suggesting he take up woodworking. The story ends with the husband in the basement making a coffee table.
Except it doesn't quite end there. Cheever tells us that, upstairs, the son Toby changes from his cowboy suit to his space suit and jumps off the bed, landing with a thump. And the local girl who pesters the neighbors by hanging around gets sent home. And the middle-aged neighbors with the high bushes around their backyard chase each other around outside in the nude "as passionate and handsome a nymph and satyr as you will find on any wall in Venice." And another daughter tries to convince the cat she has dressed in doll clothes to come back to her. And the dog runs through the yard with a slipper in his mouth. "Then it is dark; it is a night in which kings in golden suits ride elephants over the mountains."
It's hard to beat an ending line like that. So, I won't try.
What are YOU reading, watching, pondering, playing, or creating this weekend?