Saturday Spins: True Believers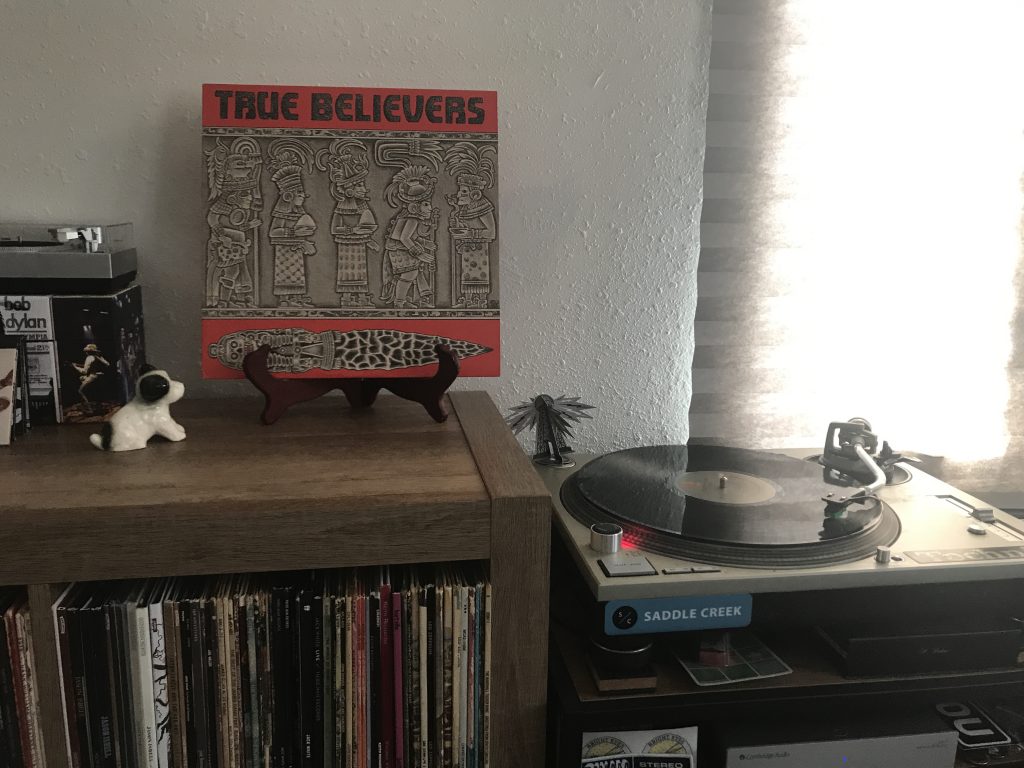 You know when there is a band that doesn't/didn't get the respect and acclaim they deserve(d)? We have covered a band like that here before when we spun a record by a cult favorite from the power pop era. Other weeks, we spin big names, like last Saturday when we covered another release by Robert Zimmerman. This week we cover a little band from Austin, Texas, whose fame was snuffed out by a series of unfortunate corporate events coupled with the inability of critics to classify their eclectic style.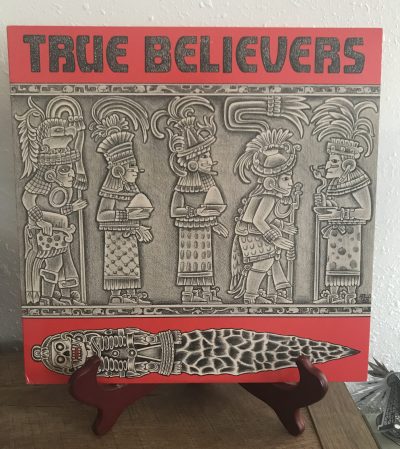 True Believers
True Believers
1986
Commentary
True Believers was formed by brothers Alejandro and Javier Escovedo in 1982. Alejandro is well-known for his expansive solo work. True Believers are a hard band to pigeonhole into an exact genre. Of course, one can just say they are a simple rock band, but upon listening to their music, it becomes very clear that there are touches of country, tex-mex, and punk sprinkled throughout. When describing them to a friend who had never heard of them, I used the term "cow punk."
Alejandro's solo work has mainly an Americana and country-rock vibe, but he mixes in a little bit of punk rock too1. Check out his  latest album, The Crossing, which is a concept album about the immigrant experience. I wonder if our diaper-filling President has given it a listen? Alejandro and his brother were both born in San Antonio, Texas to immigrant parents2. Their music is steeped in the tradition of Americana, tex-mex and blues.
The True Believers were formed after Alejandro left his first band, The Nuns, a punk rock outfit from San Francisco. They started to pick up steam on the Texas club circuit and even opened for some bigger bands like Los Lobos. By 1986, they recorded the album we are covering today on Rounder Records. At this time , EMI Records had a distribution deal with Rounder, and loved this album so much that they gave True Believers a new contract to record a second album.
Here's where that unfortunate corporate circumstance comes into play; by the time the second album was being finished, EMI was purchased by another record company and True Believers' second release was dropped and the band broke up not long after. Thus, they were never able to reach a larger audience. In 1994 Rykodisc released Hard Road, which was the name of the second album and it included the tracks from the 1986 self-titled album. Alas, Hard Road was only released on compact disc – Alejandro if you're reading this, please get Hard Road released on vinyl!
Tracks I Think Are Great
Side one starts out rocking with "Tell Her" and "Ring The Bell", both songs with driving beats and crooning guitars. "Ring The Bell" sounds like a true country-rock track and is reminiscent of a train ride through the wild west. Both of these tracks sound like they are way ahead of their time; that's because they were. Uncle Tupelo and No Depression Magazine did not come into being until 1990 and 1995, respectively. Speaking of trains, one of my absolute favorite songs is "Train Round The Bend." Please bask in the very 80s glory of that video.  Finally, there is the ballad-y "Rebel Kind" which sounds a little bit more like a contemporary rock song.
Side two starts off with "Hard Road", the name given to their second album which was not released until 1994. It is a return to that country-rock sound. "We're Wrong" is a song that defies any kind of musical genre in my opinion: is it rock? Is it country? Is it new wave? "I Get Excited" is a punk rock song through and through. It is amazing how these guys could just jump from genre to genre while retaining their own trademark sound. Rounding out the record is "The Rain Won't Help When It's Over3" is probably their most well-known song because it was covered by the Ryan Adams-led Whiskeytown on their 1997 EP In Your Wildest Dreams and was subsequently released as a bonus track on the Strangers Almanac deluxe edition.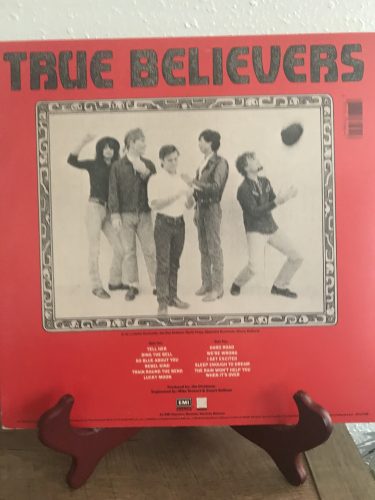 Fun Facts
Legendary Austin musician, Daniel Johnston, who passed away this year in September, wrote a song called "Marching Guitars" reportedly after witnessing True Believers live. The lyrics certainly do tell the tale, and are printed on the inner sleeve of this album.
"Down from the depths of nowhere You know you'll hear them coming.

And no one, no one can stop them. The marching guitars.

I saw them in the city Coming up an alley there.

A whole crowd of people stood on the sidewalk and stared.

Down through the streets Through hotels and through bars

The marching guitars

The marching guitars"
True Believers reunited in 2012 for a one-off show at SXSW. I'm still holding out hope that Hard Road gets a proper release on vinyl.
Click here for a more rocking/soulful version.