High Sierra Ghost Stories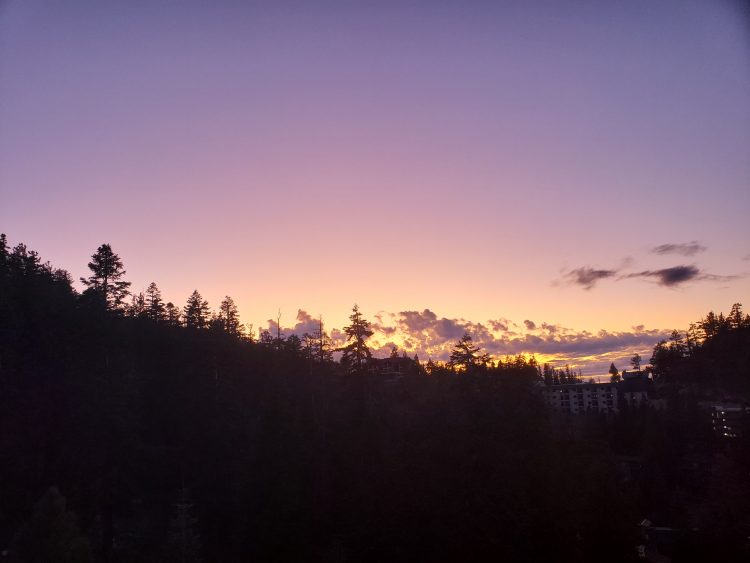 In the mid 1980s, my parents bought a timeshare near South Lake Tahoe. They enjoyed skiing and the resort offered easy and immediate access to Heavenly Valley. So for one week a year for much of my adolescence and young adulthood, we drove eight hours north on Highway 395 and vacationed in a pretty posh two-bedroom private unit with spectacular views of the Carson Valley to the one side and, if you got exactly the right unit, a teeny sliver of gobsmacklingly-blue Lake Tahoe over another mountain ridge to the other side.
Over time, my parents moved away from California and used the timeshare less and less. Sometimes they just gave family friends, or my friends and me, the use of the week. Eventually it came to pass that my folks decided they didn't want to pay the annual maintenance fees anymore. They gave the title to my then-wife and me in exchange for one dollar and our gratitude.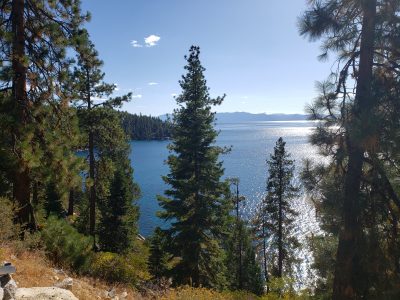 We used the timeshare more years than not, accumulating our own experiences and our own stories. Most of the stories were good, and some of the bad ones became good ones with the passage of time. We soon found that coordinating our respective vacations and taking an entire week off work could be inconvenient. For an extra expense, we might have used an exchange club to transfer the week's stay to other places, but there always seemed to be other better things for us to do with our money and our time.
As part of the divorce, we agreed that I'd take the timeshare as part of my half of the split of our marital estate. Depressed in the wake of the divorce, professional setbacks, and family deaths, I had little interest in going there. After this darkness lightened, I noticed that I had time accumulated in the timeshare I'd paid for, not used, and which was about to expire. So, despite the lack of any romantic companion or even friends, I booked some time. Which, because I'd waited so long, had to be split into two separate stints, a four-day stretch in September and a three-day stretch in November.
When I came in September, I found the place full of ghosts.
Everything I saw from the moment I landed in the Reno airport until the time I got back on the plane to go home to Portland, felt like a reminder of something from my childhood or my young adulthood or, most of all, during my marriage.
Seeing the places Mom liked to get breakfast and shop for Christmas tree ornaments reminded me that she'd died several years ago. Hello, ghost of my mother.
A bike rental shop reminded me of the time my high school girlfriend and I had exhausted ourselves trying to ride as close to Emerald Bay as we could. Hello, ghost of guilt from that poorly-ended teenage relationship. I can only hope she moved past the undeserved pain that immature me dealt to her.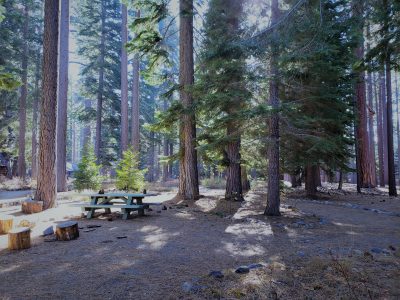 A campground where my family had stayed the year my folks bought the timeshare reminded me that my ex said she hated camping and wouldn't go on a camping trip with me, and how she told me after we'd split up and she went camping with her new boyfriend that what she really didn't like about camping was memories of her first husband. Hello, ghost of submerged marital accommodation, and I notice your friend, the spirit of post-marital resentment! How efficient that you two could carpool over here to haunt me together.
A brewpub my ex and I had discovered, and where we'd sampled beers and laughed together for hours, or the golf course whose restaurant was where we had a special anniversary dinner, all reminded me of the good times from my marriage. Hello, ghost of good times past, and thanks for bringing the despair of no successors in sight to fixate upon, lest the good memories actually make me feel better.
Then there was the "tall trees obstacle course" where I'd fallen off the very first swinging log (the one marked "easiest") at the very start of the course, and hung upside down and tangled in my safety gear, for fifteen minutes before staff would come and rescue me because they were all busy with a group of schoolchildren. My ex had laughed at my clumsiness and resulting plight before she realized (quickly, to her credit) that I was not only failing to see the humor in the situation, but that my face was reddening more from frustration and self-loathing than it was blood flowing into my upside-down head and her laughter was not helping ameliorate my feelings. Hello, ghost of marital humiliation.
Salt for this dreary sauce came in the form of the plantar fasciitis I'd begun feeling about a month before. That meant that the thing I'd normally be doing a lot of – hiking the Tahoe Rim Trail or other High Sierra routes – was not an option because my foot hurt so damn much it woke me up in the middle of the night.
The whole ostensible vacation was, quite frankly, depressing. A self-inflicted flat tire on my road back to happiness. I ate too much. I drank too much. I slept poorly. Without hiking, I didn't get exercise or the endorphins that come with it. I didn't ever actually break down and cry from loneliness and melancholy, but felt the urge to do that creeping up on me on a couple of occasions.
So upon my return in November, I vowed to try to seek out newer things, try to find things I'd never seen or done before. Places where the ghosts wouldn't be. With somewhat less time, but the same sort of solitude to deal with, maybe I could find things to see and do that were novel to me. I found the lake shrouded in a layer of smoke from a late-season forest fire, the mountainsides all but devoid of snow, and thanks to my ongoing struggle with the slow-to-heal pain in my foot, the world-class hiking trails effectively inaccessible. (Hiking at 7,000+ feet of altitude on steep Sierra Nevada mountainsides is contraindicated for intermediate or lower experience level hikers in November anyway, because of the prevalence of ground ice and its fondness for lingering in places like high, windy precipices.)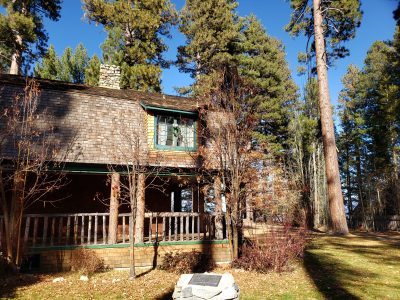 Nevertheless, I found at least one thing to do that I'd never done before: the Tallac Historical Site. Tucked in between the end of the city limits of South Lake Tahoe and Emerald Bay are the remains of one of the first tourist resorts built at this location.
As early as the 1870s, people came to Lake Tahoe to enjoy the sight of the clear blue waters, the stunning mountain vistas, and the bracing smell of the pines and sequoias at altitude. Many of the log cabins of the age were demolished, and others were moved around the site and have been rehabilitated by modern volunteers seeking to preserve the region's history. Since I was visiting in November, the exhibits inside these cabins were shuttered until next May, but the buildings themselves and photographs on the interpretive plaques spoke of wealth (for the day) and luxury (for the day).
Despite the faint noise of the highway nearby and the jarring sight of casinos anticlockwise along the lake shore from where I stood, I found it easy to imagine the well-to-do of a century ago enduring an all-day drive in their jalopies from San Francisco to take a summer holiday, in clothing fashionable for the day, canoeing on and swimming in the lake, consulting their bird-finders, hiking the mountain trails, drinking beer and lemonade, watching their children climb trees and collecting pine cones, eating food attributed to pioneers and lumberjacks, relaxing around their fireplaces with games and stories, and heading to the casino for an evening's entertainment. Not so very different from what the middle class vacationers do at Lake Tahoe today.
Today, many of the buildings have been curated and renovated by modern volunteers, keeping most of their old appearance but using more recently-harvested logs and upgraded to support the modern need for many electrical outlets and flush plumbing. The rehabilitated buildings and still-groomed lawns are used for cultural events like holiday fairs, expositions of culture from the descendants of the native peoples who were displaced when Europeans first came here, and to teach science and ecology to schoolchildren.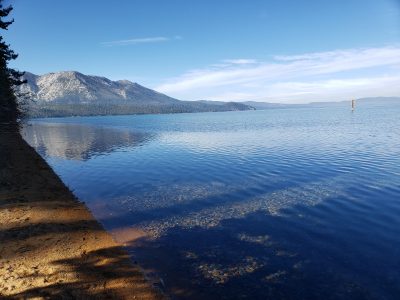 By modern standards, the semi-permanent residences of people who bore elite early California names like Baldwin, Pope, and Heller would seem large of floor plan but quaint of amenities; for a century ago, it would have probably felt pretty damn posh to have fresh-baked bread, fresh fruit and vegetables run up from the Central Valley daily, on-demand hot running water, and steam-powered yachts at hand.
The California side of Lake Tahoe looks and feels considerably less prestigious than it must have in those days. The area seems to have reached its peak not long after the 1960 Olympics. The democratization and popularity of winter sports, and the creation of high-rise casinos on the state line, and the area's natural beauty and isolation transformed South Lake Tahoe into the municipal grandchild of Big Bear, Las Vegas, Sacramento, and Malibu, now with irregularly-groomed gray hair and still wearing the same clothing it did during the Reagan Administration.
On the Nevada side, the lake developments are nicer, newer, less crowded together, and accordingly pricier. But Carson City bears an eerie resemblance to the unpretentious California high desert community where I've lived the plurality of my life. This is partly because of the capillary spread of contemporary American monoculture, and partly because of geography: in both places the land is cheap, flat, and dry, creating certain incentives for the way that real estate gets developed and used.
The casinos have all seen better days, but that doesn't matter much to me because I use them so little. Lake Tahoe continues to generate year-round demand for tourist accommodations, so the owners of California properties don't have much incentive to invest in upgrading their buildings and amenities,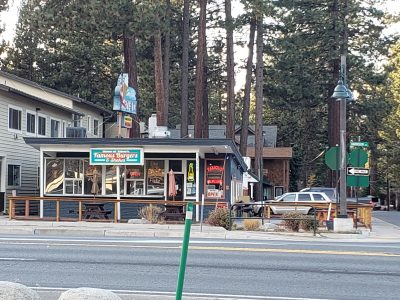 resulting in a lot of rather dated-looking burger and pizza shops. For some, more contemporary businesses like brewpubs and weed dispensaries have replaced the fondue restaurants and one-hour photo development shops of the late 1970's, but there's still a lot of stuff that looks pretty dilapidated. Time has brought change, or more accurately, it's tried but been only partially successful. The weight of history remains.
After all, tourists in this part of the world still pile in their rented cars and drive out to Virginia City to look at where they used to pull silver out of the ground and plunk quarters in slot machines at the Bucket of Blood Saloon while their children pester clerks at the Olde-Fashioned Candy Shoppe located in the lower floor of where one of the better brothels used to be in Mark Twain's day. Even if most of the tourists don't feel much of a connection with the memory of a miner coughing up stone dust into his rancid coffee and arguing with a banker about the purity of the ore he spent another fraction of his health to pull out of the ground, those tourists do still shell out fifty bucks a head up at the lake, to ride a paddlewheel from Zephyr Cove to Emerald Bay and they drink booze while an actor in a Mark Twain costume tells them tall tales.
For so long as the scars left on the hillsides from the silver mining are there, the ghosts of Virginia City will be there with them. Even if they are a little bit harder to see in a tourist trap like Virginia City than are the ones at Tallac Point, they're there. Go and look for them. They are part of our shared cultural history and they will whisper to you if you listen.
Similarly, I've realized on this trip that absent something extraordinary happening to my brain, there won't ever be any erasing the memories of my personal history, some of which are tied to this region of recreation and repose. I can avoid dealing with it if I want; no one makes me come here and I have alternatives for using my resources to take my time away from home elsewhere if I want.
Or I can accept that this is part of what went into making me who I am and not hide from my past. It's oddly comfortable to wallow in rumination about things gone wrong in the past, which dominate over the reminiscences of things that went right in the past. Certainly I'm at a phase of my life where I'm more alone than I would like to be and most of my history here is from phases of my life that were different than this.
The dealers in the casinos might point out that sometimes you don't get the cards you want, and if you want different ones, you need to stay in the game and play another hand.
Avoiding the past – hiding from it – is a fool's errand that can't succeed. It might be that if I refuse to address the pains from my past, they'll just moulder like the shell of what used to be a 1970s head shop turned into… actually, the building I'm thinking of now is still being used as a head shop, but these days there's a dispensary next door for easy one-stop shopping. Nevertheless, good Reader, I trust that you take my point.
Maybe I can find some way to curate my past, like the old log cabins of a 1910s-era resort, and makes something new and good out of it. Maybe I can build on what's there to make something that will meet the demands of the future.
All photographs used in this essay were taken by the author, on 21 September 2019 and 14 November 2019. The author remembers trips to Lake Tahoe at this time of year during his youth, and there was snow on the ground and skiing on the slopes back then.