The Aftermath Of The Elections Everyone Ignored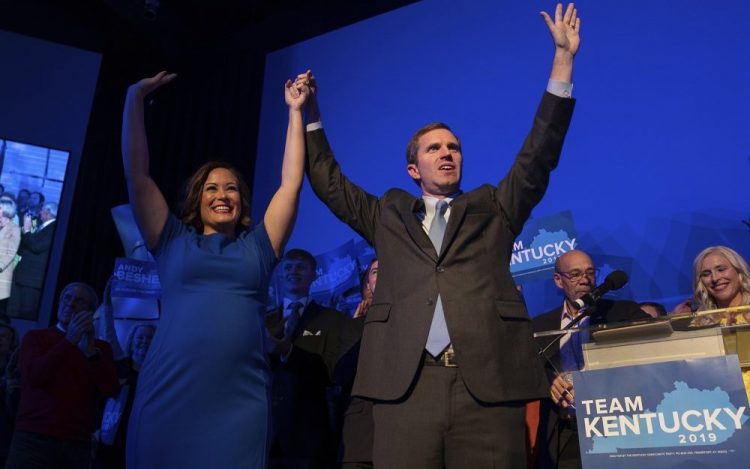 Last week, the political conversations on social media and the cable news networks were alight with various pontifications into what news of Democratic takeovers of the Kentucky gubernatorial seat and both of Virginia's state legislative houses could mean in regard to national implications for 2020. For the first time since the off-year election cycle had begun, 2019's major races were the top story of the political world. Even though others, such as myself, have been tracking and following these races all year long, the hot topics of an impeachment inquiry into President Trump, the Democratic presidential primary race, and even interesting electoral events in both Canada and the United Kingdom have all drowned out what was news of the very real and now realized potential for Democrats to have a good off-year showing on election day.
However, on a personal note, I'm frustrated it took until election night and the morning after for these races to get this kind of attention. If you followed me on social media, you'd know that I've constantly been grumbling about how little polling and news articles outside of local coverage have covered these races, particularly the two gubernatorial elections that took place. And with Louisiana's gubernatorial race having a runoff coming up as of this writing, even that race has seen little attention even though it presents a chance for either party to have a big morale boost as 2020 gets closer and closer.
In 2017, we got tons of coverage and polls on the Virginia gubernatorial race to the point it became nationalized, and even New Jersey which was much less competitive seemed to get more attention than this year's three southern governors' races had. In terms of news coverage, I would probably blame that on a perfect recipe of historic impeachment events progressing daily, the major races all coming from the south instead of the beltway like the off-year races from 2017, and the fact the presidential election's campaign has been underway all year long as the primary process chugs along. But I don't see many good excuses from the pollsters, who are measuring public opinion on an election a year away daily while three major statewide races were just months, weeks, and then days away.
The lack of polling made these races tough on professional and amateur forecasters alike, and I had never felt as unsure as I had about what election night held as I did when polls started to close in the eastern half of Kentucky. This lack of data, of course, means the margin for error is arguably higher as you have less information at your fingertips to figure out the possibilities of what to expect as results come in. Understandably so casual observers would probably argue its better that way as voters get the final say and expectations can be more muted, but I think it's a positive when we can track public opinion and voting intentions so we can better understand views from the electorate at large over whatever bubbles we put ourselves in.
The big gaps between polling releases and the little data we had when they're all added up didn't prove to be that much of a problem in Mississippi's governor's race, as the first table I've provided shows. Polling shows the red team favored in the race in all polls save for one partisan Democratic pollster. However, note the mess we have in Kentucky where we got a whopping seven public polls released within a year, and only Mason Dixon polled more than once.
Looking at the small amount of public polling in both gubernatorial races, Mississippi which ended up a modest Republican win of six points, went about as polls told us it would with only partisan polls being truly wildly off on the range of possible margins. Kentucky which ended up a razor-thin Democratic win does suffer from the lack of data though, as we got polls that ranged from everywhere from a six-point win for the Republican to a way off outlier late in the race showing the Democrat winning in a landslide. The best pollster in Kentucky ended up being the only pollster that polled the state more than once (at least publicly) in Mason Dixon.
This of course didn't make it easy for us election forecasters and the few of us who did try and forecast these two gubernatorial elections had to practically fly blind going into election night. And yet as the second table I've provided shows, the election forecasters didn't do all that bad overall given these circumstances.
Of the nine forecasters I found attempting to figure out these elections (Including me), every single one correctly pegged Republicans as the likely winners of the Mississippi gubernatorial election — likely thanks to the information we had available to us being pretty clear about who the favorite was. Kentucky however understandably caused some disagreement. Of the nine, four (Including me at the risk of not sounding humble) correctly pegged Democrat Beshear as favored. Three incorrectly pegged Republican Bevin as favored but to be fair none of them had him as a strong favorite, and two understandably just threw their hands up in the air and declared it a Tossup (Which was not a bad call honestly). The small amount of data made things difficult, but thankfully more forecasters caught Bevin's defeat more than those that predicted he'd win.
What probably made the difference for those of us who went into election night believing Bevin was a mild/weak underdog in the race, were those of us who use polling averages and modeling to help us figure out the likely election outcomes. The sparse polling in Kentucky was insultingly low and yet the polling averages cleared things up for us in the mess as the third table I've provided shows.
Thanks to polling averages and modelers having different methods and rules for aggregating the data, we have different results from six aggregators I found for these two races. Note though how suddenly clearer the races look when you don't confuse yourself in trying to figure out which individual poll is right. In Mississippi all the averages showed an advantage to the Republican obviously, but with the big mess in Kentucky averaged out you get all but two of the six showing a small advantage to the Democrat. When you average out all the margins for each race you get a result that's pretty close to the actual ones. This is why I always implore everyone not to live and die with each individual poll lest you enjoy whiplash and instead to average them out.
As you can see when it comes to Kentucky, a plurality of forecasting and a majority of polling averages all showed an edge to the blue team, thus why I have to quibble a bit with those treating this result as a significant upset. As I mentioned in my July piece on these races, the state's GOP Governor was toxically unpopular, and Dem Beshear was barely leading in polling. Not to say that it couldn't have gone the other way as the race did end up extra close, but the idea that its some great shock that Bevin managed to lose in such a partisan Republican state doesn't hold water when you look at the small amount of data we got and when you realize where forecasters as a whole fell on the race.
– Takeaways From The Results
Now that I've finished my ranting on the annoyance of how little polling and news coverage we got on these races and shown the proof that the Democratic takeover of Kentucky's gubernatorial seat wasn't a shocking event, I thought I'd hit some quick thoughts from me on each key result from last week's elections.
First, the ever-growing Trump era suburban shift to the left and rural shift to the right in voting patterns continued to show itself. In Kentucky's gubernatorial election, the Republican saw a big drop-off in the suburbs while doing better in the western rural parts of the state. In Virginia, the suburban revolt was a big key in Democrats flipping the entire legislature there. In Pennsylvania's local races no one was paying attention to, saw Republicans make big gains in rural western areas, while Democrats wiped out the red team in the southeastern burbs of Philadelphia. The re-alignment of where each party's voter base continues on as 2020 is in our sights.
While Kentucky has recently had a scary coincidental streak of its gubernatorial election teasing the results of the following year's presidential election and the President campaigned for Republican Bevin, I would NOT try to put any national implications into this result. Mitch McConnell, who is up for re-election next year, maybe unpopular but the state party is more united around him than they were with Bevin and he'll be able to easily nationalize his Senate race in a polarizing era where voters are voting the same for President and Senate more and more every four years. Note that Bevin was VERY unpopular and yet came within a whisker of winning, as the burbs were only one part of his defeat as Trump-loving coal country turned on the governor. And while Bevin was losing, his GOP colleagues were sweeping the rest of the state's statewide elections. This was purely a race in which a governor's unpopularity caught up to him even though partisanship and polarization almost saved him.
Mississippi went about as everyone expected with Democrat Hood pulling off a very respectable showing and doing better with whites in the states than other Democratic colleagues. However the lack of black turnout and the fact he was running against the chosen successor of an outgoing popular Governor in a red state proved to be too much and he came up short to the Republican Reeves. While Republicans can take comfort in winning this one, it wasn't any surprise they did, and Hood still put up enough of a fight that they had to use resources here they could have used in helping Bevin up in Kentucky who was less than a point away from winning.
Overall, I'd say that once again the off-year elections were good for the Democrats this time around, and as of this writing I'm growing more and more optimistic they'll continue the winning in Louisiana's gubernatorial runoff, where polls and early voting signs seem to be giving them an edge. However, keep in mind that next to the continuing trend of suburbia and the rurals switching allegiances, you can't treat local state races as anything that is going to give you the answer on what will happen for 2020's national picture. If you're a Republican, take solace in the fact that there's still a year to go with plenty time for the public opinion and national environment to improve in your favor. If you're a Democrat, take solace in the fact that your party currently has the momentum and that regardless of a good economy, an arguably mediocre Democratic field, an incumbency advantage against you, and a bias in the electoral college that leans against you, your team is very much within reach of unseating Trump next year.
The only thing I am sure of in regard to next year's elections is that it won't be ignored as badly as this year's races were.