Sunday Morning! The City & The City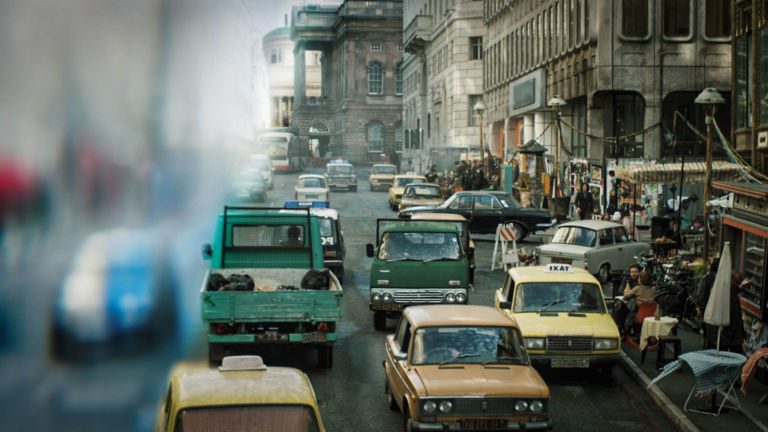 No sooner do I declare my love for stories in which a compelling central character is 80% of the "plot" than I read a novel from what a friend of mine calls "the other end of the street": here, compelling ideas drive the story and the characters are largely instruments of those ideas. And that's okay too.
Appropriately enough, I picked up China Miéville's science fantasy novel "The City & the City" from The City & the City Books, an independent book store that opened in Hamilton, Ontario, about a year ago, and which I visit roughly once a week. My friends Tim and Janet, who own the store, named it after the novel and, in general, they read a lot more science fiction than I do. I realize it's an unappreciated genre- J.G. Ballard quipped that most reviewers treat imaginative fiction as belonging in the lowest drawer, the one they often mistake for a urinal- and I certainly do appreciate it; however, science fiction makes me use parts of my brain that I usually reserve for other sorts of reading. Philip K. Dick, for instance, ties my brain in knots in the same way as do certain philosophers, and often I'd rather leave my gray matter untied.
This novel starts off normally enough, reading like a police procedural with one key conceit gradually introduced that is both inspired and mind-bending. Inspector Borlú of the Beszian Extreme Crime Squad has been assigned to the case of a dead girl whose hair and body are too well-kept for a prostitute and who, it seems, isn't even from his city of Beszel, but comes from the rival foreign city of Ul Quoma, both on the outskirts of Eastern Europe. A series of tip offs and clues lead him to realize she was a North American graduate student on an archaeological dig in Ul Quoma. Now, he has to cross the border to this strange, somewhat hostile foreign city, in order to find the truth.
Here's the thing though: Beszel and Ul Quoma occupy nearly the same physical space, in a rough "grosstopic" way. Their citizens can even dimly make out the citizens of the other city as they pass them- of course, they are required to "unsee" these foreigners, under risk of penalty for the serious crime of "breaching". If you breach, the security force, known as Breach, which exists in the spaces between the city and the city, will come and take you away- no one knows to where. Complicating matters even more, the dead girl was stirring up all kinds of problems in her quest for a mythical third city, in the spaces in between the cities, known as Orciny. The scholar who wrote the book on this city has since disavowed its existence, although the book ruined his career. But, clearly, the dead girl did something to anger the wrong people. And now, her friend is also missing.
Add into the mix extreme nationalists on both sides, shadowy corporate espionage, narrative twists and turns, and radicals who crazily believe the two cities might unify into a single city, and it's safe to say the book hasn't a dull moment.
This is all pretty heady stuff and I enjoyed imagining how it might be visualized in a movie. Many current novels read much like film treatments (see also: Swing Time), and it makes sense given that publishers are looking for books with crossover potential. So, I was not surprised to see that the BBC has adapted The City and the City for television with the borders apparently designated by blurry focus, which is exactly what I had imagined. The trailer also plays up something that is not as overt in the book- the "foreign" city of Ul Quoma is greatly enriched by foreign investment in a way that the "home" city of Beszel is not. It seems like the class divide theme might overshadow the themes of foreigness and alterity in the series. Of course, it's also impossible to tell from a trailer.
The richness of the conceit, of course, is that it can serve as a parable for all the ways we "unsee" each other. When I would take breaks from this wild story of "crosshatched" streets in alternating countries and "toppelgangers" alongside one another, and barely-seen "foreigners", I would go for walks in my own city and watch strikingly disparate groups, distinguished by vast differences in wealth, nationality, and backgrounds, pass by without noticing one another. Suddenly, Beszel and Ul Quoma didn't seem so far-fetched.
Where the book felt a little thin to me was, not surprisingly, in the characterizations. Inspector Borlú is middle aged and perhaps a little cynical (although perhaps not) and might harbor a crush on a female assistant. Otherwise, all I really picked up on was that he's doggedly determined to solve this case, and will do whatever it takes. In other words, the character grows out of and serves the plot, where I tend to prefer stories where the opposite is the case. I think it would be possible, of course, for the character to be more fully fleshed out- so to speak- in the television series. Here, the characters felt a little bit like ciphers.
But, again, it's different sides of the street- topplegangers if you will- character-driven and idea-driven stories, and certainly, these two places can learn to live together.
So, what are YOU reading, watching, creating, pondering, or playing this weekend?