Thursday Throughput: Nuclear Explosion Edition
[ThTh1]: This week's "Ask an Astronomer" question comes from Maura Alwyen, who notes that a nuclear explosion is hotter than the surface of the Sun and asks how that is even possible.
The answer is twofold. First, the surface of the Sun is not actually that hot. It's about 5800 degrees K or 10,000 degrees Fahrenheit. That's hot — about two or three times the temperature of a blast furnace. But it's not mind-meltingly hot. At the core of the Sun, where the weight of the star creates immense pressure, density and temperature, the temperature reaches 15 million degrees Kelvin (27 million Fahrenheit). That's the temperature at which hydrogen atoms will start fusing into helium atoms, which powers the Sun.
And that's the key here. A nuclear explosion works by recreating the conditions in the core of the Sun but — and this is the second part of the answer — in a very small space and for a very short time (about 500 billionths of a second). That incredible heat is part of the reason it destroys things (the others being the immense pressure wave and the intense radiation). And that's nothing. In supercolliders, atoms can ram together at temperatures of trillions of degrees, albeit in an extremely tiny space.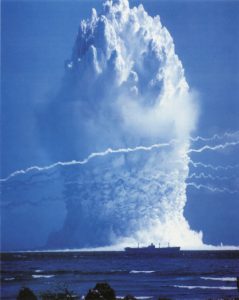 I should also note that temperature is a bit of flimsy concept in these contexts. Temperature refers to how fast atoms are moving. But if there aren't a lot of atoms, very little heat is being transferred. There are parts of the universe filled with hydrogen gas that has a temperature of thousands or millions of degrees. But if you went there, you'd freeze to death because there are very few atoms around to transfer that heat to your body. In this context, the density is extremely high, so what you have is a short-lived plasma.
So, to sum up: the Sun's surface ain't that hot and nuclear bomb temperatures only exist for a moment. So if you are standing next to a nuclear bomb, you will experience conditions similar to the core of the Sun. But…don't worry. You won't experience them for very long.
[ThTh2]: A new study finds something potentially critical about measles. It would seem that a measles infection can cause your immune system to suffer from "amnesia", losing its ability to fight off diseases it has been exposed to. This means that infection you should be immune to — either from exposure or vaccination — could come roaring back.
This finding has made the case for measles vaccination — which is already slam dunk — even stronger. It makes the case for mandating vaccinations, or at least making exemptions very hard to get, even stronger. The decline of measles vaccination not only puts us in danger of a measles epidemic; it puts us in danger of an epidemic of almost anything.
Vaccinate. Now. There's no reason not to. And every reason to do so.
[ThTh3]: The NYT has an article up about warrants being issued to search online DNA databases from places like 23andMe to enable criminal investigations. Apart from the privacy concerns, there is significant danger in this kind of blind database search. People who do DNA matching like to quote odds — e.g., the odds of the DNA linking O.J. Simpson to the blood found at the crime scene by chance were one in 9.7 billion. Such odds are useful in a case where you suspect someone for other reasons. However, a blind search of a database can turn up such matches by random chance. If you sell enough tickets, someone will win the lottery even if the odds against any individual winning it are one in ten million.
The odds of this database of 1.3 million profiles producing a random 1-in-a-million DNA match to a crime scene are approximately 73%. The odds of it producing a random 1-in-a-billion DNA match are about 1 in 500. When you expand that to the 20 million profiles now available, those odds go to almost 100% and 2%, respectively. Thinks about that for a moment. If you feed a few hundred crimes into this database, you are guaranteed to match a profile to some random person and claim — falsely — that there's only a one in a billion chance they're innocent.
Now, a blind DNA search could identify potential suspect. But confirmation requires additional evidence to show that it's not just a random match. I'm not sure our law enforcement industrial complex appreciates that subtlety.
[ThTH4]: An astronomical mystery — where all the small black holes have got to — may no longer be a mystery.
[ThTh5]: The first scientific results have come out of Voyager 2's exit from the Solar System. So far, no indication it will return as a planet-destroying super-being.
[ThT6]: This three-part tweet explains what exactly what is meant and what is not meant when we talk about the "habitable zone" when it comes to exoplanets.
We've discovered many planets in the habitable zone, but the majority (if not all) will be completely unfit for life. This is because those worlds may be dressed completely inappropriately for the conditions.

(Doodly in thread form: Part 1/3) pic.twitter.com/zl9RWktKXg

— Elizabeth Tasker (@girlandkat) October 18, 2019
[ThTh7]: A new analysis indicates that the carbon emissions and higher prices resulting from replacing nuclear power are killing more people than the Fukushima meltdown ever could.
[ThTh8]: A new book is arguing that one of the most famous psychological studies — one that led to mass deinstitutionalization of the mentally ill — may have been faked. If so, this is devastating. And yet another seminal study that's turned out to be garbage.
[ThTh9]: In case you're wondering why your clocks jumped this weekend, the Bad Astronomer has you covered.
Don't forget that tonight astronomers stop the rotation of the Earth for an hour for routine maintenance (mantle flushing, core convection rebalancing, Moho layer alignment, and so on). Things should be good as new when you wake up. The Sun might rise earlier but that's normal.

— Phil Plait (@BadAstronomer) November 3, 2019
What?
[ThTh10]: The more things change in academia, the more they stay the same.
Academics complaining that departmental service obligations interfere with their research and teaching. Assyria, mid 7th century BC: pic.twitter.com/SCkmgFk8by

— Christopher Jones (@cwjones89) November 2, 2019
[ThTh11]: An oldie but goodie in the way of optical illusions.
Each ball is traveling in a straight line but together they circulating pic.twitter.com/SE0eyYV47Y

— Physics & Astronomy Zone🔭 (@ZonePhysics) November 1, 2019
[ThTh12]: Via Andrew, scientists may have found the homeland of the Mitochondrial Eve. The theory here is that the power plants of our cells — mitochondria — are only inherited from our mothers. It's possible that all humans have a matrilineal descent from a single woman. This is a bit confusing since it does not mean that one woman was the mother of the entire human race; just that we all share a common ancestor. This theory has been around for a while. We may now finally be closing in on her location in time and space.