Weekend Plans: The Snowstorm That Was
After a dud of a snowstorm last Thursday night, we got treated to a corker earlier this week. Sunday night was BAD. Bad enough that the boss told us to work from home if we could, use a vacation day if we couldn't. Then, Tuesday night, we got told to take our computers home with us because it might happen again. Well, it did. Unfortunately, I brought my computer home with me so I had to work from home on Wednesday instead of goofing off at home BUT I was inspired to stop by the grocery store on the way home on Tuesday night and pick up the fixings for a really good sandwich.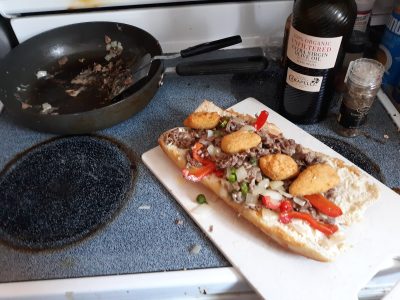 So on Wednesday, I got into it: The cheesy bread, the steak-um, the shredded Italian cheese blend, the red pepper, the serrano pepper, the onion, and the jalapeno poppers. The only problem with the thing was that I couldn't eat it with my hands. I had to use a fork. Next time: I need to have a sandwich press.
And that means that I have no need whatsoever to make a sandwich like that again for the rest of the year, let alone this weekend. This weekend will be devoted to: NOTHING. Well, sure. We have to go to Costco and Maribou told me we need to go to Trader Joe's (we missed out on the Trader Joe Grown-Up Advent Calendar last year because we waited until around Thanksgiving to get one instead of jumping on them the day after Halloween).
We also realize that we are around one week late for swapping out the winter clothing for the summer clothing (two hoodies is two too many for August… about three too few for November) and we had to dig out the Extra Heavy Flannel Blanket and throw it on the bed on Tuesday because, dang, it gets cold at night now. (Finally!)
And, of course, on Sunday WE GET OUR HOUR BACK! I plan to use it on The Outer Worlds.
So maybe not nothing… this weekend will be devoted to getting ready for Winter.
So… what's on your docket?
(Featured image is My Sandwich.)