Killing the Joke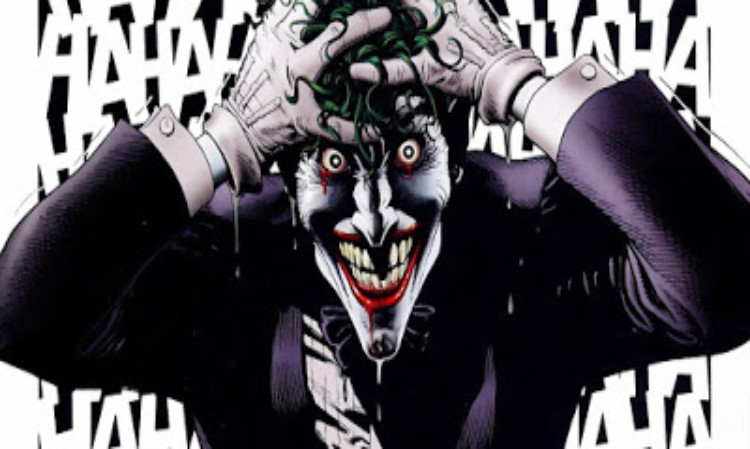 The most controversial Batman comic ever written won't go away.
The hit movie "Joker" depicts a man descending into homicidal rage after decades of isolation, abuse and humiliation.
That's the movie version. In the comics, it only takes a day.
One really, really, really bad day.
At least, that's the hypothesis the Joker tries to prove in "The Killing Joke," Alan Moore's slim opus on the Clown Prince of Crime and an obvious inspiration for Todd Phillip's surprising (and disturbing) blockbuster.
It's one of the most revered graphic novels in the Batman canon—if not all of comics—and it's considered to be the definitive Joker story. It's a hallmark of the superhero revolution of the 1980s, when comics grew up, got dark, and prepared to take the world by storm.
It's also, to many feminist critics, a not-too-distant relic from a time when female characters in comics existed only to be mutilated, abused and discarded as signposts in the journeys of male protagonists.
It's a book so divisive that even its creators have mixed, at best, feelings about it and many of its defenders seem ready to move on. Yet, it continues to have a staggering influence on the Batman franchise, inspiring several of its movies, including this most recent hit.
As I imagine Gothamites feel about Batman, nobody's quite sure how to feel about "The Killing Joke"—but it's clear it isn't going away anytime soon.
Ostensibly an update of the Joker's 1951 origin story, the book is more memorable for laying out a disquieting ideology for Batman's premiere antagonist. Before only looking for morbid laughs, Moore saw him as a nihilist philosopher, using Gotham as his chalkboard and endless lives as his lesson plan. Joker wants to prove that life is a meaningless hellscape, and his logic is inescapable—what else could have produced such a thing as the Joker?
It goes without saying, that wasn't part of the character's original design. When he debuted in 1940 in Batman #1—with a look partially inspired by Conrad Veidt and his rictus grin in the classic 1928 silent adaptation of Victor Hugo's "The Man Who Laughs"—he was a flamboyant and deadly thief, but a thief nonetheless. You can see hints of anarchism, however, as he delights in flummoxing his victims with bizarre but perfectly executed crimes, and seems to relish the chances that one will lead to his death.
The maniacal jester shares many traits with his archrival, and chief among them is that he adapts. He perfectly fit into the pulp Gothic aesthetic of the early Batman comics, but as the Caped Crusader evolved into a family-friendly astronaut, the Joker survived as a fun-loving nuisance.
"The Killing Joke" wasn't what brought Joker back to his sociopathic roots–Denny O'Neil and Neal Adams reworked the character years before in classics like "Joker's Five-Way Revenge." But Alan Moore took it up a notch, and tried to imagine how he could craft Joker's most upsetting crime.
"It's my view that Alan wanted Joker to go beyond a joke," Brian Bolland, the book's renowned illustrator, wrote in an email to me. "To do something more awful than he's ever done before, something beyond what we can comfortably bear."
In the sparse, economical story—at 46 pages, a bit longer than an average comic but much shorter than most graphic novels—the Joker shoots, maims, strips naked and photographs Barbara Gordon (a.k.a. Batgirl) in an effort to drive her father, Commissioner James Gordon, insane. If Gotham's most upright citizen could be driven to madness, Joker believes, then surely the point will have been proven—he's been right about the world all along.
"I've demonstrated there's no difference between me and everybody else. All it takes is one bad day to reduce the sanest man to lunacy," he tells Batman. "That's how far the world is from where I am. Just one bad day."
This intense present-day story is intermixed with mostly black-and-white apparent flashback scenes, which riff off the original Joker origin story and depict how he transitioned from a mild-mannered comedian into the maniac we know so well. In both versions he's a would-be thief wearing a red hood, pushed by Batman into a vat of chemicals that bleach his skin white and turn his hair green. But in Moore's telling it becomes a tragedy, the source of the Joker's vehement nihilism.
"When I saw what a black, awful joke this world was, I went crazy as a coot!" he yells to Batman. "It's all a joke! Everything anybody ever valued or struggled for…it's all a monstrous, demented gag! So why can't you see the funny side? Why aren't you laughing?"
It's unclear how seriously we're meant to take the flashback—"if I'm going to have a past, I prefer it to be multiple choice," the Joker says. But Moore draws a parallel to Batman's famous origin, imagining them as two wounded souls taking wildly divergent paths from the shared trauma of Gotham. The world hurt both of them, and while Batman wants to redeem it the Joker wants to tear it down.
The late 1980s were quite a time for the Caped Crusader. In an astonishingly quick period, Moore as well as Frank Miller, author of "The Dark Knight Returns" (1986) and "Batman: Year One" (1987), and Grant Morrison of "Arkham Asylum: A Serious House on Serious Earth" (1989), dramatically shook Batman from his roots and brought him into a deeper, grittier world. Not only were they out to show that comics could be dark, serious, literary and aimed squarely at adults—they also wanted to demonstrate that these timeless adventure stories contained powerful allegories all along, just waiting for gifted interpreters to bring out.
Unlike Miller's expansive reimaginings of Gotham, Moore's work is remarkable for how it changed the Caped Crusader with a story that's not much longer than a typical comic. And it barely shows Gotham at all.
In contrast to the nightmarish surrealism of "The Dark Knight Returns" and "Arkham Asylum," Bolland's illustration of "The Killing Joke" is ordered and elegant. The images sink in.
But it's the words that made the bigger impact. Counterintuitively, giving Joker an ideology made him scarier. Moore's heroes and villains have ideas and agendas, and their battles became clashes of wordviews with a new sense of urgency and stakes. It's not just about bank loot anymore—this Gotham is a struggle of figures all seeking to impose their vision onto the city. Including, of course, Batman.
As the Dark Knight drifted back to noir, writers began to probe the moral ambiguity and existentialism that was always hiding, somewhere, in the legend. His beliefs in justice and a moral code didn't fade, but the assurance that they'll win out did. And if Batman's not all right, maybe the Joker isn't totally wrong.
Those looking for a resolution in "The Killing Joke" won't find it, and not only because of an ambiguous ending that suggests to many (including me) that Batman may have disposed of his archvillain once and for all and broken his prime directive against killing. Moore's penchant for circular storytelling and strictly ordered grids implies that the yinning and yanging of this universe is far from over.
With the Comics Code Authority all but irrelevant, Moore, Miller and Morrison were out to demolish the dependable moral framework that held up comics for decades—and superheroes were never, ever the same.
Not everyone appreciated this era's move away from the sense of fun and adventure that used to characterize Batman stories. Today at a comic-con you're as likely to hear a fan bemoan how dark, violent and pompous comics became in the wake of Miller and Moore, than to praise them.
"You can trace the easy nihilism of many contemporary comics and movies—from 'Spawn' to 'Kick-Ass'—to cynical products like 'The Killing Joke,'" wrote Jason Guriel in The Atlantic.
To "The Killing Joke's" detractors, all this hallowed work really did was up the ante on violence, while using Philosophy 101 ramblings to Camus-flage a pedestrian story.
"I don't judge anyone for liking 'Killing Joke.' It's gorgeous to look at and has flashes of brilliance," wrote Gail Simone on Twitter. "On top of a dreary Death Wish cliché."
Simone, one of the most well-known and beloved writers in comics today, hasn't been shy about expressing her disgust with the book.
"'Killing Joke' happened the way it did because no one involved thought women read comics or gave a shit about female characters," she also tweeted.
Simone has a unique history with the book. A former hairdresser with an MFA, she broke into the industry through her blog, Women in Refrigerators, which tracked the trope of comics killing off their female characters only to prove a point to the men. The title referred to a Green Lantern comic, but it might as well have been about "The Killing Joke"—it's undoubtedly the most prominent example of this phenomenon, now called "fridging" by comics fans.
Simone, known for highlighting underrepresented voices in her work and drawing in previously disregarded readers, helped guide Barbara Gordon from a wheelchair back to the bat ears in an acclaimed series that depicted the heroine's struggle with PTSD from the Joker's attack.
Simone and her compatriots have undeniably changed the face of comics—though they would probably say, not nearly enough—to the point where the backlash now has its own backlash, the loathed Comicsgate. At the very least, Simone has gotten everyone to wonder why so few even noticed the problem back in 1988, and why women's bodies must be the ballast to bring the heroes' and villains' philosophical battles down to earth.
Curiously, Simone and "The Killing Joke's" critics are joined, somewhat, by its creators as well. The infamous eccentric Moore has condemned and virtually disowned the comic, calling it a "terrible book" and that's "too nasty, too physically violent." And, he claims, it ultimately has little relevance.
"It's talking about Batman and the Joker, and says that yes, psychologically Batman and the Joker are mirror images of each other," he said in a 2001 interview. "So? You're never going to meet somebody remotely like either of those two people."
As for Barbara's treatment, he's laid much of that at the feet of DC's management.
"It was probably one of the areas where they should've reined me in, but they didn't," Moore said.
Bolland isn't necessarily a fan of this aspect either. The project was actually his idea—he had wanted to illustrate a Joker-centered project and he wanted Moore, then at the height of his prestige and fame after the iconoclastic "Watchmen," to write it. But he had no say in the story's plot.
"I wasn't delighted to discover what Alan planned to do to Barbara in KJ but, hey, he's the extremely talented Alan Moore and it was not my place to tell him what to write," he said.
Given that centerpiece, Bolland isn't sure how it could have been changed.
"We could have evened up the gender imbalance by having Poison Ivy as the protagonist or have Wonder Woman swing in and save the day but, to me, Batman and Joker are two sides of a single brain," he said. "Having a female protagonist would have added (perhaps) a distracting sexual dimension to the story."
Bolland denies he ever meant for the images of Barbara to be salacious.
"There is nothing titillating about the implications of that scene," he said.
For better or worse, like it or not, warts and all, "The Killing Joke" helped remake comics, and that influence permeated through superhero movies and pop culture at large. But it also served as a direct inspiration for several of the Batman movies, playing an outsized role in crafting the public persona of the appropriately named Dark Knight.
Notorious comics nonfan Tim Burton, entrusted with the Batman franchise in 1989, called the book "the first comic I ever loved." Joker's birth in a chemical vat is the most obvious plot influence in Burton's "Batman," but you also see Moore's fingerprints all over the character's energy, as he delights in attacking Gotham's most trusted institutions and exposing the hypocrisy of its citizens.
"The film is like the duel of the freaks. It's a fight between two disfigured people," Burton said, echoing Moore's themes of duality. "That's what I love about it."
Critics blasted the movie, claiming the dark tone was off-putting and that Joker stole the show from Batman. But it was a monstrous hit, cementing the superhero genre for decades to come and creating a new template for it, contrasting with the cheery Superman franchise. Filmmakers saw that comic book movies could be dark and villain-focused, opening up the artistic possibilities.
Christopher Nolan's "The Dark Knight" is essentially a filmed adaptation of "The Killing Joke," heightening its philosophical battle to the level of a nuclear war. And, just like the book, the movie ends on an ambiguous note that doesn't quite resolve the victor. Not that audiences minded, as it became one of the most successful comic book movies of all time.
A disastrous 2016 direct-to-video animated adaptation—in which the filmmakers tried to even the gender balance with a baffling romantic subplot for Batman and Batgirl—seemed to spell the end of "The Killing Joke's" influence. Even with the beloved Mark Hamill voicing the Joker, Moore's dialogue felt demystified acted out, as if the story had finally been stripped bare and exposed as uninteresting all along. The critics felt vindicated, and everyone seemed ready to move on.
"Moore/Bolland's 'The Killing Joke' was a milestone," wrote Glen Weldon, author of "The Caped Crusade: Batman and the Rise of Nerd Culture," on Twitter. "With time, milestones fade."
But no one was quite ready for "Joker."
It's turned into the unlikeliest box office juggernaut and a shot in the arm for Warner Brothers, a studio that has seen mixed results with its comic book properties in recent years.
Just as with "The Dark Knight," it's obviously based on "The Killing Joke"—but it takes one of the book's subtler upheavals, the idea that Joker was once a sympathetic figure before society battered him into a monster. Both versions of the character are struggling stand-up comedians, although the similarities pretty much end there.
When the project was announced, everyone was dismayed at the notion of a Joker origin story. "The Killing Joke" had that aspect, but was careful not to confirm it—and with good reason. Bolland thinks it may have even gone too far as it is.
"If I'd been the writer I would never have revealed Joker's origin," Bolland said, who added that at one point he hoped to write a follow-up story making it clear that Joker has been making up or imagining his own past. "I see the Joker as a master of chaos but also a master of lies."
Revealing his traumatic origins not only defangs him, it puts a thumb on the scale of his philosophical battle with Batman by confirming the Joker's worldview.
Maybe, to Todd Phillips and the makers of "Joker," that's OK.
"Joker" isn't a story about a comic book universe but a grounded depiction of what's obviously 1980s New York. Phillips' Gotham doesn't have a vat of mysterious chemicals to explain Joker's unimaginable transition to madness. Joker's grievances aren't random fate or the chaos of existence, but a specific set of ways that society has let him down—indifference to mental illness, casual and ubiquitous violence, commonly accepted poverty and the public's tendency to gawk and laugh at the suffering of poor souls. Especially through video.
(And there's a connection to fridging, too—Joker's deluded, possibly violent obsession with a female neighbor was reportedly a much larger aspect of the movie's plot, cut down in rewrites and editing.)
In the movie, Joker becomes an unwitting folk hero to the movie's beleaguered Gothamites, just as critics feared the character could rally our own disaffected male youth who flock to online forums of spiraling self-pity and resentment.
That fear appears to have been overblown, but the movie's theme of societal indifference and victimization clearly struck a chord.
"Joker" is mostly free from any philosophical talk about the meaning of life or existence, which is probably just as well.
In fact, perhaps another way that "The Killing Joke" has aged poorly, aside from its treatment of women, is that nihilist pondering in pop culture just isn't as shocking today as it was in 1988, or in 2008. The book's ideas have permeated through superhero and adventure drama. And as we perpetually shake our heads at a constant stream of surreal and exasperating news that's blasted into our attention at lightning speed, at this point we get it.
Real life has finally caught up with the Joker.
---
This post also appears at The Parks Department