Godzilla, The Shōwa Era: The Reign Ends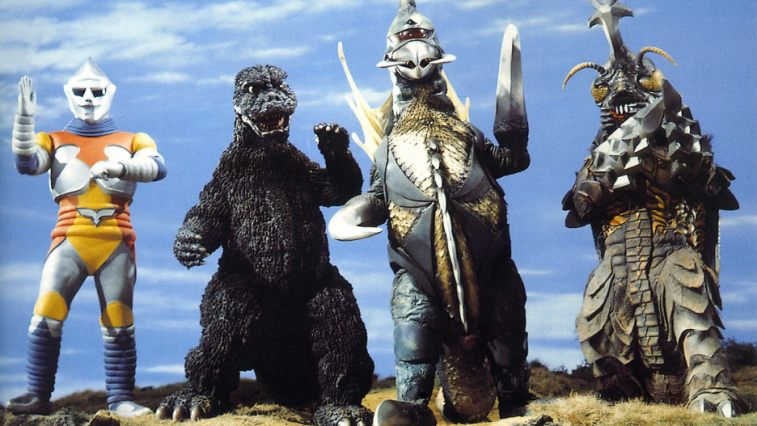 For the last two weeks, I've been celebrating Criterion Collection's release of the Shōwa Godzilla series. I wrote about the three films which paved the path of destruction and the six that represent the golden era.
In these final six movies, Godzilla is in full-on superhero mode. No longer a pawn of aliens, he appears when there's a threat to his home, and he departs just as quickly. With Toho slashing budgets, monsters often fight in fields or among rolling hills rather than cities…a bonus when it comes to keeping collateral damage to a minimum, but a bummer for maintaining that sense of scale.
Some might turn up their nose at Godzilla – a symbol of nuclear annihilation – being relegated to kiddie fair, but I find the transformation damn moving. Japan took trauma and turned it into their salvation. Walter Chaw said it best: "The Godzilla legend is a fable of reconstruction and self-sufficiency–a Leda and the Swan story, where power is drawn from the very source of victimization. He's a complex national symbol, perhaps the definitive cross-cultural Japanese signifier, and the movies that get that…are brilliant bits of sociology and history."
Lower budgets, though, are hard to ignore, particularly when stock footage literally lifts moments from prior films. And that was never more noticeable than in the first of these last six titles…
ALL MONSTERS ATTACK (1969)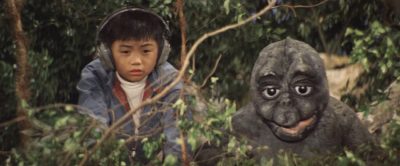 "All Monsters Attack" ("Godzilla's Revenge" in the U.S.) is a clip show weaved into a domestic drama. To escape the loneliness of his home life and frequent bullying, young Ichirô (Tomonori Yazaki) takes flights of fancy to Monster Island where he befriends Godzilla's son, now named Minilla (or Minya). Because this is in the boy's imagination, Minilla talks and also has a problem with a bully named Gabara (a frizzy haired, wild eyed monster that sounds like a cat in heat). Together, Ichirô and Minilla learn they need to fight their own battles as they watch Godzilla mow through a collection of giant creatures.
This is one of the most maligned entries in the franchise, and it's easy to see why. Most of the fights are taken from other entries, and because Godzilla's suit would often change from movie to movie, he looks different in each scene. The film is tonally confused as well. Yes, there's genuine sadness in the real-world scenes, as Ichiro wanders through an industrial landscape and returns to an empty home. (A commentary on how unfettered work puts strain on families.) And sure, that contrasts nicely with the more imaginative Monster Island. But the goofiness of Ichirô's and Minilla's antics isn't unique to the fantasy world, whether it's the boy's interactions with his toy-maker neighbor or the song over the opening credits, which includes lyrics like "Wham! Bang! Crash! [The monsters] pulverize everything! But megaton smog and exhaust are worse! They're the real monsters!"
This film literalizes one of the appeals of Godzilla. He's a remarkably flexible character, a beast. He has no class, no race, no religion. He's (it's?) often gendered as male, but who can say for sure? I pity the person who's tasked with giving Godzilla a full-body exam. There are some things you just can't unsee.
Throughout his run, his origins have been tweaked here and there, but they're always tied to nuclear power. Nothing so specific as he saw his parents murdered and took up the mantle of a bat to strike fear into the hearts of evildoers or his space parents sent him to earth as a child where he was raised by a couple in Kansas. We can project ourselves onto Godzilla. This film puts that in pretty stark terms, and I don't know that it needs to. What are stories for, after all? But if you're looking for subtlety, perhaps the franchise that began with a 160-foot monster mutated by the atom bomb isn't the best place to start.
GODZILLA VS. HEDORAH (1971)
Called "Godzilla vs. The Smog Monster" in the U.S., an alien organism feeds on different forms of pollution, growing larger and more dangerous. Naturally, it attracts the attention of Godzilla.
This was Yoshimitsu Banno only feature film as a director, and it's one of those franchise entries with such a distinct personality that it makes you wonder "how the hell did this get through the cookie cutter production line of a studio!" There's a lot to admire, and there's a lot to have a big, stupid grin over. Yes, it's wildly indulgent and tonally all over the place. A James Bond-type number opens the film, animation sequences are sprinkled throughout, and there's a psychedelic drug trip involving people with fish heads. Hey, it was the early 70s. Despite the threat Hedorah poses, the scope feels small with a core cast of four to six people. There are such long pauses in the action that Mothra could crawl right through them, such as when Godzilla and Hedorah size each other up like cowboys in a western. Think Sergio Leone but without Ennio Morricone's score or the expressiveness of Clint Eastwood and Eli Wallach. And did I mention that suddenly Godzilla can fly?
Having said all that, I love that the film is essentially one extended fight interrupted by bits of human drama. Godzilla pursues Hedorah throughout the movie, and at best, fights the creature to a standstill. At worst, Hedorah has the King of the Monsters on the ropes. This is a battle Godzilla can't win without a little help from the humans, which does give them some agency (a rarity for this franchise). Hedorah is a chilling antagonist, and with him comes an environmental message that was way ahead of its time.
GODZILLA VS. GIGAN (1972)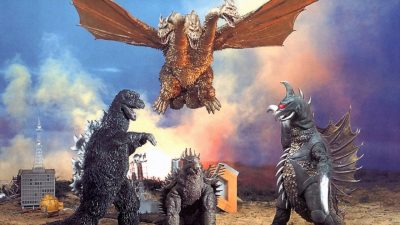 Sometimes these films don't so much stimulate your inner child as remind you why you left those sentiments behind. That's certainly the case with "Godzilla vs. Gigan" (a.k.a "Godzilla on Monster Island"). A comic book artist (Hiroshi Ishikawa) is hired to work on a children's amusement park, but he soon discovers that the staff are space cockroaches disguised as humans. They plan to use Gigan and Ghidorah to wipe out mankind and colonize Earth. Their home world has been decimated by pollution. Then, after a brief monster-to-monster conversation that sounds like a tape being scrambled, Godzilla and Anguirus show up to put the kibosh on their scheme.
I really enjoyed this one as a kid. It contains an amusement park (with a Godzilla tower!) and a comic book artist (a nod to the type of sensibilities the series was embracing). Gigan is a wild creation. Imagine a plucked space bird with a red visor for eyes, a buzzsaw in his chest and massive hooks for feet and hands. The monster fights are long and bloody! As a child, there's genuine tension when Gigan opens up Godzilla's shoulder with his buzzsaw or repeatedly whacks him between the eyes with one of his hooked hands. "Oh no, maybe Godzilla isn't gonna win this one!"
As an adult, the plotting is nonsensical, even by kaiju standards. To blow up the Godzilla tower which functions as the aliens' base, our heroes stack dynamite behind a black and white drawing of themselves and send it up to the baddies in an elevator. As soon as the doors open, the aliens fire on what they think are the humans. (Maybe they can only see in black and white?) The monster fights draw heavily on stock footage from movies such as "Destroy All Monsters." The plot is largely recycled and the environmental themes are half-baked at best.
GODZILLA VS. MEGALON (1973)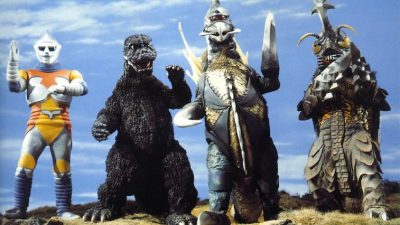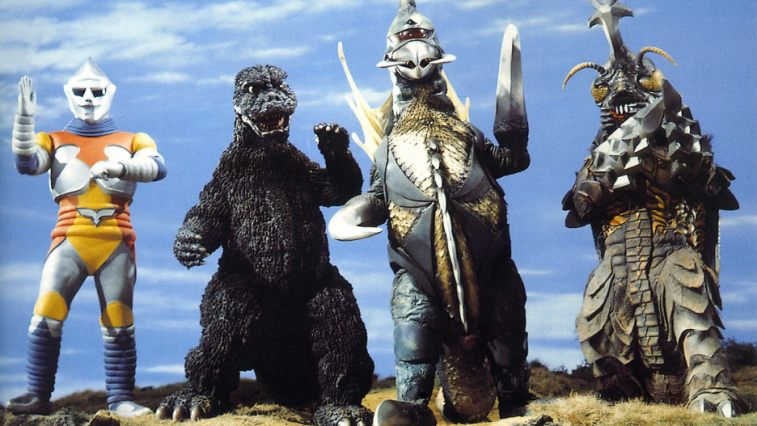 In "Godzilla vs. Megalon," an underwater civilization known as Seatopia has been dealing with the consequences of nuclear testing. They send the dim-witted Megalon to the surface, a huge insect kaiju with drills for hands. (With a name like Seatopia, it's a wonder this film wasn't called Giant-reptile-zilla vs. Huge-beetle-alon.) The Seatopians also apprehend a humanoid robot called Jet Jaguar. They want to use it to lead Megalon toward cities. I told you he was dim. What giant monster needs to be coaxed to destroy things? The man who invented Jet Jaguar (Katsuhiko Sasaki), his friend (Yutaka Hayashi), and nephew (Hiroyuki Kawase) recover the robot and send him to retrieve Godzilla. Seatopians phone a friend, Gigan, to assist Megalon in the fight ahead.
"Godzilla vs. Megalon" is one of two Godzilla films to be featured on Mystery Science Theater 3000. (When Godzilla marches onto the battlefield, one of the bots quips "I came here to kick ass and eat sushi, and I'm all out of sushi." Gets me every time.) Fans of MST3K will recognize Godzilla's famous drop kick here from the show's opening credits. A lot of these later entries are certainly kid-friendly, but perhaps none more than this one. Jet Jaguar takes a cue from children's shows like Ultraman, popular in Japan at the time. The robot, generally human-sized, can program itself to be tall…like building-tall. It also gets dizzy spinning around in circles. That's all pretty ridiculous and, along with "Son of Godzilla," this is my least favorite of the Shōwa series.
GODZILLA VS. MECHAGODZILLA (1974)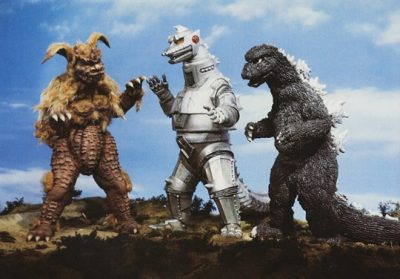 "Godzilla vs. Mechagodzilla" (or "Godzilla vs. the Cosmic Monster") introduces one of the famous members of the rogues gallery: Godzilla's mechanical double, Mechagodzilla. When Godzilla begins a rampage across Japan, its citizens are shocked. This just doesn't jive with his new lease on heroism. But then this Godzilla encounters another Godzilla, and when the first's skin falls away, it's revealed that it was a cyborg! Throw in a secret agent, a lion-like kaiju with floppy ears named King Caesar, and ape spacemen that control Mechagodzilla (they're from the third planet of the black hole), and you've got one of the most entertaining films in the franchise.
Jun Fukuda returns to the director's chair and brings exuberant touches like tiled images when an important bit of information is recalled. Masaru Sato offers up a swinging jazz score, which doesn't seem like it would work, but it sure as hell does! I especially like the way he scores the introductory close-ups of Mechagodzilla, showcasing its considerable hardware. Toe missiles, finger missiles, lasers, and rainbow eye beams. Godzilla and King Caesar join forces against Mechagodzilla. (Caesar, a god to the people of Okinawa, is awakened by a catchy albeit redundant song performed by an Azumi priestess.) The action climax is an explosion of color — Mechagodzilla unloading on his two opponents with everything he's got and Godzilla bleeding the most blood you've ever seen. It is a confection of a film, energetic, goofy and an absolute delight.
TERROR OF MECHAGODZILLA (1975)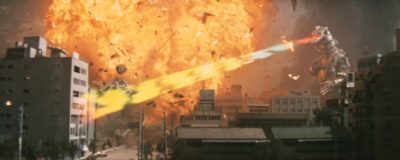 "Terror of Mechagodzilla" saw the return of director Ishiro Honda, his first Godzilla film since "All Monsters Attack," and composer Akira Ifukube, his first since "Destroy All Monsters." A direct sequel to "Godzilla vs. Mechagodzilla," a submarine expedition is in search of the robot's remains when it's attacked by an amphibious kaiju called Titanosaurus. The creature was discovered by Dr. Mafune who was then laughed out of the scientific community. "A giant monster? In Japan? Ridiculous!" (Akihiko Hirata, who played Serizawa in the original film, portrays Mafune. He comes full circle as an actual mad scientist.) With the help of the simian aliens from the previous film, Mafune plans to unleash Titanosaurus on the world along with the reconstructed Mechagodzilla. But Godzilla has other ideas.
"Terror of Mechagodzilla" is a fitting and mostly melancholy send off for the Shōwa series — from its wintery palette to the doomed romance between Akira Ichinose (Katsuhiko Sasaki as a marine biologist who leads the authorities to Mafune) and Katsura (Tomoko Ai as the doctor's daughter who's embroiled in her father's plot in shocking ways). Like "Ghidorah, The Three Headed Monster," Honda's more traditional approach is at odds with the film's campier elements. The aliens have aluminum-style spacesuits and helmets with large antennae. Titanosaurus kicks Godzilla like a soccer ball at one point. Godzilla himself slams his fists together like a boxer entering the ring. Still, the human drama is pretty potent. Credit to Yukiko Takayama as well, the first woman to write a Godzilla film.
And Honda gives us some wonderful visuals. "Terror of Mechagodzilla" features one of the King of the Monsters's best entrances. The aliens have launched an attack on Tokyo when they discover Godzilla is approaching. Titanosaurus is blasted by the blue atomic breath from off-screen. He falls in slow motion, like something out of a Kurosawa or Peckinpah film. (Less a commentary on violence here, and more an opportunity for you the viewer to pump your fist. "Here we go!") Honda then cuts to a darkened skyline, crash zoom in, lightning flashes, and we see the silhouette of Godzilla. He roars as Ifukube's theme comes in.
From the campy to the solemn, there's a Godzilla movie for many moods. That's especially true if you reach beyond the Shōwa era. After a nine-year hiatus, Godzilla returned in the Heisei series, which kicked off with a gritty Cold War reboot called "The Return of Godzilla" ("Godzilla 1985" when it was released a year later in the States). This era included new monsters as well as re-imaginings of classic kaiju, recurring human characters, time travel antics, and a cautionary tale about bio-engineering. After the abysmal Matthew Broderick-starring "Godzilla" (1998), Toho rushed to resuscitate the character's reputation with the Millennium series, which culminated in 2004's "Godzilla: Final Wars" where the King of the Monsters lays a hilariously brief and decisive smack-down on his American counterpart. The United States tried again when Warner Bros. and Legendary launched the MonsterVerse. The success of "Godzilla" (2014) lead the Japanese studio to bring the character out of retirement again with the gobsmackingly good satire of bureaucracy, "Shin Godzilla," and a trilogy of confounding and frustrating anime films. As much as I enjoy entries from all these eras, none of the series can match the overall imagination and rambunctiousness of Shōwa.
It's my hope that this Criterion box set will bring about a reappraisal of these films. They're made with an enviable amount of joy, enthusiasm, personality, and DIY-sticktoitiveness. As far as appreciation, that alone wins battles if not wars. Maybe you're like me, and as a kid, you saw your first Godzilla movie on television with a bad dub and pan and scanned to the point where characters didn't fit in the frame. I can't tell you what watching these movies a little cleaned up, in widescreen, and in their native Japanese does for them. (For those who would like to share Godzilla with their children and are nervous about subtitles, fear not! Criterion has included dub tracks for eight of the films.) I suspect some of the stigma around these titles has more to do with their American distributors than any limitations of their budgets or time periods. After all, a U.S. title like "Godzilla vs. the Smog Monster" might be fitting, but it's also pretty silly.
Now it's time for Godzilla to return to the ocean for a long slumber. Long live the king.

Do you have a favorite Godzilla film? Any memories of watching him as a child? Comment below!