Sunday Morning! "The Seventh Victim" and "An American Tragedy"
Note: I'm a bit under the weather today (and actually called in sick from work this morning), so this post might be a bit abbreviated. But I did want to mention a few pieces of art from this week that really made an impression on me.
First, I've been on a Val Lewton kick for the Halloween season (it helps that the Criterion Channel put up a Lewton collection). Lewton was an insanely-driven (and nearly driven insane) producer for R.K.O. Pictures who was given the responsibility of making cheap B (for budget) horror films very quickly in order to compete with the Universal horror flicks. Perhaps this meant there was less oversight and meddling because the movies he made there, mostly completed during the Second World War, are strange, surreal, eerie, and haunting and, narratively, a little bonkers. The best-known are Cat People and I Walked with a Zombie, but I also especially like The Curse of Cat People, a "sequel" that has very little to do with its original and instead seems like an early Tim Burton film in which a lonely girl with an active imagination (based on Lewton's childhood) makes an imaginary friend who's most likely her father's dead girlfriend from the first picture!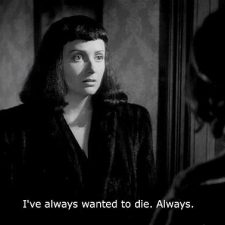 But narratives don't get much riskier or more bonkers than The Seventh Victim– this movie really threw me for a loop! The story of a private school girl whose wealthy sister has gone missing, the film is typical for Lewton in featuring an innocent who finds herself drawn into a shadowy underworld and goes deeper to satisfy her own curiosity. It's also quite a bit darker than the average 40s thriller. As she explores the hidden corners of Greenwich Village, our heroine discovers a conspiracy of well-heeled Satan worshipers, murder, suicide, and worse. These films were all shot on R.K.O. sound-stages, often constructed for other films, and made to look like the Black Forest in a Grimm Brothers fairy tale. But there are certain conventions that old movies usually keep; we're not used to seeing a movie from this era in which evil triumphs over good, especially considering in 1943 it wasn't clear that good would triumph in Europe. But, without giving away the staggeringly bleak ending of this movie, I will say it's amazing how completely evil triumphs in The Seventh Victim. If David Fincher made a film like this today, it would even seem bleak for him!
In one of the key moments in The Seventh Victim, a character fails to explain why good is preferable to evil, or even what good and evil are. The book I read this week, Theodore Dreiser's epic An American Tragedy, is all about an evil act committed by a young man who doesn't seem to be particularly evil, only weak and selfish. Clyde Griffiths was raised by poor street preacher parents in the Midwest and might have grown up to be sinless, but we see in him, from the very first chapter, a burning desire to live a better life, have better things- ambition in other words. Dreiser realizes that this quality is in no way a negative one in American life- nor life in the Americanized word, for that matter; I live in a Canadian steel town that has tried to "re-brand" itself as "The Ambitious City". Dreiser was working from a real court case that he chose because it felt particularly American. If Clyde had only made one different choice, he would probably have been an admirable character. Alas, he did not.
Clyde's ambition takes him first to hotel bellhopping in Kansas City, where he learns about booze and prostitutes before being involved in a tragic accident that, while not his fault per se, he flees from nonetheless, setting up a pattern in his life. He winds up in Chicago and works again as a bellhop, where he encounters his wealthy uncle Samuel Griffiths, owner of a collar manufacture in upstate New York. The uncle eventually gives Clyde a supervisory role in the factory, but it is clear from the start that he will never move into the high society in which his well-born relatives live- clear to everyone, that is, except Clyde. I only underlined one sentence in the 856 pages, but it seems apt:
"He was, as he saw it, really too good for the commonplace world by which he was environed."
Clyde falls in love, briefly, with a factory girl who, like him, comes from meager beginnings. He then falls in love with a girl from much better beginnings in the smart set that has sort of taken a shine to him. Clyde is, we are told, very attractive. However, if he was smarter, he'd have gotten himself born to better parents. Complicating matters greatly, he was in love with the factory girl for a sufficient time to get her pregnant and now the rich girl is offering him a chance at a better life. Whatever will he do?
Clyde feels trapped by a situation he has created, but the reader can see he was trapped from the beginning. Trying to outrank his birth, he would never be accepted by the wealthy set who see him, correctly, as a striver. The rich girl is genuinely infatuated with Clyde, but her parents will never let them marry, or allow the relationship to continue. Nor should he have begun a relationship with a girl who, incorrectly, sees him as a step to a better life. But, he was lonely, and looking for something he was missing in women and luxury and nice clothes. Most of all, he was selfish.
I've wondered before what failing we could call the ur-sin. Timothy 6:10 holds that the love of money is the root of all evil, but I think it's really selfishness that most often does us in, even when there's no money involved. When we put our needs above the needs of others to their detriment, bad things happen. In this case, very bad things happen because Clyde cannot see the women in his life without considering their use value. The ending of this story is as bleak as that of The Seventh Victim, and even worse because it can, and did, happen.
And yet, as Dreiser reminds us, Clyde is only twenty-one and many young men are swayed by lust and the desire for a more comfortable life. His failings would have been human and understandable, and not truly tragic, if not for one hasty decision…
So, what are YOU reading, watching, creating, pondering, or playing this weekend?