Godzilla, The Shōwa Era: The Golden Age
Welcome to part two of my overview of the Godzilla Shōwa series, soon to be released in its entirety on the Criterion Collection. In part one, I wrote about the three films that paved the path of destruction – the original "Godzilla," its lackluster sequel "Godzilla Raids Again," and the heavyweight comedy, "King Kong vs. Godzilla."
This week, I'll be highlighting the golden age of Shōwa movies, which represented a pivotal transition in Godzilla's character and a major change in the tone of the franchise. Criterion surely took a cue from these titles when they assembled their bright and colorful box set packaging. These are splashy pop entertainments. Toho also expanded the kaiju roster during this period. Decades before the Marvel Cinematic Universe, the studio forged their own with a cast of monsters — both as stars of their own features and supporting characters in Godzilla titles. That journey began with…
MOTHRA VS. GODZILLA (1964)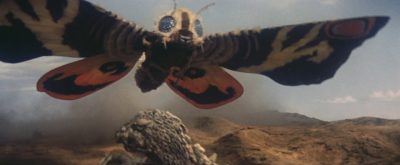 Sometimes called "Godzilla vs. The Thing," "Mothra vs. Godzilla" is just as much a follow-up to "Mothra" as it is a Godzilla sequel. The King of the Monsters gets second billing, and the story (written by Shinichi Sekizawa, writer of many Shōwa entries) represents a continuation of the corporate greed theme that was central to 1961's "Mothra." Two crooked businessmen apprehend a huge egg and hope to turn it into a tourist attraction. When twin fairies beg them to return the egg to a giant moth named Mothra, the businessmen refuse. Then Godzilla appears and makes Japan his personal wrecking room. (Though he's clearly no more a morning person than I am, stumbling into buildings and getting his tail caught on a tower.) The country makes an appeal to the natives who worship Mothra: ask the winged deity to stop Godzilla. But will Mothra help after being spurned?
The answer, of course, is yes.
The title fight between Mothra and Godzilla has some of special effects director Eiji Tsuburaya's best work.  Sure, a couple moments fall flat – at one point, a puppet Mothra drags what is clearly a rubber Godzilla doll. But there's an outstanding shot where Godzilla flails, in the background, amidst a miniature set as Mothra flies into the foreground, framed by trees. She's fully animated, with moving legs and mandibles, and the branches rustle as she passes. It's got scale and depth. You have to appreciate the coordination of all those practical effects.
The film also contains some of Akira Ifukube's best music, as he integrates his Godzilla theme with Yuji Koseki's Mothra theme. Emi and Yumi Ito reprise their roles as the fairies. Stage named The Peanuts, these two immortalized the Mothra song in geek culture.
This film contains one of my favorite scenes in the series. As the two businessmen quarrel over money, Godzilla approaches. One man shoots and kills the other but is too preoccupied by their fight to save himself when Godzilla dispassionately destroys their building. The greed and bickering of man has never felt so petty and insignificant.
This is an excellent starting point for folks who are new to Godzilla. While not as good as the 1954 original (what is?), it checks more franchise boxes. It's got one clawed foot in the solemn arena, offering up commentary on business interests and the brotherhood of man, while it also embraces the series' more fanciful elements. And of course it's got Godzilla duking it out with one of the most famous monsters in the rogues' gallery.
GHIDORAH, THE THREE-HEADED MONSTER (1964)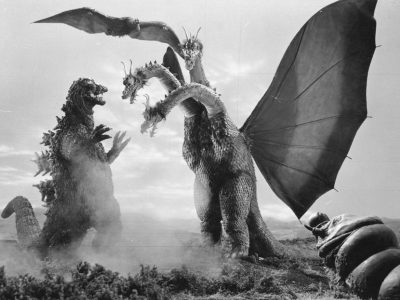 If you blended Godzilla with "Roman Holiday" and threw in a political assassination plot, outer space prophecies, and a lot of camp, you'd get "Ghidorah, The Three-Headed Monster." Detective Shindo (Yôsuke Natsuki) is tasked with protecting Princess of Serginaon (Akiko Wakabayashi) during a state visit. After a Venusian voice saves her from frilly-collared assassins, the princess turns up in Japan. Dressed in ordinary clothes and seemingly possessed, she predicts that the monster Ghidorah will destroy the planet. Meanwhile, Rodan, a pterodactyl-like creature, wakes from his slumber and starts some shit with Godzilla. When Ghidorah hatches from a meteor, Japan asks the twin fairies of Infant Island to call on Mothra. (Again.) The larva arrives and struggles to convince Godzilla and Rodan to set aside their disdain for man, echoing the brotherhood theme from the previous film (this time…monsterhood). "Oh Godzilla, what terrible language," the fairies cry out as they translate the monsters' conversation. The three kaiju ultimately join forces to lay a titanic smackdown on the space dragon.
What doesn't quite work here is the pile-up of tones and genres. Is it a political thriller? A fairy tale? A farce? A world-ending drama? A creature feature? As much as I respect director Ishiro Honda, his classic aesthetic wasn't the right approach for a narrative that includes everything but the kitchen sink. He adopts a muted and autumnal color palette which jives with the apocalyptic undertones, but with Rodan laughing at Godzilla or Godzilla getting blasted in the nuts? Not so much.
But we're here for the monsters, aren't we? And in that regard, the film delivers.  Mothra and Godzilla are back, and "Ghidorah" brings another kaiju into the franchise, reintroducing Rodan who was featured in his own film in 1956. Ghidorah is one hell of a creation. The planet will need the combined might of three monsters to fight him off.  The Joker to Godzilla's Batman, Ghidorah is the antagonist of the series. Towering over even Godzilla, he's golden scaled with three serpentine heads, two tails, and massive wings. (And it takes a network of wires to animate all these appendages. It's a marvel of suit-mation and puppetry.) To see the Earth monsters team up against him is pure glee.
Though Godzilla would continue to be a figure of some menace and intimidation for the next few films, this is the beginning of his transition from Japan's destroyer into its protector.
INVASION OF ASTRO-MONSTER (1965)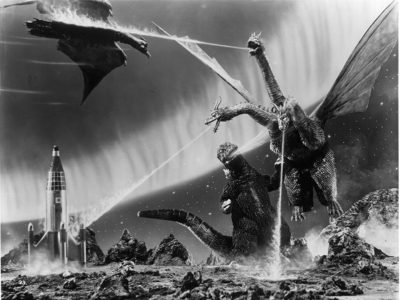 There's a set piece in "Invasion of Astro-Monster" (sometimes called "Godzilla vs. Monster Zero" or just "Monster Zero") where Godzilla and Rodan fight Ghidorah on Planet X and a neighboring planet looms large in the background.
If that doesn't unlock your inner child, I don't know what to do for ya.
Exploration of this distant planet leads to a group of curly-shoed aliens with Star Trek visors asking Earth to lend them Godzilla and Rodan to defeat Ghidorah, whom they've dubbed Monster Zero. (Even female giant monsters are underappreciated in the workplace, as Rodan and Godzilla get all the credit for beating the three-headed terror. Poor Mothra.) As it turns out, the aliens are using mind-control technology on Ghidorah and now have command of Godzilla and Rodan. They demand that Earth surrender or they'll set the kaiju loose on the planet's major cities.
Ishiro Honda might have struggled with the campier elements of "Ghidorah, The Three Headed-Monster," but here he seems much more comfortable. Monster screen time is kept to a minimum, and it scarcely matters because the human cast is so enjoyable. The chemistry between Akira Takarada and Nick Adams, as the two astronauts tasked with exploring Planet X, is palpable. So much so that it punches right through the English dub (or Adams's Japanese dub if you're watching that version). Adams, in particular, has so much swagger. He delivers lines like "you stinkin' rats" and "we're gonna fight to the last man, baby" with total conviction. In addition to being wildly enjoyable, the film is cheesy as hell.
Speaking of cheese, Godzilla continues his march toward heroism. After he and Rodan defeat Ghidorah on Planet X, the King of the Monsters performs a dance that was popular in Japan at the time. And thus, a GIF was born.
EBIRAH, HORROR OF THE DEEP (1966)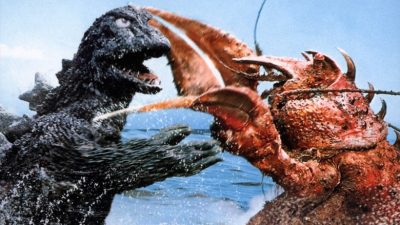 "What if…there was an island adventure movie with surf music where Godzilla fights a giant lobster?" I like to imagine the development meeting with Toho executives started with something like that. And we're all the better for it. "Ebirah, Horror of the Deep" (released in the U.S. as "Godzilla vs. the Sea Monster") is about a collection of friends (and a bank robber) who shipwreck on an island and get entangled in a terrorist plot. A group called the Red Bamboo is making weapons of mass destruction. In an effort to escape the island, which is guarded by a large crustacean-like monster, Ebirah, our heroes awaken Godzilla. AND Mothra makes an appearance!
Though there are world-threatening stakes, this is refreshingly smaller than its predecessors. Scores of buildings aren't being destroyed; 95% of the action is confined to one island. It's a fleet-footed movie, thanks in large part to Jun Fukuda's direction. This was his first foray into the series, but he would bring his energetic and gonzo filmmaking to later entries. An eccentric treat, this title was lampooned on Mystery Science Theater 3000.
SON OF GODZILLA (1967)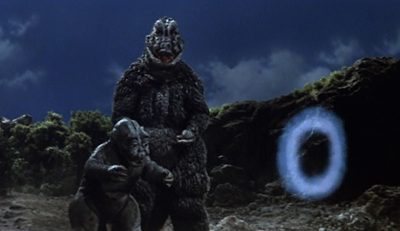 On a remote island, scientists are in the midst of creating a weather-control system when their invention inadvertently causes local insect life — including praying mantises that are already the size of SUVs — to grow larger. In the immortal words of Blue Öyster Cult, "history shows again and again how nature points out the folly of man." The group also has a run in with Kumonga (the island's resident stadium-sized spider), Godzilla, and most frightening of all, Godzilla's son. Imagine a mini Godzilla paired with a Pillsbury Doughboy who's definitely seen some shit. I guess I can't hold his wide-eyed look against him. His old man's an asshole, raising a fist when his son struggles to summon an atomic smoke ring. Still, Godzilla's bad parenting pays off during the film's final moments, which is one of the franchise's sweetest and most poignant grace note.
As I've written before, I don't particularly care for "Son of Godzilla." Godzilla himself looks like Homer Simpson stuffed into a reptile suit. He's got a beer belly, sleepy eyes, and a comically short snout. And even though this film has the smaller scale of "Ebirah," it's got so much less spunk and personality. The human cast isn't all that interesting, though Kumonga is a pretty creepy baddie. In one scene, most of the humans are in a cave. One rushes in to alert the others that the spider is spinning a web over the entrance. All the characters turn to look and everything goes quiet. Eerie for those of us who aren't fans of arachnids. (Yes, yes, I know all about the good they do, including keeping the giant praying mantis population in check.) Still, I've never been so happy for gargantuan irradiated death lizards and their unfortunate-looking sons.
DESTROY ALL MONSTERS (1968)
Going back to the Marvel Cinematic Universe comparison, this is the studio's "The Avengers" – a bonanza that brings together 11 creatures, both inside and outside the Godzilla franchise. All of Earth's monsters are kept on an island called, appropriately, Monsterland. [Insert Simpsons joke about Ape Island vs. Candy Apple Island.] These kaiju include: Godzilla, Godzilla's son, Rodan, Mothra, Anguirus, Kumonga (in a cameo), Gorosaurus (a Tyrannosaur-like creature), Manda (a sea serpent), Baragon (a chunky reptile with rabbit ears, also a cameo), and Varan (a reptilian flying squirrel of sorts, another cameo).
In a plot that recycles portions of "Invasion of Astro-Monster," silver-clothed aliens called Kilaaks take control of the monsters (and some humans, for good measure) and unleash them on the planet. It's up to the rest of the cast to find a solution. What this film lacks in originality and fun characters (seriously, most of the humans could be described as "scientist" or "defiant scientist" in a stretch), it makes up for in sheer spectacle. We see Godzilla attack New York, the most destructive monster the city would face until Donald Trump came to prominence. And as Scott Weinberg quipped, "'I cannot believe I'm watching Manda and Kumonga in the same movie right now.' — Japanese movie nerd."
I mentioned this film has 11 kaiju, but I only named 10. Once the humans break the aliens' control, Godzilla assembles all of his pals at the base of Mt. Fuji for an assault on the Killaks. But the baddies have a surprise, and his name is Ghidorah! What follows is some of Toho's most satisfying and well-executed monster mayhem, a veritable smorgasbord of teeth, claws, tails, and range weapons, all beautifully orchestrated by Eiji Tsuburaya. We get wonderful action beats like Anguirus dangling from a flying Ghidorah, one of its necks in his teeth. Gorosaurus drop kicking the three-headed monster. Godzilla stomping on one of its necks like Robert De Niro smashing some poor bastard's face in a Scorsese film.
"Destory All Monsters" was intended to be the final Godzilla film, and an appropriate blow-out it was. But it was successful enough that Toho decided to continue the series. Next week, I'll discuss the last six films of the Shōwa era. Because box office receipts had been on the decline and the Japanese film industry as a whole was hemorrhaging, budgets were slashed which resulted in equal parts inspiration and stale storytelling choices. These titles also represent the character's complete transition from horrifying allegory to national savior.