Disney Just Made Me Obsolete – AGAIN!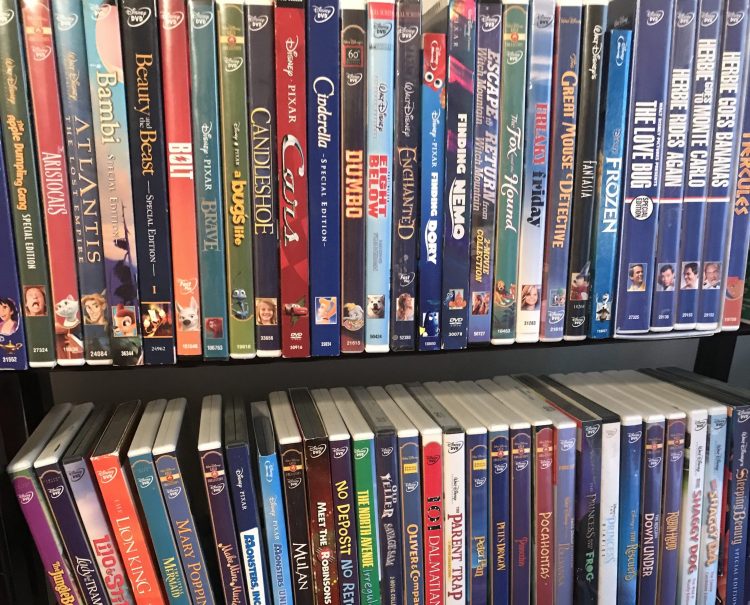 I admit to being a DVD junkie. I grew up in the dark ages, before we had the ability to record anything on TV. If you missed the one annual showing of Charlie Brown, that was it until next year. You had to be home and watch everything LIVE! I thought the VCR was the greatest invention ever. I don't think I would have made it to my afternoon classes in college, or been able to hold down a job without the ability to record my soap operas. Commercial VHS recording were pretty pricey, but I would record movies when they came on TV and amassed quite the collection of tapes.
And then they invented DVD's. No more setting the VCR to record "Dallas" every day on TNT, I could just go out and buy a whole season. So, all of my old VHS tapes went into the trash. Once I started collecting DVD's, the first thing I wanted was the Disney collection. I know it's hard to imagine now, but a Disney release used to be something SPECIAL! Once a generation, Disney would bring one of its classics back to the theaters for millions of new children to discover. My mother took me to see all of them in the 70's. I never saw "Lady and the Tramp" until it was rereleased in 1986. But I was a little late to DVD ownership, and by the time I went to buy them, most of the classics had been put back into "the vault." You see, Disney carried on its old tradition even in the age of home video. After a rerelease, they would issue the title on VHS for a limited time and then it would be gone. Forever. Or so we thought. I remember a friend desperately trying to find a copy of The Little Mermaid after her first daughter was born, but it was gone. I wasn't going to be caught mermaidless, so I went down to the Disney store at the mall (where we used to go to buy everything before Amazon came along.) They told me that "Mermaid" had already been vaulted, along with Bambi, Lady and the Tramp, Lion King, Pinnochio – pretty much ALL the classics!
BUT – they were having a special They were getting ready to release Snow White on DVD for the first time. And if I wanted to pre-order it, they would give me a free copy of one of the vaulted titles. I think I ended up buy 8 copies of Snow White and the Seven Dwarves. That's what everyone I knew got for Christmas that year. I rested easy, knowing that I would not have copies of all the classic Disney movies for my future children (that never materialized.) Of course, Disney soon realize that they had been premature in locking away so many titles. Apparently, I wasn't quite the LAST person in America to buy a DVD player. So, they reissued all those titles in "gold" and "platinum" editions. Within a decade, Blu-ray would become the new format and they would all be released again. And they stayed out rather than going back into the fictional "vault."
And now, Disney is getting ready to take over the streaming market. They announced earlier this year that they were starting their own streaming service, Disney +. If you're a movie fan, or a parent, you're probably counting down the days to November 12th when it goes live. But to whet our appetites, they released the titles that were going to be available immediately and it is AMAZING!!!!! Of course, not everything is there yet (one of my friends is bummed because Captain America is missing, but I told him they had to hold something back to release NEXT MONTH.) This is going to be a game changer for home entertainment. I don't know why I'm so excited though. They basically rendered my entire collection obsolete. All those titles I paid $20 a pop for you can stream for $6.99 a month. Of course, even I don't own ALL of them. And Disney + will carry original programming as well. I may never be able to leave the house again.
It will be interesting to see what happens to the other streaming services after Disney+ launches. Netflix boasts about its original content, but the cannot possibly catch up with 80 years worth of Disney titles. And Disney will be reeling in all the content they've licensed to Netflix and other outlets. In response, Netflix has pledged to crank out even more original content. Oh, and Apple is starting its own streaming service November 1st with – guess what? MORE original content!
So, here's my big question: just how much TV do we need anyway? We've been complaining for years about bundled cable services, now we're going to end up with a dozen unbundled streaming services, each with its own original content and exclusive syndication. At the same time, there are hundreds of cable channels still airing, each with its own originals. Who has time for that much TV? If you can stream pretty much anything ever made on one service or the other, why do we still need those cable channels? Will cord cutting become even more popular? How many different streaming services can compete in the same market? Will anyone buy DVD's anymore? Will anyone ever leave home again?
We'll see starting in November.