Sunday Morning! The Burden (2017)
This week, I've been holed up in the apartment I am subletting, recovering from a recent breakup, and bonding with my one-year old kitten, Iggy. We have watched a number of old movies together and I have been reading Theodore Dreiser's epic novel An American Tragedy (which I should have finished by next Sunday).
I've been thinking quite a bit about dialogue lately. In our spare time, some friends and I have been making very short films from scripts written by yours truly and, as we have no money, they tend to be dialogue heavy. It's not an easy thing to get right. One's first instinct is to write "naturalistic" dialogue in which the characters say the sorts of things "people really say". However, were you to be given a transcript of everything you said in a day, chances are at least 95 percent of it would be tedious chit chat and blather. I cringe at the thought. Probably 95% of our waking lives consist of thinking about bullshit: the weather, workplace gossip, our jobs, our petty gripes, even celebrity gossip- maybe even more than 95% given how mediated our lives are now.
And then, underneath all of the bullshit is what makes us uniquely human- all of the things we avoid thinking about for the most part. The changes and events that happen in our psychic landscape happen at a much different pace than our everyday lives, but have much more lasting significance. So capturing all of those things in dialogue will always seem a touch "unrealistic"- because we don't really talk about what matters most, unless we have a spouse or a therapist, but art has to be about what matters in the end. If we're going to listen to characters, in other words, it's better that they say things that sound strange than boring.
Ingmar Bergman's characters are a prime example of this- the cliché holds that Bergman's movies are "pretentious" or "arty" or "affected", all of which suggest that they're unrealistic. But his characters are really ultra-realistic; his dialogue is rawer and more direct than what people say in real life, which makes it memorable. Nobody ever talks like Bergman characters. But so what?
Perhaps it's a Swedish trait. The dialogue was certainly odd in the piece of art that made the strongest impact on me this week: a fifteen-minute, stop-motion animated, Swedish musical entitled "The Burden" (Min börda), featuring singing and dancing animals in existential crisis. Yes, you read that correctly.
For a small fee, you can watch it here.
The film takes place in a nameless city in the middle of the night. The film's description calls it a "dark musical enacted in a modern market place, situated next to a large freeway. The employees of the various commercial venues deal with boredom and existential anxiety by performing cheerful musical turns. The apocalypse is a tempting liberator."
We start in the Hotel Long Stay, for individuals who are alone by choice or fate, as the desk clerk minnow sings: "or if you can't be with anyone… or if nobody wants to be with you." One tenant believes no one would want to be with him due to his "bad skin". Another fish sings "I didn't have the strength to stay, didn't have the strength to stay. I couldn't live with someone who told me how everything should be." This is all very strange, and the dialogue is more raw and emotionally direct than what anyone ever says in a hotel. But these are singing fish, after all.
Next: two hairless mice clean a restaurant after hours and perform a tap dance routine. This lovely image is on my social media profile. I was impressed with the high level of detail in the sets:
The filmmaker Nikki Lindroth von Bahr has made a series of animated shorts with these highly detailed miniature sets and I have a strong affection for artists who make the world around us seem strange in this way.
Next, the film takes us to an office full of telemarketing monkeys calling people and "sticking to the script" except for one lone money singing: "But I have my own dreams- my own needs. I don't demand much. My life is drifting away." Before long, all of them are singing the refrain.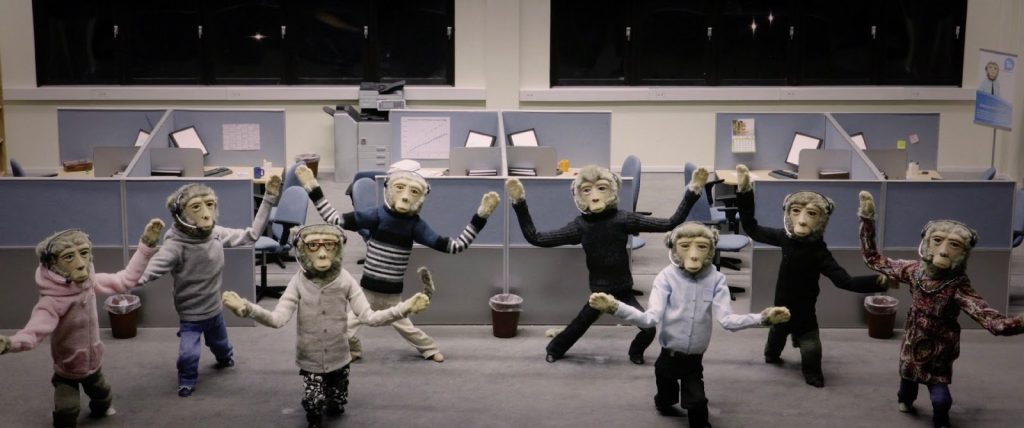 Finally, a grocery stocking dog relates a dream in which the store falls apart around him. Is it really happening? The city seems to be crumbling as it floats away into space. All of the characters join"together in a transcendent song whose chorus ends the film with the lines: "I will climb the ladder of happiness when the burden is lifted from my shoulders."
What does it all mean? Why did I find singing stop-motion animals so affecting when they expressed common feelings of boredom and fears of meaninglessness? I think it was, strangely enough, their humanity that was most affecting- even if they were stop motion monkeys in space.
So what are YOU reading, watching, pondering, playing, or creating this weekend?