Hillarity Ensues: Clinton vs Tulsi
Welp…where to start with this goat rope.
First Hillary Clinton:
Mrs. Clinton made her allegation on "Campaign HQ," a podcast hosted by David Plouffe, a former aide to President Barack Obama.

"I'm not making any predictions," she said, "but I think they've got their eye on somebody who is currently in the Democratic primary and are grooming her to be the third-party candidate. She's the favorite of the Russians. They have a bunch of sites and bots and other ways of supporting her so far."

Disinformation experts have noted frequent mentions of Ms. Gabbard by RT, the Kremlin-backed news agency, and apparent Twitter bot activity amplifying pro-Gabbard messages and hashtags.
Which prompted this: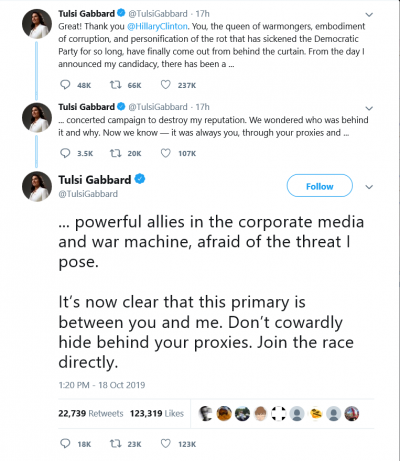 Which lead to this:
She did not name Ms. Gabbard in that interview, but her target was clear. Nick Merrill, a spokesman for Mrs. Clinton, told NBC News, "if the nesting doll fits," when he was asked to confirm that Mrs. Clinton had been referring to Ms. Gabbard.
Which lead to Rep. Gabbard doing what any good Democratic candidate for president would do and…go on Tucker Carlson to respond:
Tulsi Gabbard fires back at Hillary Clinton's Russian asset claim
This little spat checks many boxes necessary for a viral story in our day and age, with more stream-crossing than the Ghostbusters managed against Gozer the Gozerian. Social media had a fit, the talking head shows had a full evening of content, and plenty of pieces will be written about it. Thing is, what we really have here is a twice failed presidential candidate who, allegedly, isn't running again, slinging conspiracies at a current Democratic candidate that is polling at between 1% and 3% depending on what poll you believe.
In other words, this is a lot of noise for the sake of noise.
Tulsi Gabbard angered the Clinton machine by resigning from the DNC and backing Bernie Sanders in 2016, and although she later said she would follow Bernie's lead and vote for Hillary, clearly Christmas cards were not exchanged. Clinton accusing Gabbard of being a "Russian asset" is far too far. Despite Gabbard's habits of illegally meeting with Bashir Assad, and reciting Russian/Syrian propaganda word for word, and having her words show up on RT Today infographics, treason accusations are still dirty pool and beyond the pale for a current Army officer and sitting congresswomen absent direct evidence, and policy and political disagreements are not evidence. Being useful to the GRU's online efforts isn't the same as being on the payroll, and accusations of foreign influence is pretty rich coming from a Clinton.
Hillary Clinton is doing what she does best, making a massive mess of things over personal reasons for other people to clean up. Tulsi Gabbard will get some mileage, fundraising, and more attention from the spat, and will have more fuel for her current "the primary is rigged against me" victimhood she has been wearing of late like one of her homestate's famous leis. The fight with Hillary Clinton will further boolster her current spot as muse of choice among the Democratic field by folks on the right who have for various reasons decided to find the Tulsi Gabbard for President thing charming, but will never actually vote for her for anything.
It's stupid, not terribly important in the grand scheme of things, and mostly an online phenomenon. Which means it's important in our modern day and age, and especially in a presidential campaign where the ratings for debates are half what they were in June and none of the frontrunners are really inspiring excitement outside their follower groups. It's a nice flaring dumpster fire to occupy the chattering class for a few days. The Russian propaganda bots will have a field day with the whole thing, and folks will fight and fuss over it along preconceived lines without changing anyone's mind.
Who needs the Russians' propaganda machine when we willingly dive head first into the dumb end of the political pool ourselves?