Godzilla, The Shōwa Era: Paving the Path of Destruction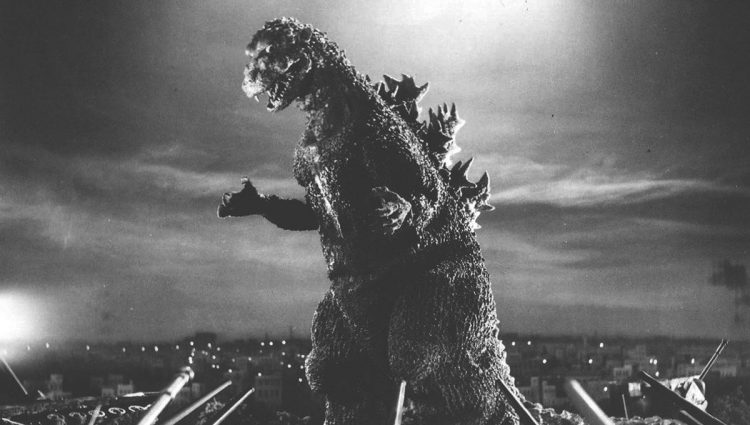 On Tuesday, October 29, the Criterion Collection will release "Godzilla: The Shōwa-Era Films, 1954-1975." This is a monster-sized deal for a couple reasons. Criterion is a prestigious label that features "important classic and contemporary cinema from around the world." Under their banner, you'll find work from Wong Kar-Wai and Ingmar Bergman. When they want to juice their bank account, they release a Wes Anderson film. And this box set contains the first 15 films in Toho's kaiju ("strange beast") franchise, marking the first time they've ever been available in one place in the United States. The release also coincides with Godzilla's 65th anniversary – November 3rd.
(Shōwa, by the way, comes from Emperor Shōwa who reigned over Japan from 1926 to 1989.)
My love for this franchise is well documented, though I know, for many, the man-in-suit effects are a sticking point. Which makes sense. I suspect there's a reason Godzilla films were easy to find on television up until the mid-to-late 90s. That's around the time computer effects became prevalent, making their analogue predecessors seem that much more dated. Though "the effects in this old, low-budget monster movie aren't very good" is only so compelling. Count me among the charmed and delighted when it comes to practical effects in this age of CGI saturation.
This write-up will be split into three parts. Here, I'll be Paving the Path of Destruction, looking at the first three titles in the series. The second piece, The Golden Age, will look at the next six entries, culminating in "Destroy All Monsters." Finally, I'll write about the last six movies, which include a Mechagodzilla twofer, in The Reign Ends.
GODZILLA (1954)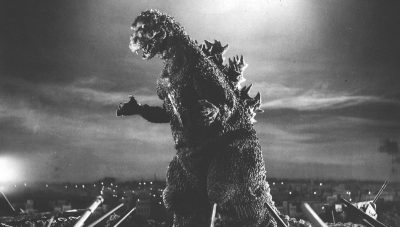 If you have even a passing awareness of the Godzilla franchise and its campy tendencies, you may be surprised by just how grim the first film really is. "Godzilla" is about a prehistoric giant radioactive reptile that terrorizes Japan. Members of the scientific community, like Dr. Yamane (Takashi Shimura, a Kurosawa regular) want the creature preserved and studied. (It survived years of atomic testing in the Pacific.) Others, including salvage ship captain Hideto Ogata (Akira Takarada), believe the monster should be destroyed. Between them is Dr. Serizawa (Akihiko Hirata), a tragic figure with all the trappings of a mad scientist – complete with eye patch.
"Godzilla" ("Gojira" in Japanese) would bring together four collaborators who played a massive role in shaping the series. The idea for this film came to producer Tomoyuki Tanaka as he was flying over the Pacific and imagining what the vast expanse of blue might hold. Director Ishirō Honda was brought on and would direct many other Godzilla films. Composer Akira Ifukube's march has been used throughout the franchise, including as recently as 2019's Hollywood film, "Godzilla: King of the Monsters." And special effects director Eiji Tsuburaya pioneered the technique of a man-in-suit destroying a miniature city. Speaking of men in suits, you could add actor Harou Nakajima as a fifth key collaborator, here sharing city-stomping duties with Katsumi Tezuka.
Honda and Tsuburaya shoot Godzilla from low angles, often with objects in the foreground (power lines, an aviary), which provides a real sense of scale and establishes the kaiju as an unstoppable force. But Godzilla is not a soulless destroyer. In one of my favorite moments, the bells in a clock tower sound and the monster responds with his iconic roar, as though warning off an adversary. "Hey bub, this is my town." He then promptly trashes the structure. Honda famously said, "Monsters are tragic beings; they are born too tall, too strong, too heavy, they are not evil by choice. That is their tragedy." Godzilla, himself, is a victim of man's meddling, and this first film is a bedrock science fiction story, not unlike "Frankenstein."
Released nine years after the bombings of Hiroshima and Nagasaki and only a few months after the Lucky Dragon No. 5 incident, the degree to which this film dramatized the trauma of a nation is pretty bracing. The standout sequence for me is the morning after Godzilla's attack on Tokyo. It plays, appropriately, not like the aftermath of a giant monster rampage, but rather like the aftermath of a nuclear strike. A doctor inspects a young child with a Geiger counter. His wordless headshake tells us everything we need to know. A girls' choir sings a prayer for peace. The camera tracks along row after row of children, redemptive light streaming through the windows behind them. You almost can't believe what you're watching is from a low-budget monster movie.
The Criterion set also includes the less-good Americanized version, "Godzilla: King of the Monsters" (not to be confused with this year's Hollywood release sharing the same name). It stars pre-"Perry Mason" Raymond Burr as a U.S. reporter visiting friends in Japan. He's spliced into scenes with the Japanese actors and given pulpy dialogue like "Tokyo, a smoldering memorial to the unknown, an unknown which at this very moment still prevails and could at any time lash out with its terrible destruction anywhere else in the world." As you might expect, the U.S. cut lacks the political punch of the Japanese version.
GODZILLA RAIDS AGAIN (1955)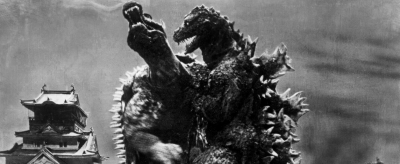 This entry would be the first in the franchise to feature monster-on-monster action. (Not…like that.) After a forced landing on a remote island, two pilots stumble on Godzilla fighting an ankylosaurus-like creature named Anguirus (also known as Angilas or, if you ask my wife, "the spiky 'zilla"). The men return to Japan, but before long, Godzilla and his foe bring their fight to Osaka, leveling the city in the process.
Released one year after the original, "Godzilla Raids Again" shows that rushing lackluster sequels into production isn't unique to Hollywood. It jettisons the commentary of its predecessor, which isn't itself a bad thing. Plenty of Godzilla movies have been thin on socio-political messaging, but they usually compensate with rip-roaring entertainment. This one's just dull. There's a long interlude from the previous film showcasing Godzilla's Tokyo rampage for government officials, as though they forgot that Japan's largest city had been flattened by a prehistoric giant one year prior.
The film is marked by bizarre creative decisions. I normally like Masaru Sato's music, he frequently worked with Kurosawa, but his bouncy score here feels incongruous with the film's more muted tone. Director Motoyoshi Oda replaces Ishirō Honda. The action comes fast and furious, and I mean that literally. Through some quirk of production, the kaiju were often shot at a lower frame rate (i.e. fast motion). This gives the mayhem a jittery feeling, which flattens any illusions of scale. Though it'd go great with "Yakety Sax."
Still, there are things to celebrate. There's a cool sequence where, in an attempt to lure Godzilla away from Osaka, power is cut to the city and flares are fired over the ocean. It creates a nice bit of tension before a conveniently timed prison break causes an explosion that draws "the bastard spawn of the atomic bomb" back to the mainland. (There's no need for name-calling, Mr. Broadcaster!)
KING KONG VS. GODZILLA (1962)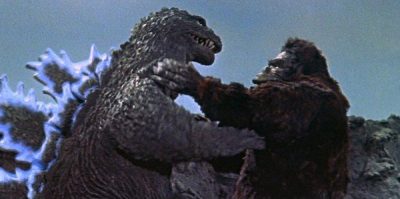 It's East vs. West in this boulder-throwing, tree-wielding slug fest. The first Godzilla film in color finds him going up against the granddaddy of giant creatures, King Kong. In an effort to increase TV ratings, the head of Pacific Pharmaceutical demands that two of his employees retrieve Kong from an island off the coast of Japan. Even in monster movies, big conglomerates will risk societal crumble for a few bucks. Meanwhile, Godzilla frees himself from an icy tomb. When Kong escapes capture, it's decided to set the two monsters on a collision course with the hope that they'll kill each other. "Let them fight," indeed!
If that sounds ridiculous, it's because it is! And the film knows that – this is a comedy after all. Though there is some unintentional humor to be sure. Actors in black face are always good for a laugh (and a cringe). But this is the type of movie with big, broad performances. Ichirô Arishima as Mr. Tako, the head of Pacific Pharmaceutical, rubs his hands together before exaggeratedly leaning against a detonator that's connected to dynamite, as the rest of the cast rushes, wide eyed, to stop him. Even the performances from Kong and Godzilla are larger than normal, with Godzilla excitedly fidgeting after nearly roasting his adversary and Kong scratching his head, puzzled, as he walks away.
Part monster brawl and part slapstick business satire, how you respond to this will depend on how appealing that mash-up sounds to you. For me, this is a mid-tier Godzilla film. While a lot of silly fun, it doesn't achieve the effects prowess of some of the later outings. The Kong suit in particular doesn't fair well, with arms that change length depending on the needs of the scene.
The Criterion set represents the first time the Japanese cut of the film will be available in the States. A number of changes were made when the movie came to the U.S., including recurring news "broadcasts" from a United Nations Reporter and recycled score from "The Creature from the Black Lagoon." Unfortunately the American dub actors don't seem to know how to pronounce the Japanese island of Hokkaido. "Ho-kie-ah-doe," you'll hear repeatedly.
Next week, I'll take a look at the golden age of Godzilla films, 1964 to 1968, when Toho built their cinematic universe, incorporating characters like Mothra and Rodan and introducing the nefarious space dragon Ghidorah. Godzilla will also start to turn away from his allegorical roots, ceasing to be the destroyer of Japan and instead its protector. These films represent the peak of the Godzilla formula, such as there is one.
More on that next week.