Saturday Spins: The Grateful Dead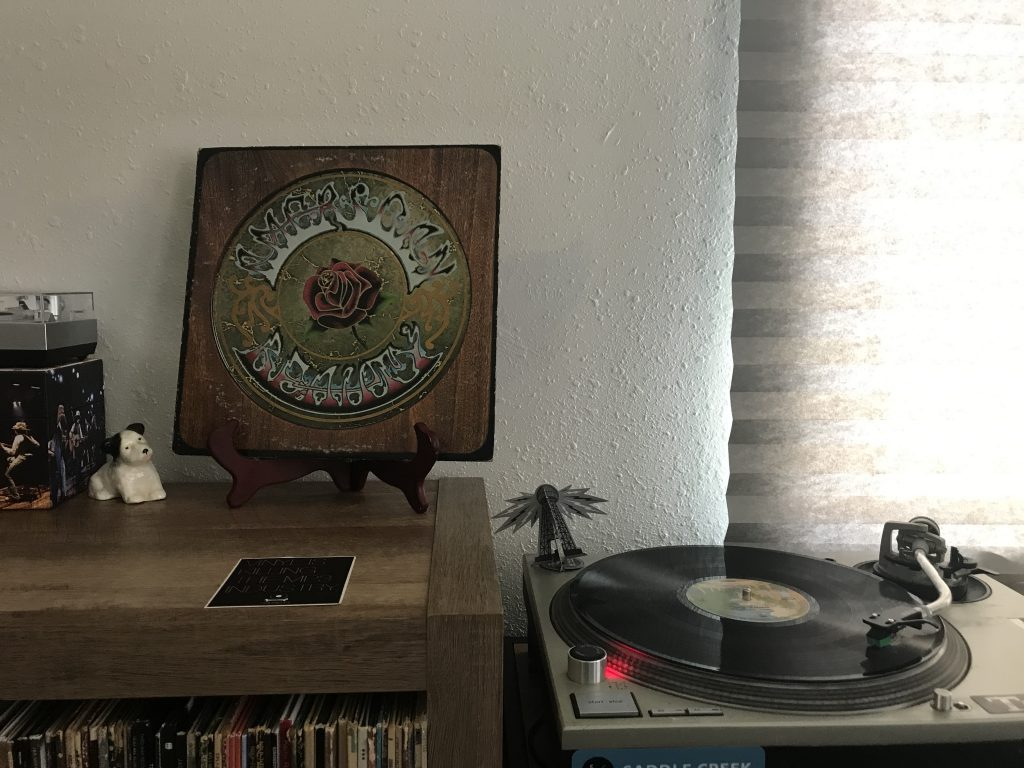 After a bonanza of new releases last week, including a trip through scorched earth Kentucky and a quiet (very quiet) adventure through the newest edition to the dad-rock soundscape; it is time that we get back to the good 'ol randomizer for this week's soon-to-be-popular Saturday Spins. This week, the infallible randomizer has given us one of the greatest1 albums ever to be made.
American Beauty
The Grateful Dead
1970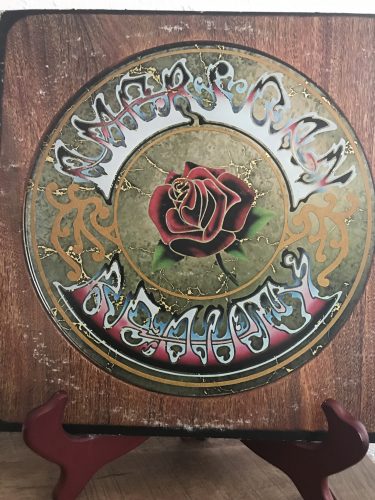 Commentary
One of the things about music is its subjective nature. Some people think the over-engineered pop music of today is "good." While others see it for what it really is, a manufactured style that people are conditioned to like without room for any kind of creativity. If you don't think some A&R sleaze is behind the massive popularity of such ear worms as "Old Town Road" and "Truth Hurts", I am afraid I have some bad news.2
I have said before that I strive to present an eclectic mix of records here, but you will notice that there is a distinct folk, rock, and Americana bent to a lot of the LPs that the randomizer spits out. In 1970 the Grateful Dead departed from their signature trips through the psychedelic in favor of releasing two albums in the space of four months drenched in folk-rock and Americana. One of these albums is American Beauty.
As you can see, my copy has seen some miles3,  but the vinyl itself is in excellent shape. Some of my records have jackets that have seen better days, but if there is one piece of advice I have for any aspiring record buyer/collector, it is to pull the actual vinyl out of the jacket before buying any record.4 That being said, if I find a nicer version of this record on one of my many trips to new and used record shops, I will more than likely buy it.
Since this is another one of those albums that I like to play front to back, I will bring back the much vaunted Nipper Scale for today's spin.
Track By Track
1. Box of Rain
One of my favorite Dead songs. Written and performed by Phil Lesh5, it was a song he wanted to compose for his father who was dying of terminal cancer at the time. This song should be on any Grateful Dead playlist. 4/5 Nippers.
2. Friend of the Devil
One of the most covered Grateful Dead songs. An acoustic number performed primarily by Jerry Garcia. This song is just another example of great songwriting (Hunter) and stellar performance (Garcia) which is what casual fans and Deadheads have enjoyed for years. 4.5/5 Nippers.
3. Sugar Magnolia
I don't claim to be a huge Deadhead, but as a casual listener/fan of a lot of their music, I try not to be a pedant. Sugar Magnolia was a song that was immensely popular and according to Wikipedia, (without a citation) the second-most played song live. I can't say I don't believe that because, not only is it a great song, but along with "Casey Jones," "Truckin'," "Touch of Grey," and,  "Uncle John's Band," it has the distinction of being one of the most well-know Dead tracks. Fun fact, my dentist once gave me the option of what song to listen to while he filled a cavity, I picked Sugar Magnolia. 5/5 Nippers.
4. Operator
A great song solely written and performed by Ron "Pigpen" McKernan, one of the founding members of the band. Pigpen is an interesting character because he was known to have a bit of a resistance to Lesh and Garcia's self-indulgent jamming. However, he was also extremely tardy or absent throughout the mid-late 1960s which led to him having a more diminished role with the band before his subsequent ouster and untimely death. 4/5 Nippers.
5. Candyman
I really like the guitar in Candyman, it is kind of reminiscent of a cowpoke-blues song you'd hear in a seedy bar out west somewhere. It is also the longest song on the album at 6:13, which is still extremely brief by Grateful Dead standards. 3.5/5 Nippers.
6. Ripple
Proof that Robert Hunter was one of the best songwriters of all time. This song is just one that never gets old. It is also a great song to listen to while you sit on your back porch during summertime with a cold beverage. Also, it is pretty clear to me that George Lucas came up with the climatic scene in The Last Crusade after hearing these lyrics:
"Reach out your hand if your cup be empty
If your cup is full may it be again
Let it be known there is a fountain
That was not made by the hands of men"6
Really though, most people posit that this song was influenced by Pslam 23. 4.5/5 Nippers.
7. Brokedown Palace
Another song you'd likely hear in the old west while drinkin' and gamblin' at the tavern. Robert Hunter wrote this song around the same time he wrote Ripple above. It is clear after hearing both that he was heavily influenced by religious themes. 3.5/5 Nippers.
8. Till the Morning Comes
This one snaps you right out of the lull created by the last two songs and is kind of a return to that classic Dead sound with Americana and country flair. Not much to say here, other than it is another one that is great to jam to, pretty much like this entire album. 4/5 Nippers.
9. Attics of My Life
Attics of My Life is one of the most underrated songs on this whole album. I used to overlook it while I was listening to this album, but one time I just put it on and kind of meditated to it. If one were to give it a very close listen, you'd realize that it is a quintessential love song:
"I have spent my life
Seeking all that's still unsung
Bent my ear to hear the tune
And closed my eyes to see
When there were no strings to play
You played to me"
Robert Hunter was a genius. 4/5 Nippers.
10. Truckin'
What a long, strange trip it has been indeed. As I noted before, this album ranks up there with one of the best of all time. I made the point that most pop music these days doesn't have the staying power because it is a just a pipeline7 of over-produced nonsense. Truckin' has is another one of those well-known Dead songs that even 40 years from now will still be considered a classic. A bluesy shuffle, it almost makes you forget that the song itself is about a drug bust! 5/5 Nippers
Fun Facts
We're talking about a piece of art here, and art is about perspective. That being said, a closer examination of the title of the album in the artwork, you will notice that it is an ambigram that can also read as "American Reality."