Elizabeth Warren's Big Bold Challenges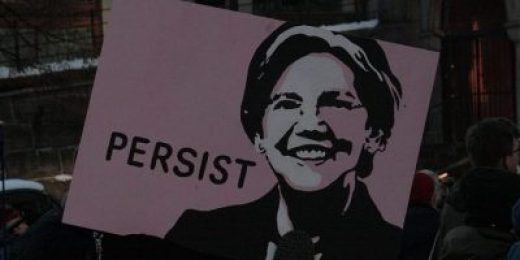 As the guy who's been openly bullish on former Vice President Joe Biden's chances to become the 2020 Democratic nominee for President, and went as far as to write not just one but two articles on the matter, I feel it is only fair that I take note of the big (former) elephant in the room that in the last few weeks has suddenly made my confidence level in Biden winning the nomination take a plunge. Yes, I'm speaking of the Senator from Massachusetts, Elizabeth Warren, who has climbed to frontrunner status in some individual polls, as of this writing has now tied with Biden in Real Clear Politics' average, and in my latest primary tracking update over at The Projection Desk, has now surpassed Bernie Sanders for second place in national Democratic support.
If Beto O'Rourke, Pete Buttigieg, and Kamala Harris hit ceilings before falling hard after enjoying initial bumps in polls in different moments of the campaign, Elizabeth Warren has taken this recent momentum for "Warrenmania" and made the most of it. The former Republican turned proud champion for progressivism and one of the faces of the left of her party has slowly but surely climbed from placing as low as 3-4% earlier in the year in polls to surging past a flailing Sanders campaign and breathing down a Biden campaign that stubbornly remains in the hunt for the nomination and yet can't seem to pull away. She enjoys support from various wings and demographics of the party and places a strong first or second with both voter groups that favor Biden and voter groups that favor Sanders, while Biden and Sanders themselves place pretty low with opposing voter groups of theirs in comparison.
Warren's current momentum isn't just showing in polling, she has become a pretty solid favorite to become the nominee  among the betting markets who went towards her even before she had started breathing down Biden's neck and has begun to outraise the initial frontrunner who just came off a bad quarter in fundraising himself. And while they are not indicative of actual voting results, Warren's huge crowds that she's been attracting to her rallies have shown she can build a passionate fan base the same way then Senator seeking the Presidency Barrack Obama did in a very tough and close fought 2008 nomination race. The media, which studies have shown can make or break the attention and free publicity a candidate can enjoy, have started to fall in love with her.
She's also seen a surge in hypothetical 2020 polling as she's shown moderate leads now against the sitting incumbent President both nationally and in swing states, but more importantly a metric is she is starting to show respectful (albeit still not strong) margins of favorability ratings that both President Trump and 2016 Democratic nominee Hillary Clinton would kill for. Its not just the Democratic electorate warming up to Warren, somehow she's currently enjoying a honeymoon with the general election populace as well as they get to know her. The days of Warren's embarrassing DNA test results seem so far away right about now.
And yet Elizabeth Warren's chances to be the nominee, in my view, may be overstated a tad. Don't get me wrong, I've gone from being 80%+ confident in Biden becoming the nominee to now just barely above 50%, "Warrenmania" is very real and Warren's ability to appeal to a diverse group of Democratic voters is just what she'll need if she's going to make Biden join the ranks of Clinton 2008 in all-time nomination choke jobs. But she remains in a troubling place with some key voters like the African American vote which in the middle of all this Warren media frenzy have helped Biden maintain pretty impressive and large leads in his southern strongholds and key big states. Warren doesn't need to outright win these voters, but she does need to avoid getting trounced by massive margins with them the way Clinton was in 2008 and Sanders in 2016. She needs to hold them to respectful levels and gain in numbers with them as the primary chugs along as John Kerry did in 2004.
She's currently poised to win the white vote rich states of Iowa and New Hampshire, but she would desperately need momentum from those wins to help her prove herself in more Biden friendly places like Nevada, South Carolina, and a host of Super Tuesday states. If Warren is to be the nominee, the chance is she'll have to do it in a "drag em' out fight" that will have the contest run through the whole primary calendar with her and Biden (Or perhaps someone else if things get really crazy) trading blow after blow the same way Obama and Clinton did in 2008. On top of all that, Biden's historically good signs for him haven't all failed him yet, he remains the candidate that is seen as the most electable which attracts primary voters when choosing a challenger to a sitting President and he's still on track on party endorsements with past would be nominees whereas Warren still lags in that subject (for now).
But let's say I'm being too bearish on her. Let's say Elizabeth Warren is able to outlast and beat out Joe Biden to become the Democratic nominee for President in 2020? Well going into the general election she'd have some advantages on the outset. President Trump is now in the middle of an impeachment inquiry into whether he's been asking for foreign nations to investigate the Bidens for his own political gain in exchange for something, amazingly that hasn't helped Biden much (Hasn't hurt him either) and with polls showing an amazingly small plural support for impeachment already at this early stage, Trump will either not be in office in due time (less likely barring a dramatic turn of events in the Senate) or he will be scarred by this scandal as he campaigns for re-election (more likely). His approval ratings refuse to get any better as he remains in a historically bad spot in the low forties, and his favorability ratings aren't as awful as they were in 2016 but they're still nothing to write home about and Warren (at the outset) would have a significantly better margin in that gap. He continues to poll badly with key voters that helped him out in 2016 including independents and voters who don't like either party or candidate. He's seen as more radically right wing now than in 2016 where he actually held the more moderate image in polls versus Clinton even as he trailed her, and for the first time ever public opinion is shifting against him on the Economy even as the unemployment rate stays low.
So the national environment and the scandal-ridden Trump's unpopularity could be all Warren needs to get to the White House. But note her favorability raw numbers remain at a level where many still have yet to make up her mind about her, and Trump's team will be looking to make sure she takes enough hits to become as toxically unpopular as Hillary Clinton was. How can they do that? Well one big problem Warren will have to show she can overcome in a general are that she backs pretty unpopular policies; the Senator is an advocate for such left wing policies like Medicare for all and decriminalizing the border, popular with her base but not so popular with the larger electorate as a whole. Granted public opinion can shift (Obamacare has become popular the last couple years, Impeachment has surged in support of late), but either way she'll have to prove she can move public opinion or convince voters to overlook their disagreements with her to get a loathed Trump out of office, something Trump himself arguably pulled off against Clinton.
But let's say Elizabeth Warren becomes President? She has some pretty big, bold, plans to transform policy in the country in some massive ways and that doesn't come without punishment from negative partisanship or pushback from congress. A Warren presidency will either deal with a barely majority Democratic Senate filled with weary swing state Democrats or a Republican Senate majority that will be much more hostile of these big changes in policy. And that's not accounting for a very likely Democratic house majority powered by moderate suburbanite district representatives. And given that new recent Democratic surge in college educated and suburbanite voters who were former GOP leaning voters, would they be turned off by someone as radical in their vision for the country as Elizabeth Warren hopes to be? She, like Obama, could become the perfect foil for a GOP looking to get past the Trump era in that situation and with a historically likely 2022 pro-GOP midterm year in sight.
Of course Presidents with big, bold, visions from Abraham Lincoln to Theodore Roosevelt to Franklin Roosevelt to Ronald Reagan and to some extent Barrack Obama have all found a way to jump those hurdles and get their big picture visions done. Perhaps Warren could prove as successful as they were if she could overcome Biden and Trump on the way to the White House?
My conclusion is that Elizabeth Warren is not a blip on the radar to be completely dismissed at the moment; I believe she is a legit challenger to Biden's position as frontrunner for the Democratic nomination (If you don't consider her the new frontrunner to begin with) and that she is potentially building a base of enthusiastic voters alongside a perfect storm against a sitting incumbent President who has been unable to get help from the good economy so she could become the next and first ever female President. And once in the White House, Warren could even end up a game-changing President that overlooks a transformation in policy to a much more leftwing worldview.
But Warren still isn't a shoo-in in the primary and has to prove she can outlast and run through a calendar where states that are less favorable to her after the early ones will test her. She remains someone who could end up getting defined by an incumbent President for her unpopular stances, and defeating a sitting incumbent isn't easy regardless of the political environment. And finally, even if she were to get to the White House, such visionary change could hit a wall in a Republican revival in 2022 and moderate voters that aren't as willing to follow her into her brave new world.
We very well could be seeing the beginning of something historic with Elizabeth Warren, but I'd caution the media which is quickly falling more and more in love with her and her growing numbers of devoted fans that this could all end in a less than happy ending for the Senator from Massachusetts as well. I get that everyone is excited about this shiny new face on the national stage, but let's yet wait and see if she can pull this off. She just might.