Saturday Spins: Sturgill Simpson
Folks, you're all in for a real treat this week as I am in receipt of not one but TWO new releases. Last week we visited a seedy punk rock club full of people in mohawks skankin'. This week we will be visiting Japan by way of Kentucky Via Chicago. That last sentence will only make sense after you're done reading both of this week's spins.
We all love controversy and divisiveness, right? Well our first album is a new release which is shaping up to be the most divisive album of the year.
Sound & Fury
Sturgill Simpson
2019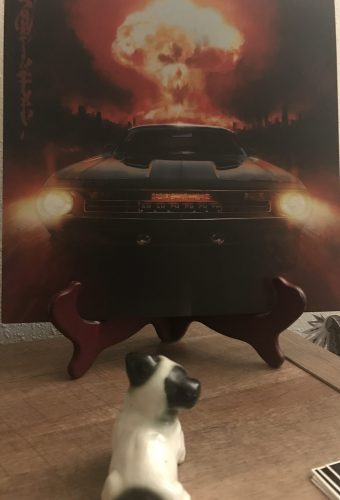 Commentary
Sturgill Simpson burst onto the country scene in 2014 with Metamodern Sounds in Country Music.1 Before that he had a debut solo effort called High Top Mountain. BEFORE that, he was in a country/rock outfit he formed called Sunday Valley. In 2017 he won a Grammy for Best Country Album and was nominated for Album of the Year for his masterpiece of an album entitled, A Sailor's Guide to Earth. Oddly enough, he was not nominated for any awards at the Country Music Awards the same year.2
Now, here is the important part, and the reason for the exposition, Sound & Fury is decidedly not a country album in any way. That is what makes it and Sturgill so great.
This is also where the divisiveness sets in, and believe it or not, there are numerous detractors out there who are just absolutely disgusted with this album. Here's the thing, though, this album rules. It's getting critical reception from the people that get paid the big bucks to tell you what I am telling you now. However, when I speak of detractors, I am speaking of course about the country music "purists" and armchair critics in comment sections and social media. Many of those clowns seemed to think he is the second coming of Waylon Jennings, but I don't think anyone ever asked Sturgill if he wanted that title. Fortunately for you, I have listened to it about thirty times since it came in the mail on Monday, and I am here to tell you that it rules.
As you can see, I splurged for the "Blood Red" version of wax. The artwork has a post-apocalyptic vibe going on with a muscle car speeding away from a mushroom cloud featuring Donald Trump's face.3 There are some Japanese influenced artwork involved here as well, which I will discuss a little later on. Just know that this is a gatefold jacket that opens to reveal…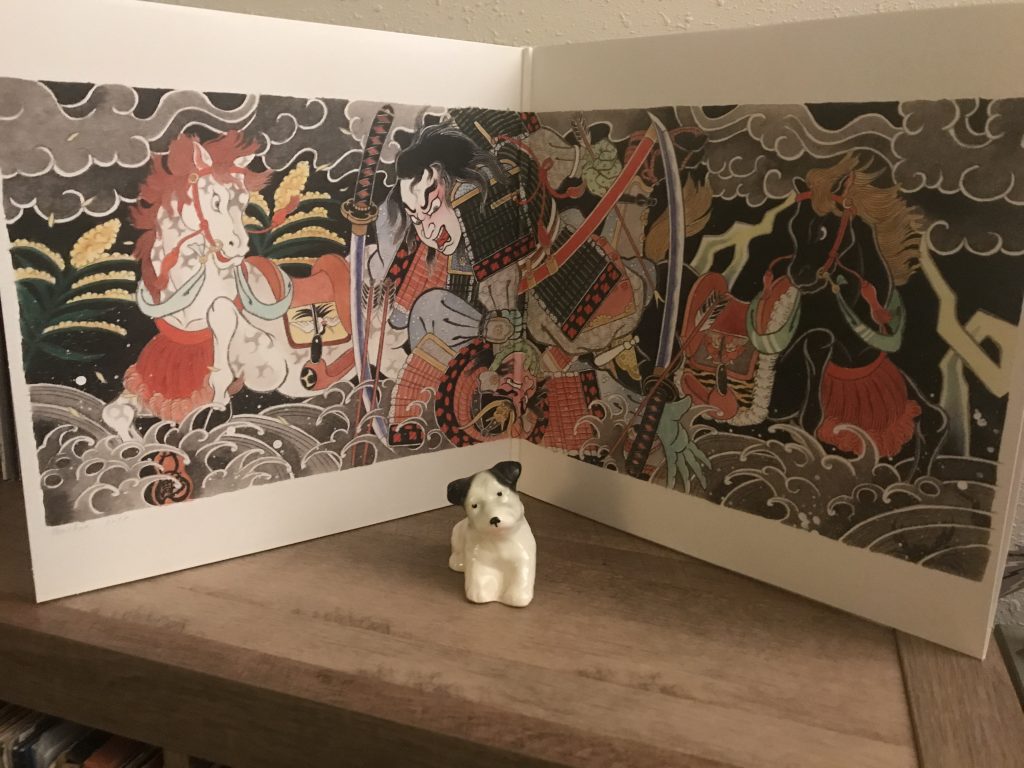 If I were to hand out gold stars for album artwork, this one deserves a solid gold star. After many spins, I am still trying to figure out why there is a subset of trolls out there that feel the need to bash this album. Sturgill Simpson is certainly not the first artist to switch up the style and sound mid-career. However, the inner sleeve has a message for those people:
Track by Track
1. Ronin
In what can only be described as a slow-burn funky instrumental interlude. "Ronin" starts us off with smooth bass drenched with chorusy guitar solo that is around 3 minutes long. It may not be the same thing as Eddie Van Halen ripping through "Eruption" to start off an album, but the sentiment is the same.
2. Remember to Breath
"Ronin" leads right into "Remember to Breathe" which continues the smooth and prominent bass line, but Sturgill comes in with his patented vocals. We're two songs in and this album, and I can't stress this enough, it is not a country album. This track kind of is an extension of "Ronin" where it continues that sort of slow-burn intro only to abruptly stop and rip into…
3. Sing Along
The first taste of this album we all got, whether it be via the video, or the MP3 if you preordered the album. Again, we will get into the Anime stuff later on, but for now I am too busy dancing around to this song. It's a real jam, and might just be the coolest sounding break up song ever. With lyrics like, "I can't go on living alone now that you're gone/You done me wrong, so here's your song/Now sing along." you kind of get the idea where he is coming from. As a side note, we are all pretty embarrassed by our teenage selves, but I have to tell you that if AIM were still here today, you can bet "Tell 'em to carve my name in the bar stool, baby/You know I'm gonna be here a while," would be my away status.
4. A Good Look
This song would be what the would happen if the Bee Gees and Poison had a baby. It is also co-written by country music legend, John Prine. It has a great disco beat, but the synth and guitar parts are reminiscent of 80s hair metal in my opinion. The synth sounds like it was bitten off of Rage Against The Machine's version of "Street Fightin' Man."
5. Make Art Not Friends
Probably the most direct salvo to the trolls that think this album is subpar. The beginning continues the disco-esque sound from the previous song and then morphs into a poetic 80s style ballad that could 100% be in a John Hughes movie.
6. Best Clockmaker on Mars
A straightforward rock n roll track with a grungy feel. The only difference is there is some sweet synth parts thrown in. Probably the most unremarkable song in the album, in my humble opinion.
7. All Said and Done
A slow dirge that sounds more like classic Sturgill. In fact, to me it sounds pretty similar to a lot of the songs from A Sailor's Guide to Earth. Again, kind of unremarkable, but is not one I'd skip over.
8. Last Man Standing
I checked the liner notes, but Andrew W.K. didn't participate in any part of this album. This song however sounds a lot like him though. As is the case with the rest of the album, Sturgill is just lining up and firing direct salvos at his critics,
"Well, I'm not gonna say what you want me to say
Let me keep a'pandering already anyway
Don't even try because I already did it
Bullshit sells, don't you ever forget it
Going full speed is the greatest escape
Slamming on the gas, I can't find the brake"
This song also sounds suspiciously like Sunday Valley.
9. Mercury in Retrograde
Here is the best song on the album. I'll fight anyone that disagrees. The dance beat returns, but with a more happy-go-lucky progression. I think he wrote this song as another preemptive strike at the critics that would be coming out of the woodwork. Also, it is an obvious commentary on the the state of the music industry as a whole. The best set of lyrics on the album are as follows:
"Living the dream makes a man wanna scream
Light a match and burn it all down
Head back home to the mountain
Far away from the pull
Of all the journalists and sycophants wielding their brands
And all the traveling trophies and award show stands
And all the haters wishing they was in my band
Sorry boys, the bus is plumb full"
10. Fastest Horse in Town
A respectable coda to a great album. Sturgill continues to drive home the point he was trying to make by writing and recording this whole album, "Everybody's trying to be the next someone/But look at me, I'm trying to be the first something." This song is by far the noisiest (distinguished from loudest) song on the album. It closes out with a fantastic keyboard solo.
Fun Facts!
As I have alluded to throughout this piece, this whole album has a companion Anime on Netflix. Unfortunately, your hero has not had a chance to watch this 40-minute romp through a post-apocalyptic wasteland. I leave you with this absolute masterful online exchange4 I had the honor of being a part of in my favorite Country/Americana group: