Weekend Plans Post: Frozen Pizza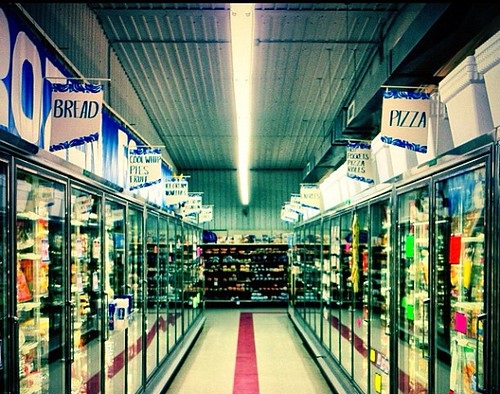 We had a successful pizza symposium with many people writing about making, delivering, and eating pizza with their families. A ton of awesome essays about an awesome food. But we only touched on frozen pizza in passing once or twice.
So I figure that as part of this weekend plans post (which, yes, my plans DO involve frozen pizza), I'll do the deep dive on that one.
When I was young adult, the Tombstone Pizza was cheap as heck and I plowed through several of them a week. You make it, you cut it into thirds. One third now, one third later tonight, one third for breakfast tomorrow. The perfect food, suitable for maximum calorie delivery with minimal fuss. Remove the plastic, throw it onto the pizza pan, wait 20 minutes and you've got yourself a pizza that ain't worth writing home about, but, heck. It's food. You can eat it as you drive to class or work or sit in a darkened basement. Tombstone made, if not a perfect frozen pizza, a perfectly serviceable one (and they had hilarious ads that focused heavily on the memento mori):
1994 *TOMBSTONE*(TM) Pizza TV Commercial
Now I am older and Tombstones are a younger man's game. That said, I have a handful of really good tricks to improve frozen pizza and turn a vaguely depressing meal into, hey, something a grownup might make for himself that he can eat as he sits in a darkened basement.
The most essential is the McCormick Italian Spice Grinder. You can find it in your local grocer's spice aisle for about two to three bucks. After the pizza comes out of the oven, give it a couple of twists of that.
Additionally, I've experimented around with the various frozen pizzas and doctoring them before putting them into the oven.
First off is the Outsiders Three-Cheese Detroit Pizza. A lovely enough pizza by itself, as frozen pizzas go, but EXCEPTIONALLY doctorable. I like to get a pack of the pepperoni from near the hot dogs and not only throw it on the top of the pizza, but cut some in half and do a ring around the pizza crust (the pan it comes in makes this a cinch). After putting the pepperoni on top, then I sprinkle even more cheese on it. (I like to use the Shredded Italian Blend that you'll be able to find in the cheese section.)
Cook it for two minutes longer than you normally would and you can find yourself saying "I can't believe that this was just a frozen pizza."
The Screamin' Sicilian "Bessie's Revenge" pizza is also pretty good for doctoring up in that fashion. By itself, it's a pretty good frozen pizza. If you doctor it up? It's a pretty good pizza.
Finally, Wild Mike's Ultimate Super Sized Pepperoni is one that is my current fave. Sure, you have to put even more pepperoni on it and then sprinkle even more cheese, but it comes with not only an Italian Spice packet, but a little packet of red pepper flakes.
Each of these is a home run kinda pizza that exceeds the quality of the national-brand delivery places and gives a cheaper version of the good stuff that you get from the local delivery places that know how to compete on quality if they can't compete on volume. Seriously, if you're wandering down the frozen aisle and think "you know what, I will probably want some pizza next week", also pick up a spice grinder and some extra pepperoni. I think you'll be able to surprise yourself.
I know that, tomorrow, I will be making myself one of the Detroit pepperoni pizzas mentioned above (with pepperoni crust) and I'm looking forward to it already.
We're also doing the thing where we're going to the sister's to celebrate the quarter's birthdays and I was told that I should NOT buy the nephew a Nerf Gun or a Video Game. So I will be getting a model car kit as the gift for him and one of these to be the gift for him to open after I tell him "your mom told me not to get you a Nerf gun". (I'll have already made sure it has batteries installed when he opens it.)
All in all, I'm looking forward to a surprisingly full three-day weekend that was supposed to be uneventful. (Ain't that always the way?)
So… what's on your docket?
(Featured image is "Kubrick Market #grocery #pizza #bread #minnesota…" by spirobolos. Used under a creative commons license.)