Monday Morning! "Paris Without End: the True Story of Hemingway's First Wife"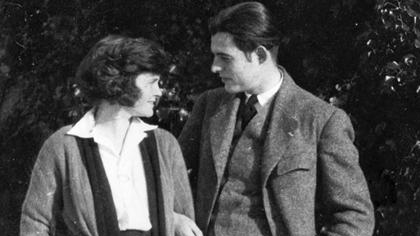 Breakups are the worst. Or, they take second-place for worst after the death of a loved one, which is really what a breakup can feel like. Maybe it's appropriate then that I missed posting this on Sunday because I spent Saturday (when I usually post these things) moving out of my old apartment, where my now ex-girlfriend lives, and into a sublet where I should be living for a few months of rest and recovery- "appropriate" because this week I read Gioia Dilberto's Paris Without End: the True Story of Hemingway's First Wife, the story of a more famous breakup than mine.
Hadley Richardson has always had a unique place in Hemingway studies: the first of his four wives, she can be interpreted as the sheltered, quiet, somewhat mousy early love that he quickly outgrew as his star began to ascend. Happily, though, Richardson stayed alive long enough to give lie to much of this false image. Plus, she was there for the key years of Hem's career- when he was making his name with some of the finest short fiction written in the century, before his long and agonizing decline. If there was a Pete Best to the Hemingway story, it was the nurse Agnes von Kurowski who broke his heart in Italy and was greatly romanticized in A Farewell to Arms. Perhaps a bit too much. After all, the young soldier fell in love while recuperating from shrapnel wounds received on the battlefield, and by the time he got home, Nurse Kurowski had basically forgotten him.
Then again, Hemingway always knew how to milk heartbreak. As Gioia Dilberto puts it in "Paris Without End", her highly readable biography of Hadley Richardson, the writer "needed both love and pain to create." With that first marriage, he got and gave both. Both husband and wife grew a great deal along the way. Hadley, in fact, is a strong contender for the great love of his life.
My great-grandparents thought the world of Hadley Richardson when they knew her in Paris. I've been writing a book (forever) about my ancestors and so I generally do the same thing whenever I read a new book on Hemingway's Paris years: flip to the back and check the index for mentions of Hickoks. To save you the trouble, here's the one mention, on page 212, right after the marriage collapsed:
"She also dropped in on Guy Hickok, Ernest's friend who wrote for the Brooklyn Daily Eagle, at his office on the boulevard de la Madeleine. Hickok's mother, Clara, who spent her afternoons visiting convicts in Paris prisons, took Hadley shopping and to lunch."
Always a footnote! Admittedly, the Hickoks were not exactly central to Hadley's story, but family lore has it they helped to put her up in a hotel once Hem admitted to his affair with Pauline Pfeiffer. Apparently, my great-great grandmother Clara, the "angel of the prisons" for her work with Americans who'd gone astray in Paris after the war, took Hadley out for luncheons once a week after they met in 1922. Clara had been through worse with her husband, Llewellyn, who she left in Ohio a decade prior, winding up in Paris with her son and his wife. I have no idea if she ever called Hemingway a dog, but she probably should have.
So footnotes to footnotes then. It's difficult to write about anyone who was in the Hemingway orbit in those early years because so many of them have written their own stories. But too Hemingway had such a meteoric rise, essentially reshaping American prose into what we recognize today; pretty much every American writer in the twentieth-century either apes Hemingway or rejects him, or more often does both. But they all seemingly had to contend with him. Paris in the 20s wasn't lacking for geniuses, of course. Hemingway, however, had a special knack for sucking people in and spitting them out as chum.
Thus, everyone around him at the time can seem like spectators, supporting players in the main drama. Certainly, that was how Hemingway treated most of his friends and lovers, drawing inspiration from the ways they reflected his glory before abandoning or rejecting them and moving on to the next scene. And he could reject people entirely. Hadley is quoted as making the great remark: "Ernest always was such a good hater." His animosities towards nearly everyone who helped him, from Gertrude Stein to Robert McAlmon to Sherwood Anderson- who inspired Hemingway to go to Paris and was rewarded by having his own writing parodied pointlessly in The Torrents of Spring- come across as petty and pathetic. For someone who prided himself on his macho image, Hemingway could be as catty and insecure as a second-string cheerleader in a Midwest High School.
Which, of course, isn't so far from the case. Dilberto deflates Hemingway's "man of action" mythos a bit, pointing out that he came from an upper-Bourgeois family in suburban Illinois with an overbearing mother, too many children, and scant opportunities for daring do. Hadley's family was not much different, although her parents had both died by the time she was married; fascinatingly, both of their fathers would die by suicide. Seven years older than Ernest, Hadley had inherited enough money that they could survive in Paris when he quit working for the Toronto Star. And so Dilberto deflates perhaps the key myth, that the young Hemingways were starving lovers in Paris, getting through by the sweat of his typewriter. Her trust funds helped.
He was insecure and self-aggrandizing. But there was also a deep well of loneliness in Hemingway throughout his life that he sought to escape through romantic submerging with another, a trope that not coincidentally appears in most of his work. Hadley seems to have come closest to his ideal: smart, intrepid, trying to escape her own past in a chilly family, and almost masochistically dedicated to her partner and his art. What writer wouldn't want a loving spouse who read all of their work and offered detailed notes and a zealous belief in their talent?
What's useful about this book is Dilberto also shows how Hadley gained from the relationship, essentially coming into her own as a woman and mother. She felt "matched up and appreciated" in a way "that was deeply satisfying" and Ernest was forever talking up his wife's accomplishments and skills. It's easy to dislike what he ultimately did, leaving his wife for another, and then leaving her for another, and so on, but he ultimately enriched Hadley's life and gave her the funds from The Sun Also Rises that kept bearing fruit.
And, Dilberto argues, he never really got over her: "When he betrayed Hadley, he lost touch with his best self. The depressed side of his personality began to take over, as the sensitive, joyous side retreated." With the exception of The Old Man and the Sea, his great writing was essentially over by the end of the 1920s and the hard-drinking that he celebrated- "Write drunk; edit sober"- helped diminish his talents (with ample assistance from fame and fortune). Hemingway peaked early.
He was seemingly aware of this; among the works he left unfinished at the time of his suicide were The Garden of Eden and the memoir A Movable Feast, both of which draw heavily on that first marriage and attempt to recapture those early days when love was everything and everything seemed possible. Perhaps that's what we mourn with breakups- both the past that ended and the future that never came to be.
So, what did YOU read, play, ponder, watch, or mourn this weekend?