Saturday Spins: The Go
On this week's edition of the soon-to-be-popular Saturday Spins, we emerge from the muggy recesses of the deep south to find ourselves in the once-proud city of Detroit, MI. Yes folks, I know I promised randomization, but this week the gizmo was given a break from the task of spitting out random records. This edition will cover a new release, really a reissue, by the little-known garage rock outfit, The Go.
Without further ado…
Whatcha Doin'
The Go
2019 by way of 1999
Commentary
As an on again off again subscriber to the Vault over at Third Man Records, I am spoiled with neat little packages quarterly. This particular edition is the 41st in the line of of Vault packages. The main piece is a reissue of The Go's 1999 effort, "Whatcha Doin." Also included is a 45 with some outtakes of songs I will cover later on, a photo book memorializing the band when it's most famous member, Jack White,1 still played lead guitar, and finally another LP called the "Ferdinand Attic Demos;" recorded in the attic of Jack White's childhood home on Ferdinand Street in southwest Detroit in 1998.
What's cool about this, and many of the other, Vault packages is the always controversial colored vinyl. I love colored vinyl. A cursory search of the worst parts of the internet where audiophiles hang out will illuminate how controversial of a topic it is among us collectors of wax. I rise above the nonsense, because I cannot hear a difference, and if you can you are lying.
Whatcha Doin' comes in  bright orange2and the Ferdinand Attic Demos comes in some kind of color and design that I can only describe as translucent "puke splatter." I'm gonna cover the tracks on Whatcha Doin only, because the Attic stuff is really raw and is really just a novelty part of this package. Both were remixed and remastered at Third Man Records. They have done a lot of great remastering projects over the years. Check it out for yourself!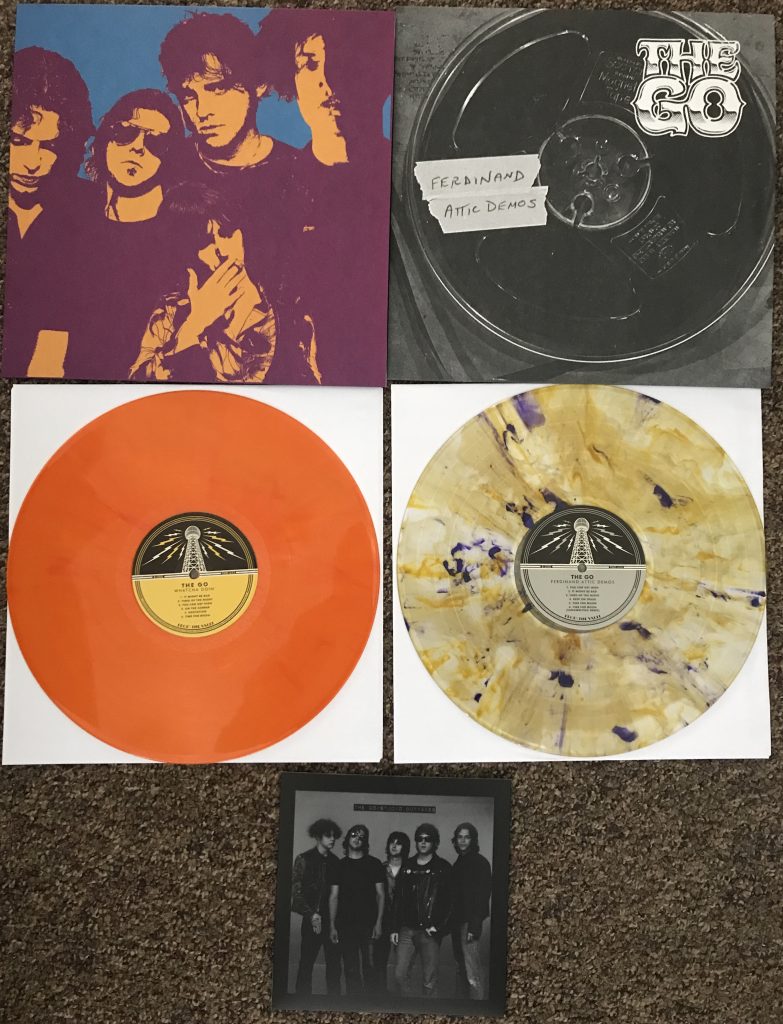 The 45 itself is nothing special visually, but has two awesome outtakes. The cover pictures on all three albums is simply awesome and really brings out the personality this band had at the time. Their sound can only be described as a cooler, more punk rock, version of the Smashing Pumpkins. Jack really turns up the fuzz for this one. If you listen to the guitar on all of these tracks, there is no mistaking Jack White's signature stripped down sound he used early in his career through his tenure with The White Stripes. His last solo effort could be best described as "experimental."
Tracks I Think Are Great
After a couple of runs through this LP, I would have to say my favorite track is "Keep on Trash." Incidentally, that is one of the outtakes on the 45, and it sounds even better as an outtake in my opinion. Jack White not only plays lead guitar, but also cowrote a few of the songs. This is one of them. I cannot stress this enough, the guitar work is unmistakably Jack White. One thing you have to keep in mind is that his band continued on without him after they "parted ways." Also, the White Stripes existed at the time of this record too. Wonder what happened? You can really hear the kind of stuff he was working on for the White Stripes throughout this record.
Another song that I really like is "Summer Sun Blues" which sounds like Suicidal Tendencies with better harmony. Again, Whites fuzzy blues-rock sound comes punching through. I can only imagine how LOUD these shows probably were. Finally, "You Can Get High" is exactly what it sounds like, but really it is a short little diddy about a guy being approached by a pretty girl. This song is followed by "On The Corner" which sounds like the Black Crowes and I am not so sure that was unintentional. As an honorable mention, I really liked "Meet Me At The Movies," however it is basically for the reasons above, which leads me to…
Tracks I Think Are Not That Great
The album as a whole is great, but not one that I need to pull off the shelf that often. My main complaint is that these songs all sound the same. Not to mention they are all high-tempo, there are no breathers on this album. It makes it feel very rushed and kind of overwhelms you. Ironically, there is a song called "Hesitation" which is probably the fastest song. "Suzy Don't Leave" is another that is wholly unnecessary on an album like this.
Fun Facts!
The little card that comes with the package kind of confirms what I was feeling, that this albums was kind of rushed and stylistic decisions were made that kept the band from reaching a wider audience. We could have ended up with a run of albums by The Go featuring Jack White and no White Stripes albums. Nevertheless, The White Stripes happened and this record's masters ended up in Jack's hands3 at Third Man for this remix.
If anyone reading has ever watched It Might Get Loud, Jack white cites a band from North Carolina called "The Flat Duo Jets" as his influence for the stripped down, yet huge, sound of The White Stripes. I think that influence can be heard here too. Interestingly enough, Jack White mentions his other previous band, "The Upholsterers" in that documentary, but no mention of The Go.