Clown Show: Corey Lewandowski Amuses Himself at Jerry Nadler's Circus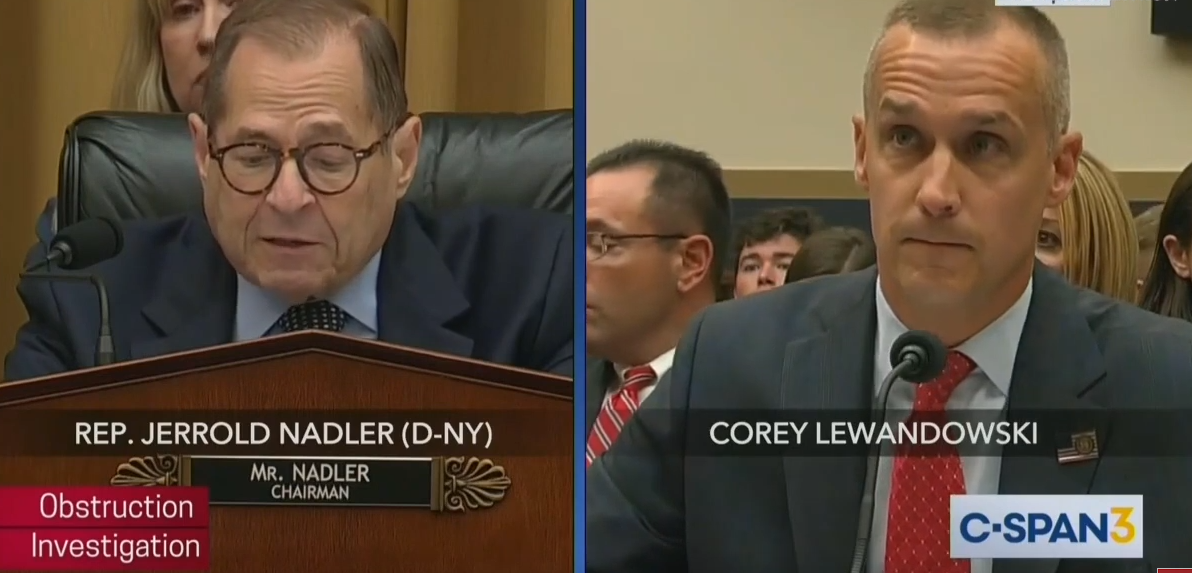 This exchange, believe it or not, was not on the reading rug of a kindergarten classroom, but in the House Judiciary Committee testimony of Corey Lewandowski by Rep. Eric Swalwell:
Swalwell: Mr. Lewandowski, I'm going to put a slide up and it's the words President Trump dictated to you on July 19. Can you read what you wrote down?
Lewandowski: I'm happy to have you read it, congressman.
Swalwell: Well why don't you want to read it Mr. Lewandowski?
Lewandowski: I think you should afford me the same privilege you afforded director Mueller.
Swalwell: Would you like to read it?
Lewandowski: No, you're welcome to read it.
Swalwell: Are you ashamed of the words that you wrote down?
Lewandowski: President Swalwell, I'm very happy of what I've written, but you're welcome to read it if you'd like.
Swalwell: Are you ashamed to read it out loud?
Lewandowski: I'm not ashamed of anything in my life, are you?
*
Swalwell: Have you ever put any words that the President asked you to write down before in a safe, or was this the first time you'd done that?
Lewandowski: I believe it's my standard operating procedure when taking notes, Congressman.
Swalwell: So every note you take of the President you put in a safe?
Lewandowski: I don't — It's a big safe, congressman, there's a lot of guns in there.
That was one of the more coherent, less offensive exchanges in the day's festivities.
One thing the train wreck that was this hearing should do is lay to rest any notion that the House Judiciary Committee is going to produce anything that is politically effective. Corey Lewandowski was perfectly happy to have the whole of his snarky duplicitousness on display for the world to see and challenge the dais to do anything about it. The Jerry Nadler-lead Democrats on the committee had a lot of outrage for the witness, but not a lot they could do about some who refused to play along, openly mocked them at every opportunity, and frustrated and angered them throughout the course of the day. The brashness of it all left the committee mostly sputtering at the idea that someone would dare not play along, couldn't be shamed, and could care less what anyone thought about it.
BERKE: Did you hear that, sir? That's you saying on MSNBC, you "don't ever remember the president ever asking you to get involved with Jeff Sessions or the Department of Justice in any way, shape or form." That wasn't true, was it sir?
LEWANDOWSKI: I have no obligation to be honest to the media because they're just as dishonest as anybody else.
BERKE: So you're admitting, sir, you were not being truthful?
LEWANDOWSKI: My interview with Ari Melber…can be interpreted any way you like.
There were audible gasps at that piece of purposeful defiance. The problem of course is the contemptible Lewandowski is right, he isn't under any obligation to be honest with the media. And all the tut-tut-ing from this panel isn't going to change the Corey Lewandowskis of the world one bit. While Rep. Nadler and company can call witnesses and even, as he is threatening to do with Corey Lewandowski, hold those witnesses in contempt, the one thing he could control but failed to do is the optics of this circus. No one comes off looking good in these hearings, but when you are trying to establish yourselves as paragons of justice and virtue for the purposes of impeaching a president, being collectively clownsuited by someone like Corey Lewandowski can be taken a lot of ways. Chief among them being if you cannot manage a defiant witness in a committee hearing you are not up to the complicated task of actually impeaching a sitting president.
Folks are noticing that Nadler's committee might not be up to the task, and not just the president's supporters. Even many of the opinion makers and talking heads that have been laser-focused on impeachment since Donald Trump won the election are starting to criticize the method and means of the is-it-or-isn't-it impeachment investigation. A rather exasperated Don Lemon phrased it on his CNN program thusly: "I just kept wondering if Democrats had ever watched TV, had ever seen Corey Lewandowski?"
"If we've learned anything today, anything at all, … you can brazen your way through anything if you're Team Trump."@DonLemon examines former Trump campaign manager Corey Lewandowski's testimony during the House Judiciary Committee's first official "impeachment hearing." pic.twitter.com/NcgysosaF8

— CNN Tonight (@CNNTonight) September 18, 2019
The answer to Lemon's question was in the fact that, in the clip, Nadler reads from a prepared statement about how Lewandowski is behaving, so they did know. Which makes it all the worse that either through hubris, ignorance, or a previously-unseen public failing in their ability to be self-aware, House Democrats thought this was going to help them, make them look good, and be convincing to the American people. Someone should pull Jerry aside and re-explain the child's tale of not wrestling with the misbehaving pig because you just end up in the muck with them, but of course it's too late for that now.
Speaker of the House Nancy Pelosi's reluctance to go full-bore impeachment has been seen by many to be a political calculation. With impeachment regularly on the wrong end of a 60-40 split in polling, that would be the obvious answer, especially in an election cycle where the tried and true method of removing a president by ballot box is at hand. But maybe there was another reason. The political veteran that is on her second stint with the gavel might just have known more than we did from the outset; Jerry Nadler and a large chunk of her caucus just isn't up for such a fight. They want the fight, but are not capable either in ability or temperament to carry it through. The Speaker presumably knows her caucus, chairs, and members better than we do. Perhaps in her reluctance was a message, a leader knowing that going to a battle — already impossible to win with the Senate safely in Republican hands — could go from a political loss to a generational embarrassment. Speaker Pelosi remembers that while the Republicans did get their futile impeachment hearings against President Clinton, this is a different era and very different world. Such a windmill tilt could not only affect her Speakership and majority, but could well play right into the hands of a President who loves to play the victim against a congress and media that is, as he constantly reminds us, "out to get him." In the last act of her political career, it is doubtful Nancy Pelosi is interested in taking the blame for a doomed to fail quest that hinges on the farcical shenanigans of an out-of-control committee, which is what any honest observer saw in that pitiful spectacle in the hearing room.
So on to the next thing, which apparently will consist of a lot more of this type of committee theater. Corey Lewandowski will go on, having put up and promoted a webpage teasing a Senate run in New Hampshire while still sitting at the witness table. He won't win, but since the grifting is eternal he can take donations and charge his living expenses to a campaign for a while, all bolstered by the platform Jerry Nadler just gave him. Nadler and other house Democrats will slog onward investigating hither and yon seeking for something, anything, that will recapture the public's attention that has gone elsewhere since the dud that was the Mueller Testimony. Speaker Pelosi will still be torn between donors and a base that wants impeachment and the hard-won House majority she leads that will almost certainly be in danger if she does so. President Trump will continue to play both bully and victim in his run seeking re-election. And on and on it goes with no real end in sight.
This was a clown show, with clowns on the dais questioning a clown in the witness chair, a small minority thinking something was being accomplished while most others wondered why such a pathetic show was put on in the first place.