Saturday Spins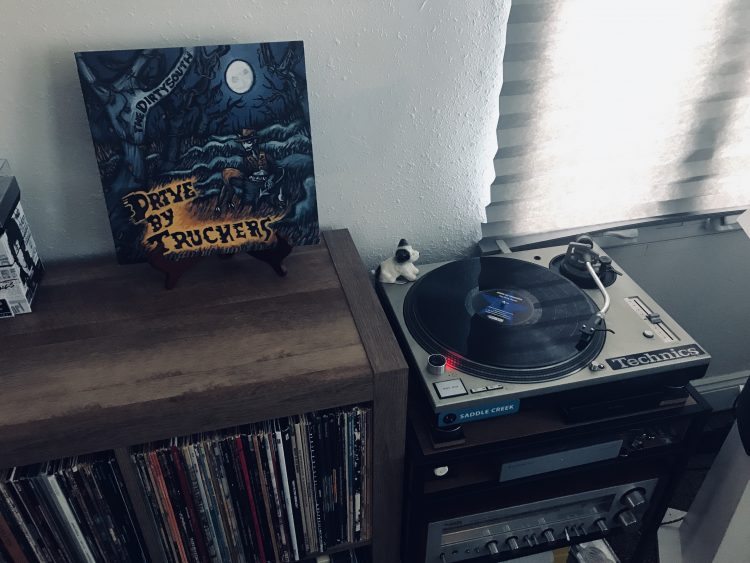 Gather round y'all and prepare to take a perambulatory adventure through the deep south on this Saturday's edition of the soon-to-be-popular, Saturday Spins! When we last left our hero (me), he was cavorting with the greatest folk singer of all time Bob Dylan, on his 2001 masterpiece, Love and Theft.
This week, the Discogs randomizer gizmo spit out a concept album about the deep south by celebrated band, Drive-By Truckers.
The Dirty South
Drive-By Truckers
2004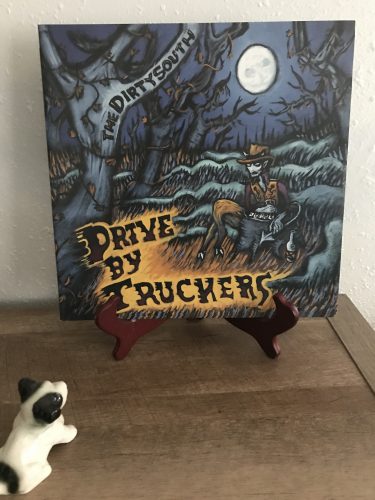 Commentary
A lot of people try to pigeonhole the Truckers into the so-called "southern rock" genre. While this may be an accurate way to describe their first 6-8 years of existence, their more recent efforts are straight in-your-face rock n roll. This album is the second featuring the greatest songwriting triumvirate since Paul, John, and George. Dont @ me. Patterson Hood, Mike Cooley, and Jason Isbell made a lot of great music together, but Isbell's substance abuse resulted in his dismissal in 2007. Isbell cleaned up his act and has released several great solo albums since. Some of them may end up on Saturday Spins; pray to the Discogs randomizer gizmo for this to happen soon.
Almost all of the Trucker's album artwork, posters, etc. is done by Wes Freed, who is the master of depicting what I'd imagine gothic southern horror novels would be if they were made into paintings. This cover depicts a fiendish stranger with a penchant for gambling and drinking in the woods of, presumably, Alabama. This band, Like Dylan, is among my favorites and since I am a completist elitist, I own pretty much everything they've released on vinyl.
In fact., this album actually contains the first DBT song I ever heard, Carl Perkins' Cadillac. DBT has become a more overtly political band according to some. However, spend a few hours with their catalog, and you'll hear a lot of great social and political commentary. The kind they do now is just more topical. Side 3 features the "Buford Pusser Suite," which is a three-song sketch that tells the story of legendary lawman, Buford Pusser. A name straight out of Dickens. In a very Truckerian twist, the songs are all from the perspective of the criminals in the so-called "Dixie Mafia1" and their allies in the "State-Line Mob." A few cult films were made about Pusser2 in the 70s and one really bad one in 2004 starring the Rock.
One more note about the artwork: This is a gatefold jacket that opens to reveal some pieces by Freed along with photos and what not next to lyrics that help to explain each track visually. Patterson Hood is a prolific writer, so there is a neat short essay regarding the mythology and reality of the dirty south.
Track Reviews3
I have an affinity for Nipper the RCA Victor dog from the famous "His Master's Voice" painting by Francis Barraud because I have two Jack Russells who are always prone to do that same head tilt when I talk to them4.
This is another one of those albums where I can't honestly say there is a track that isn't that great, so, for this edition I am going to assign a rating (1-5) on the newly created "Nipper Scale."
1. Where the Devil Don't Stay
The first track is a Cooley song allegedly derived from a poem written by his uncle. It is a pretty good track discussing stark differences in social class during Prohibition and the Great Depression, but the protagonist of the song brings us once more to the reality of our country then and now:
"Daddy tell me another story/
Tell me about the lows and the highs/
Tell me how to tell the difference between what they tell me is the truth or a lie/
Tell me why the ones who have so much make the ones who don't go mad/
With the same skin stretched over their white bones and the same jug in their hand"
Musically it is a real foot stomper which makes for a great opening track. 4 Nippers.
2. Tornadoes
Tornadoes tells a story of DBT's predecessor, Adam's House Cat, a band whose sound I can only describe as a southern version of The Replacements. In any event, the song is a semi-fictional story of the aftermath of their first tour which ended the night a tornado ripped through a nearby town. Hood inserts the surreal imagery of their fans being sucked out of the auditorium while the band played on. 3.5 Nippers.
3. The Day John Henry Died
What's a southern rock concept album without tall tales and a little bit of southern folklore? The first Isbell track spins the famous yarn about John Henry, the steel drivin' man who somehow was goaded into a contest with a machine. In those days, like these days, automation was replacing jobs. Did those fine people blame their plight on immigration? Hell no, they decided to settle it in an even more ignorant fashion. The best lyric illustrates the true pointlessness of the contest: "It didn't matter if he won, if he lived, or if he'd run/ They changed the way his job was done/Labor costs were high". 3 Nippers.
4. Puttin' People on the Moon
I will argue until I drop dead like John Henry that this is not only the the best song on this album, but the best DBT song in their catalog. I would say that it is extremely prescient, but our country, especially in the deep south, has had the problems described in this song for a long time. To be succinct, "goddamn Reagan in the White House/and no one there gives a damn." The protagonist in this song loses his job, and turns to a life of crime to support his family since unemployment was through the roof, but NASA in Hunstville was spending gobs of Federal money and was "too busy blowin' rockets, Puttin' people on the moon."
By the time this man's poor wife drops dead from cancer, he's fed up:
"Another Joker in the White House, said a change was comin' round/
But I'm still workin' at The Wal Mart and Mary Alice, in the ground/
And all them politicians, they all lyin' sacks of shit/
They say better days upon us but I'm sucking left hind tit/
And the preacher on the TV says it ain't too late for me/
But I bet he drives a Cadillac and I'm broke with some hungry mouths to feed."
Doesn't get more blunt than that. 5 Nippers.
5. Carl Perkins' Cadillac
"Mr. Phillips was the only man that Jerry Lee still would call sir…" Mike Cooley has a real penchant for great lyrics. This was the first DBT song I ever heard and I was hooked thereafter. It tells a truncated version of Sam Phillips' Sun Sound and the friendly rivalry Mr. Phillips created for the so-called "Million-Dollar Quartet" of Carl Perkins, Elvis Presley, Johnny Cash, and Jerry Lee Lewis. As history and a Broadway play tells us, Carl Perkins won that Cadillac after selling one million records of "Blue Suede Shoes." 4 Nippers.
6. The Sands of Iwo Jima
Like any red-blooded 'Merican, I like John Wayne movies. However, Wayne was an ardent racist and jingoistic monster who should have just avoided opening his mouth and vomiting out the Republican Party's actual platform. One of the coolest things about Patterson Hood is the stories he tells about his family, and this song is no different. Unable to get a deferment, Hood's great uncle served in the Pacific Theater during the war. In the song, Hood describes a reunion he attended every year with his great uncle with other veterans and their families. The precocious Hood "asked if it was that way" to which George A. replies, "I never saw John Wayne on the sands of Iwo Jima." 4 Nippers.
7. Danko/Manuel
Another great Isbell song about two members of The Band and how they are unsure how to move forward after Robertson unilaterally cut the cord on The Band, called Scorcese, and initiated the world's largest vanity project. Don't get me wrong, I love "The Last Waltz," but one of the more chilling scenes is when Scorcese asks Manuel and Danko what they are going to do now, and they have no answer. 4.5 Nippers.
8-10. The Buford Pusser Suite
I am going to lump these three songs together, and have already given some background on them above. "The Boys from Alabama" is told from the perspective of Dixie Mafia members trying to convince a foot soldier caught with some grass to go to jail rather than testify. They can protect him in jail; otherwise, "They might find your body in the Tennessee River/Or they might not find you at all. 3.5 Nippers.
In "Cottonseed" a clever gangster who lives by a harsh and brutal code comments on how his system is no different from the one that prosecutes the men like him. Only he is different; he rarely gets caught and doesn't hide behind religion to justify his actions. "Say what you gotta say to shut their Bibles and their mouths/If they was to tie a noose, they'd have to lay their Bibles down" A realist tale if there ever was one. 4 Nippers.
Finally, in "The Buford Stick," Hood presents a broadside to the mythology surrounding Sheriff Pusser. He also blends a little bit of history and mythology when it comes to the mysterious way Sheriff Pusser met his end; "It wouldn't take my man long to do the job/Just a partially sawed through steering rod/And I wouldn't have to worry about the good Sheriff anymore." 4 Nippers.
11. Daddy's Cup
This song, the last one by Cooley on this album, is a tale about a father who lost his pro racing career due to injury and his son who is hell bent on bringing glory to their family name. "I lost more than I won/ but I ain't gonna give up/Till they put me in the ground/ or Daddy's name's on that cup. Full disclosure, I think racing is one of the most pointless "sports" in the known multiverse5. 3 Nippers.
12. Never Gonna Change
Here's a song that continues the theme(s) of crime and corruption from the Buford Pusser Suite, only it feels a bit more personal. It also contains one of the most rockin' riffs you'll ever hear Jason Isbell rip on his guitar. That alone makes it a great song. It is one I believe he still incorporates into his live sets. 4 Nippers.
13. Lookout Mountain
A few of Hood's DBT songs explore depression, despair, and suicidal thoughts. Not in a way that celebrates it or in a way that encourages it, but more so in a way that leaves the narrator of the songs questioning why. Lookout Mountain was originally written for Hood and Cooley's first band, Adam's House Cat. In fact, the full length album from 1988 was just released last year around this time. It's a fairly straightforward song wherein the narrator asks, "If I throw myself off Lookout Mountain who will ever hear my songs?" 3.5 Nippers.
14. Goddamn Lonely Love
Another fantastic Isbell song ends the record. With a dirge-like sound, "Goddamn Lonely Love" describes a man who is, well, lonely in love. It is a song about putting in more than is received out of a relationship. This is another one that Isbell regularly incorporates into his solo set list because it is such a uniquely Isbell song. Where "Never Gonna Change" has a decidedly Truckerian sound, this song really portends what Isbell will do in the future, which in this context, is now. 4 Nippers.
Fun Facts!
I think I provided many fun factoids sprinkled throughout this edition, many of which are just DBT lore as a whole. I suppose I should note that Jason Isbell was married to bassist Shonna Tucker at the time this album was recorded. I wonder what "Goddamn Lonely Love" could have possibly been about?