I'll Take My Pizza Ohio Valley Style…
It was the mid-eighties. I was a freshman in high school. Just like many kids who make the move from middle school to high school, my friends and I were anxious to move away from the hangouts of our juvenescence. To seek out the places where the high schoolers spent time on Friday and Saturday Nights in our small town.
It did not take long to figure that out. We stumbled upon DiCarlo's. It seemed like the whole school was there. Inside and out, the place was packed. People talking, music playing from the cars, kids sitting on the tailgates of their trucks. There was the occasional hot rod showing off by burning rubber out of the lot. Guys tossing football.
I can remember thinking at the time: "How did I miss this place? Was it always like this?"
We have two high schools in my hometown. A public school (that I attended) and a catholic school. Add to that, a school that was "down river" from my town. The city is split by two counties, so that meant some of the students from that school also lived in town. Finally you had a sprinkling of kids from Ohio and Pennsylvania that would show up on occasion due to the fact that my town is bordered by each of those states, separated by about 6 miles.
It was back when the steel mills were still holding on so there were a lot of families living and working in the Ohio Valley. That meant places like DiCarlo's were hopping on the weekends up and down the river with teenagers doing what teenagers do best at that age in a West Virginia Steel Town: hang out.
Once we got inside of DiCarlo's the aroma of their pizza hit me. I did not know it then but that night would be the beginning of a love affair with their pizza that continues on to this day. One that I have passed down to my own family.
I remember digging in my pocket for what little cash I had to get a slice. I listened to how the others in line ordered. "Three regular" or "four, extra cheese." Regular as it turns out, was a slice with cheese and pepperoni.
Now it was my turn. "I'll take one regular and a Mountain Dew." For about a buck (yes, a BUCK) they handed me a box folded in half with a rubber band around it and a can of Mountain Dew. When I got to the table I could not open that box quick enough. There it was. A square piece of pizza with a mound of unmelted cheese and uncooked pepperoni on it.
"Wait a minute, they didn't cook this?" I looked at my buddy with some confusion. His reply to my obvious reluctance to take a bite was "Just eat it dude."
From the first crunch and explosion of flavor in my mouth I was hooked. I inhaled that piece and dug for more change in my pocket. I had enough for three more regulars. Same deal. They took my money and handed me a folded box with the rubber band. We sat there that night, ate, laughed and just took it all in. We were high schoolers now, big time.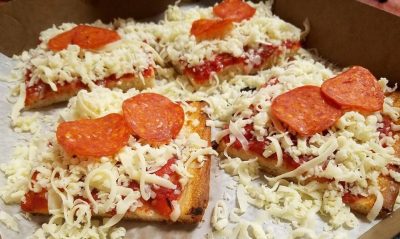 Up until that night, I had no idea what is referred to now as "Ohio Valley Style" pizza, even existed. Of course, I had pizza before that night but not prepared that way. The history behind this type of pizza I am told began with a gentleman named Primo DiCarlo who started making pizza this way after he returned home from WWII.
The process is simple. To begin, the dough is spread out on large, heavy, rectangular pans called trays and first layer of sauce is added. Primo cooked it until the dough would rise. He would then pull out the tray, add more sauce and sprinkle some cheese on it before placing the pizza back in the oven to finish cooking to a crispy, golden brown. Once done, he would pull out the tray, place it on a large table and slice it up into 28 pieces. To finish it off, he would toss handfuls of fresh shredded cheese generously across the tray then add thin slices of pepperoni or other toppings ordered-cold. He sold his pizza by the slice or you could order a whole tray. Eating it right out of the oven is best. Taking it home will melt the cheese unless you poke the holes in the box to slow the process.
Not much has changed since the forties. Pizza slingers are still making DiCarlo's Pizza the same way Primo did all those years ago up and down the Ohio Valley and beyond. There are others now with their own version of Primo's recipe. The process is still the same but each shop has their own thing to try and differentiate themselves from DiCarlo's. Their sauce might be tarter or their cheese might be a different blend. Honestly, there is not much room for improvement. Depending on where you live in the valley will dictate whose pizza you will eat. My town? DiCarlos. Across the river? Could be DiCarlos, might be Ray's or even Giannamore's. All good, all made the same way but each with their own subtle differences.
I even heard they opened a DiCarlos in Myrtle Beach SC, over six hundred miles away from the spot where Primo first dove his hands into the dough all those years ago. Myrtle is a popular vacation spot for people from my neck of the woods. I also heard that some customers freaked out at first when presented with slices of pizza with cold cheese and pepperoni. So much so that the shop had to start making it like everyone else. In order to get it made the right way these days you have to request "Ohio Valley Style."
This does not surprise me. In my time living in the Carolinas during the late eighties, finding good pizza that was not a national chain or even locating a decent Italian restaurant was like trying to find people there who knew how to drive in the snow. With the exception of all those no good, cold cheese on your pizza eating, yankee transplants like me, they were few and far between.
When people come home to the valley, one of the first things they want (besides actually visiting family) is DiCarlos Pizza. Insider tip? When you order extra cheese, get it on the side. They will give you a huge bag of it. Why you ask? So when you get home with that tray and the first layer of cheese has melted you can add a handful of the cold cheese to your slice and enjoy like Primo intended!
"Ohio Valley Style." Don't knock it till you try it!