Do It Yourself Pizza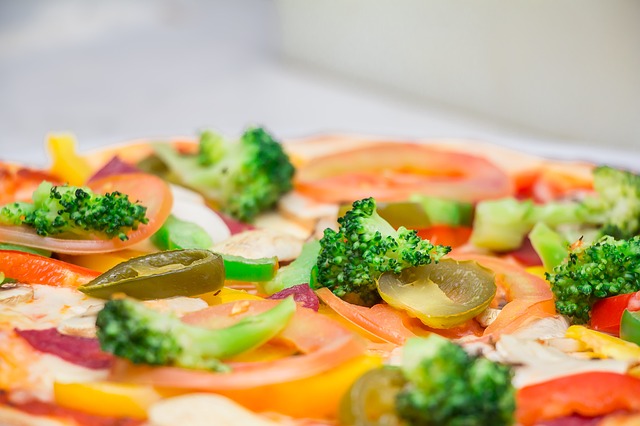 There's a famous brainteaser where people are asked what food they'd take with them to a desert island.  The fun is in trying to come up with the most nutritionally balanced single food you possibly can.
The answer to this question – because there is a correct answer, even though it's a bit of a cheat – is pizza. It's got all four food groups; you could survive and even thrive on a diet of nothing more than pizza. You'd have to select the toppings carefully though, because on a pizza, toppings are everything.  Cheese pizza probably wouldn't be nutritious enough to sustain a person in the long term.
One time on a family vacation we ended up at one of those gourmet pizza places adults love and kids typically hate. Perhaps unsurprisingly, my kids ordered pepperoni pizza and could not be deterred from that choice no matter how hard I tried. I had not flown 2000 miles to eat pepperoni pizza, so I took a look at the menu and got the most exotic option listed – pear and arugula pizza.
The pizza arrived and despite being horrifyingly expensive and served at a swanky restaurant, much to my dismay it featured canned pears. It was ok, but I just knew that if it had only had fresh pear rather than those awful syrupy mushy slices on it, it would have been great.
And when I got home I made my own pear and arugula pizza and it was spectacular.
I'm telling you, toppings are everything.
We rarely go out for pizza these days because it's expensive. I prefer to make it myself instead. But it's not only because of the cost. It's because homemade pizza allows you to indulge in one of life's little pizza-related pleasures – complete topping management.    
More pizzas are ruined by sparse and terrible toppings than any other thing. Pizza crust and pizza sauce and cheese are almost always decent and fairly uniform. But toppings can range from generously applied and incredibly fresh, to barely-there, borderline spoiled, or even canned like those awful pears. Who hasn't encountered a Canadian bacon and mushroom pizza bearing pink strips of leather and rubbery canned mushroom slices on top? Or pepperoni that is made of 99% grease?  Or the equivalent of one olive, sliced across what was supposed to be an olive pizza?  
The last time we went out for pizza at a chain restaurant, my husband looked at me and said "Remind me not to ever spend money on this again."  Because it was over $50 and we didn't even get that much. There was little food value in what we did get. It was just bread with sauce, a smattering of cheese so rubbery it felt like it could possibly choke a person if a wad of it went down the wrong way, coupled with as few toppings as the company could get away with. And this was a name brand chain!
It just isn't worth the money for what you get at most pizza places.  
Making pizza at home allows you to put as much (and whatever kind of) cheese on your crust as you want, and load it up with the sauce to be sure you have enough – not to mention you have several sauces to choose from. The red sauce is NOT your only option. And the toppings! As much as you want of whatever you want. If it gets too laden down, you can always eat the whole mess with a fork instead of picking it up with your hands. And best of all, you can ensure that when you order a pear pizza, you're getting an actual pear on it and not something leftover from a school hot lunch.
Not only are you getting ample, fresh toppings, but you can enjoy your favorite combinations and create new ones whether or not a focus group at Dominhutscorp agreed they'd be good on a pizza. For instance, my husband likes green olives and pepperoni on pizza. But green olives, while they seem a fairly obvious choice, are rarely on the menu at pizza parlors. (One time my husband actually bought a jar of green olives and demanded the pizza place put them on for him).  Pepperoni and pineapple, again, not a common combo but it's really really good – my entire college dorm lived on pepperoni and pineapple pizza for a few years in the late 80's. An adventurous friend once procured a shrimp and sauerkraut pizza that was surprisingly excellent. I've made leftover fajita pizzas out of leftover fajitas and leftover taco pizzas out of leftover taco ingredients. And fresh broccoli pizza is my personal favorite. You can also brew up popular options that aren't widely available in the chains, like barbecue chicken pizza and thai pizza. I love thai pizza but would never have tasted it if I hadn't made my own, since I rarely go to the type of restaurant that serves things like thai pizza.
Now, I know what you're thinking. It's time-consuming to make your own pizza, and the results (especially in the crust department) aren't always as good as you can get from a professional armed with a pizza oven. But to me, it's a tradeoff. The crust is definitely the weakest link of homemade 'za, but you can more than make up for that with good cheese and sauce and toppings that are leagues better than restaurant fare. If you really are pressed for time, they sell premade, unbaked dough at many grocery store delis, and frozen crusts are also widely available. There's also the old standby of the Boboli prebaked crusts. Using premade crust, making your own pizza is no more time-consuming than driving to a restaurant and picking up a pie or two (and it's a lot less stressful).
Here are a couple recipes/suggestions to get you started: 
Trusty Pizza Dough*:
2 pkg. dry yeast
2 c warm water
5 c flour (-ish)
5 T oil (I prefer a flavorless oil vs. olive, but follow your bliss)
1 t salt 
Put the warm water, the yeast, and ½ cup flour in a mixer stand or large food processor.  (You can use a wooden spoon and knead it if you're in the mood for an upper arm workout to counterbalance the pizza you're about to eat). Mix slightly to combine. Wait 10-15 minutes till the mixture is bubbly. Add oil, salt, and half the remaining flour. Combine this till smooth, then little by little add the rest of the flour. If you're making this in a mixer or food processor, at any point if your engine starts to struggle, turn it off and knead by hand.
You want the dough to be a little sticky still, so add the least amount of flour you can get away with, even if you end up not adding all the additional flour. I have found that by adding flour to the point where the dough is no longer sticky (like I would if I was making bread) I end up with very heavy pizza crust. So beflour that dough to the point you can handle it with oiled hands and then step away from the bag of Gold Medal.
Let the dough rest for about 10 minutes, then with your hands lightly oiled, split it into howevermany pieces you want (see below) and let it rest for another 10 minutes. Then spread it out using lightly oiled hands on a lightly oiled pizza pan into your desired pizza-y shapes. I don't toss my pizza, never mastered the knack, but the crust always turns out just fine even without that.
This amount of dough can be made into two ooey gooey deep dish pizzas (use a pan with sides like a lasagna pan for that, though, and grease it heavily to prevent sticking), three regular old pizzas, or 4 thin crust pizzas.
For the deep dish, you'll want to let it rise about an hour (let it rise before you add sauce, cheese, and toppings).  For the thin crust, don't let it rise at all and go easy on the sauce and toppings. For the regular old pizza, I let it rise (sans toppings) somewhere between 20-30 minutes depending on how much time I have. If you preheat your oven to 200 degrees and then turn it off, you'll have a safe space to let the dough rise unmolested by insects, pets, or children who cannot resist poking rising dough with an invariably filthy finger.
I bake pizza at a lower temp (350) than most recipes call for (400). This is because I put a lot of toppings on them. A hot oven cooks the bottom crust too much before the top has a chance to cook. But if you're doing a lightly cheesed pizza with a few pieces of pepperoni, and you like a good crispy crust, by all means, crank up the heat. While I know it's part of recipes to include a set time to cook, I don't feel like there's a universal time for pizza to be done. It's all about how much stuff you put onto it. Just keep your eyes open and a spatula on hand to check the bottom crust. You may even want to move the pizza from the top to the bottom rack (or vice versa) to ensure even cooking.
*the above recipe adapted from What to Cook When You Think There's Nothing in the House to Eat" by Arthur Schwartz
One of my more successful get-togethers was one where I made several kinds of experimental pizza.  While they seemed exotic at the time, most of them are standard fare nowadays. But if you've never made them, you should. They're good, and it's fun to try new things, even if they're really not that new any more. 
Before I get into the more complicated pizzas, I really want to urge you to try some of the odd combinations I mentioned above. My husband's green olive and pepperoni is a delight, college fave pepperoni and pineapple will put you off Canadian bacon forever, fresh pear and arugula is worth a try for those who like that type of thing, and even shrimp and sauerkraut pizza was way, way better than it had a right to be.  
C'mon, do you want to be the person who travels 2000 miles to eat a pepperoni pizza?
Barbecue Chicken Pizza
Pizza Crust, prepared
Barbecue Sauce of your choosing
Mozzarella with a few shreds of cheddar mixed in or shredded provolone if you can find it
Red Onions, be they chopped or be they ringed
Rotisserie Chicken or leftover chicken
Notes: This is just a standard pizza and should be assembled as such, but you use barbeque sauce (I like Sweet Baby Ray's the best for this application, but you do you) in lieu of marinara.
Leftover Fajita Pizza
Pizza Crust, prepared
Marinara Sauce (I just use my fave spaghetti sauce, Tuscan Traditions, it works)
Mexican Four Cheese blend, shredded
Leftover Fajitas, drained, but not TOO drained
Optional: Black olives never hurt
Notes:  Another standard pizza, assembled as you'd assemble any pizza. Just scatter the remnants of your fajita dinner over the top. It's almost worth making fajitas just to make the pizza. BTW you can also use leftover fajitas as a pasta sauce if you run out of tortillas and aren't in the mood for pizza.
Broccoli Ranch Pizza aka Kristin's Fave Pizza
Pizza Crust, prepared
Ranch Dressing (it takes more than you think it should)
Mozzarella with a few shreds of cheddar mixed in, or a little Swiss if using ranch/bacon
Chopped tomatoes
Chopped fresh broccoli florets
Optional: Bacon Bits
Optional: Sweet onion
Optional: Marinara sauce
Notes: Personally, I don't care for ranch dressing, but after making it once the proper way, I could tell this pizza had potential. I tried it without the ranch and with regular marinara sauce instead, and skipped the bacon which didn't sound good with red sauce. I added the onion instead.
(tl;dr version: cheese, red sauce, broccoli, onion, tomato = yum)
The latter incarnation is my personal fave pizza. Regardless of which version you choose, chop the broccoli into small pieces and put them on the very top, since the heat of the oven will cook them for you.
Ridiculously Trendy Pizza
Pizza Crust, prepared
1 full container of hummus (get the extra garlicky kind if you can)
Feta Cheese
Zucchini, sliced into thin rounds  (THIN! Thick rounds won't cook through)
Generous amounts of chopped tomato
Notes: You guessed it – the hummus takes the place of the pizza sauce here.  But what you probably didn't guess is that the zucchini slices take the place of the cheese, and the feta and tomato is scattered on top as topping.  You may even want to give this a run under the broiler before serving to make sure the zucchini is cooked all the way through (Slice them THIN!). I love this pizza, it feels like I'm eating something good for me even though it's pizza, and it's lower cal than some other options, especially on a thin crust.  
Thai (Chicken) Pizza
Pizza Crust, prepared
Thai Peanut Sauce (storebought, use your fave recipe, or see my cheat below)
Mozzarella Cheese, with nothing else (cheddar adds a competing flavor that is not good with the peanut sauce)  
Rotisserie Chicken or leftover chicken (this is really optional)
Chopped fresh broccoli florets
Chopped carrot (small pieces)
Optional but good: Mung Bean sprouts (add these after the pizza is mostly cooked)
Notes: I only ever made this with chicken once. The rest of the time I've made it vegetarian and I personally prefer it that way. If using them, be sure you add the bean sprouts after the pizza is about 2/3 of the way cooked, and not any sooner, or they'll shrivel into nothing.  
I never have the proper ingredients for Thai Peanut Sauce though so I mix some ingredients together till it tastes right and for some reason, it works.
Mock Thai Peanut Sauce for Thai Pizza
½ to ⅔ cup peanut butter (you know if you're a sauce lover or not)
Brown Sugar to taste
Soy Sauce to taste
Garlic powder to taste
A shake or two of hot sauce
A splash of vinegar (barely any)
Milk or water to thin it out enough to spread
Optional: Gingerroot. (I hate gingerroot and never put it in anything voluntarily but most storebought Asian sauces definitely have ginger in them, much to my dismay)
Mix till it's thin and spreadable, tasting it as you go.  It will taste way too strong but you can figure out the proportions that way without much trouble.  Once you get it on the pizza, it will taste like it should. It's a more or less recipe like pizza always is. You can even use this as a pasta sauce – but in that case it definitely is improved by coconut milk and fish sauce.
Do you have an insane pizza topping that's so crazy it just might work? I'm always on the lookout!