Weekend Plans Post: The Best Man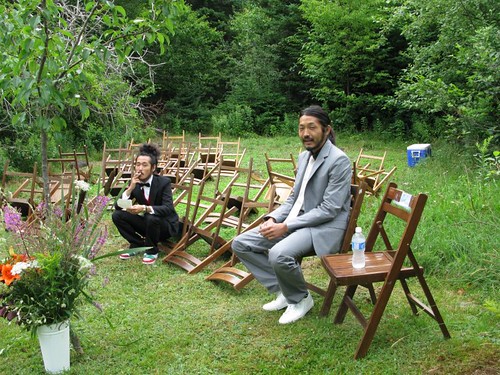 My boss left early yesterday to go up to Denver to prepare to be The Best Man in his best friend's wedding. He's been freaking out about it for a while and so, a few months back, I wrote him an email in which I talked about the stuff he's supposed to do.
That email follows:
Ahem.
I don't know which of these might end up not applying to you, but here is the list:

1. You will be his emergency guy. "Oh, no! I forgot my deodorant!", well, you should have some Right Guard in your backpack. Bring a sewing kit for the buttons. Have some Tylenol in your breast pocket. Some Pepto-Bismol. A bottle of water or seven. Stay hydrated. You don't want you or him to pass out.

2. IT IS YOUR JOB TO BE THE CALM COOL COLLECTED ONE. So be in a good mood. Have the schedule and get your guys up 15 minutes before you're scheduled to get up. Be in charge of going to Denny's and making sure that everybody has a good breakfast. Be cheerful. Be a rock.

3. You guys have boutonnieres? You're in charge of them! You're in charge of making sure that everybody is wearing them properly. (Which makes me go back to #1 and tell you to put band-aids in the pack.)

4. You're in charge of the rings. Wear them on a necklace around your neck. Wear them on your pinky. If you keep them in a pocket, MAKE SURE THE POCKET IS GOOD AND DOESN'T HAVE A HOLE IN IT. It is *YOUR* job to hand them to the groom during the ceremony. (If you want to do the 2 second "wait where are they?" gag, it's okay, but don't do the 3 second "wait where are they?" gag. The former is funny. The latter is not.)

5. You give the envelope to the pastor after the ceremony. You do not write the check for the pastor, the groom does that. But you put the check in an envelope and you give the envelope to the pastor.

6. PICTURES PICTURES PICTURES. Be sure to get one where you point to your watch and the groom is standing as if he is the coolest, calmest, readyest guy on the planet. Also get the one where he tries to climb out the window and you're holding him back. Those are always the best pictures that don't have the bride in them.

7. You sign the marriage license after the ceremony as witness.

NOW YOU HAVE THE TOUGH PART

At the reception:

1. MORE PICTURES JEEZ LOUISE I HAVE ALREADY TAKEN 100 PICTURES wait, it's my job to be in a good mood all day. So be in a good mood for these pictures too.

2. The receiving line. "Thanks for coming! Great to see you. Thanks for coming! Great to see you. Thanks for coming! Great to see you."

3. You're in charge of being the logistics host for the guests. The food is over there. The drinks are over there. Please vape outside. The john is down that hallway and to the left.

4. Figure out the dancing because the bride has her dance with the father, the groom cuts in, they dance for the rest of the song AND THEN YOU GRAB THE HAND OF THE MAID OF HONOR AND GET OUT THERE AND SHAKE YOUR BUTT LIKE YOU ARE ON AMERICA'S GOT TALENT.

5. Make sure the groom eats something. Make him drink that bottle of water we talked about at the top of the email.

6. THE BEST MAN SPEECH. I will include my best man speech at the bottom here. Not because I think you'll be able to crib from it, but you can see the basic idea of what I wanted to accomplish.

7. Sneak off with the Maid of Honor toward the end of the reception and decorate the car. "JUST MARRIED!" and the like. (Oh, stop by Party City and get some of that car foam or whatever.)

8. Organize everybody to see the happy couple into the car, lead a "three cheers" cheer, wave them off.

THE TOUGH PART IS OVER NOW YOU DO THE BORING PART

1. You're in charge of making sure that none of their wedding presents gets stolen. Put all of the gifts and gift cards under lock and key.

2. If you have vendors, you tip them the same way you paid the pastor. It doesn't come out of your pocket, but you are the guy in charge of handing them the envelope.

That's pretty much it. There's some other stuff like, if you're renting tuxedos, you're kind of in charge of making sure that everyone gets their tuxedo and then making sure that they return it on time.

But those are the big tasks.
And here is my Best Man Speech. (I'd never done this before and I was freaking out about it. Here's what I did. I'll insert comments and stage directions in parenthesis.)
(stand up, glass in hand)

Wow. (If this gets a laugh, follow up with another, bigger, "wow".)

(Groom's name), we've been friends for a while. You were my bud who sat behind me in English class, I spent most of my first year in college holed up in your dorm room, and you referred me to my first real job after I graduated (about two years after you did)… let me just sum up to say that I am *SO* happy that you are getting married. (This is my laugh line as well as the "roast" line… most of the stuff I've looked up online involves roasting the groom at some point. Well, I didn't want my speech to look like a Don Rickles bit, so I threw this in there.)

(Bride's name), you are very lucky. (Groom's name), you are even luckier. I'd like to say "thanks" to Mr. and Mrs. (Groom's last name) and Mr. and Mrs. (Bride's former last name) for providing us with the two delightful people we're celebrating today. (applause, I hope)

As you know, I'm prone to offering unsolicited advice and this strikes me as a wonderful opportunity to do it again.

Try to keep a sense of humor. Try to be kind to each other. Try to remember to play. You two seem to have that nailed down. That's great. I'm certain you two will do just fine.

(raise glass)

May you stay in a constant state of wonder. May you say, every year, "this is the best year of my life".

And may we see you grey and combing your grandchildren's hair.

(drink)

(sit down)
And that's it. He told me that he was going to do some of the stuff on the list, the groom said that he wanted to be in charge of other stuff on the list (which strikes me as being nuts), and his speech has a lot more roasting of the groom in there. Ah, well. Different Strokes. I kinda saw the point of the Best Man speech as similar to a Pro Wrestling heel promo. You're not there to put yourself over. You're there to put the other guy over. I understand that the roasting is a demonstration of how awesome the groom is and how awesome the friendship is between the best man and the groom… but it's a wedding. Don't make any jokes that make the groom look like a chump, don't make any jokes that make the bride look like a chump for marrying the groom. You can make a joke about how you thought this day would never come or something like that but, seriously, I've been to weddings where the speech was, like, half abuse.
Anyway, he's off and up and doing the best man thing and I thought that, dang, I put a lot of effort into that email and so I'm going to put it in a weekend post.
As for the rest of the weekend, it's a gaming weekend and we're going to be trying out a new board game with the gaming group. I've play-tested it a little but I am really interested in seeing if it does well with 5-6 people. (The thing that sold me on the game was that it handles 2-7. There are dozens that can handle 6 people and hundreds that can handle 4. There are so dang few that can handle 7!)
And, other than that, I'll just be preparing for the coming weeks at work that have moved into post-crisis mode and back into "what did we back-burner again?" mode and we can get back to the horrible little things like cable management and rewriting procedures.
So… what's on your docket?
(Featured image is "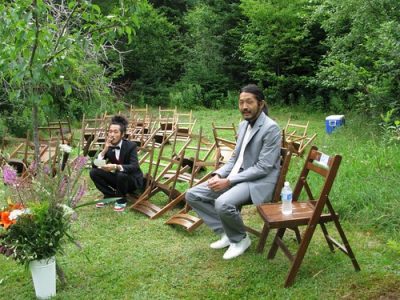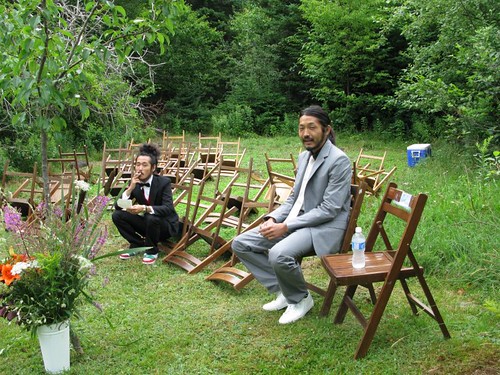 Practice" by moon angel. Used under a creative commons license.)